Pediatric Pneumothorax Workup
Author: William Gluckman, DO, MBA, FACEP; Chief Editor: Michael R Bye, MD  more...
Updated: Oct 26, 2015
What would you like to print?
Approach Considerations
Patients who present with respiratory distress should have an arterial blood gas (ABG) assessment. Hypoxemia occurs because of significant ventilation perfusion mismatch; however, hypercapnia is unusual in patients without underlying lung disease.
A tension pneumothorax should always be a clinical diagnosis, because death can occur before radiographs are obtained or developed.
A noncontrast chest computed tomography (CT) scan may be helpful to look for preexisting pulmonary pathologies such as blebs or bullae.
Ultrasonography has also been shown to be useful in detecting pneumothorax.[6]
Transillumination of the chest may help to establish the diagnosis in the newborn infant.
Chest Radiography
Pneumothorax is generally a clinical diagnosis that is confirmed with upright chest radiography (see the following images). Anteroposterior (AP) and lateral views can reveal the presence of even small amounts of intrapleural air. Air in the pleural space that outlines the visceral pleura is a characteristic finding. Hyperlucency of vascular and lung markings on the affected side can be seen because of this air. Atelectasis may also be seen on the affected side, and the mediastinum and trachea may shift away from the pneumothorax.
A tension pneumothorax should always be a clinical diagnosis, because death can occur before the radiograph is obtained or developed.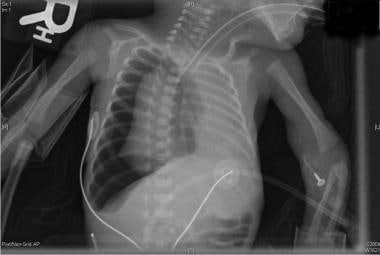 Neonate with a right tension pneumothorax. Note the tracheal deviation to the left.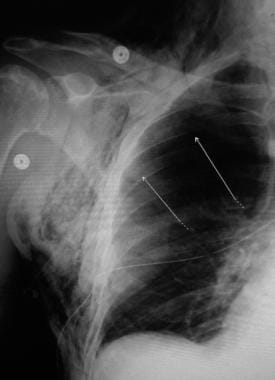 Subcutaneous Emphysema and Pneumothorax
A small pneumothorax in a supine patient can be more easily detected in the lateral decubitus view.
When an infant is suspected of having a pneumothorax, AP radiographs are obtained in the supine position. Small pneumothoraces can be better visualized with a lateral decubitus film with the affected side up.
Medscape Reference © 2011 WebMD, LLC