Neonatal and Pediatric Lupus Erythematosus Clinical Presentation
Author: Alisa N Femia, MD; Chief Editor: Lawrence K Jung, MD more...
Updated: Jun 08, 2016
What would you like to print?
History and Physical Examination
Roughly half of the mothers of patients with neonatal lupus erythematosus (NLE) are healthy at the time of childbirth and do not have signs or symptoms of lupus erythematosus (LE) or other collagen-vascular disorders; the remainder have some symptoms of LE, Sjögren syndrome, or another collagen-vascular disease. Most mothers of children with NLE develop signs of collagen-vascular disease if followed for a long enough period.[17] When carefully questioned, these mothers may report dry eyes, arthralgia, myalgia, or arthritis. One report linked the presence of hypothyroidism in mothers with Ro antibodies with an increased risk of congenital heart block.[18]
Many seropositive mothers with anti-SSA and anti-SSB antibodies give birth to infants who do not show signs and symptoms of NLE; only roughly 1-2% of seropositive mothers will give birth to an infant with NLE. However, in those who have had a baby with NLE, the risk of cardiac and/or skin disease for a future pregnancy is roughly 15-25%.
Neonatal lupus erythematosus
The mother usually discovers NLE that affects the skin shortly after birth. In some instances, the mother notes that the infant is sensitive to sunlight or cutaneous lesions are noted after phototherapy given for neonatal jaundice.
Cutaneous findings
Cutaneous lesions occur in roughly 70% of patients with NLE.[13] The cutaneous findings are transient and resemble those of subacute cutaneous lupus erythematosus (SCLE). NLE lesions are typically annular erythematous plaques with a slight scale, which appear predominately on the scalp, neck, or face (typically periorbital in distribution) (see the image below), but similar plaques may appear on the trunk or extremities. They may be urticaria-like and desquamative, occasionally with ulceration.[19, 20] They are sometimes crusted; this finding is observed more often in male babies than in female babies.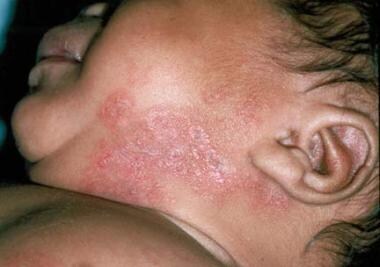 Neonatal lupus erythematosus.
Atrophic lesions may develop[21] ; however, over time, even these lesions leave little residual change. Telangiectasia is often prominent and is the sole cutaneous manifestation reported in some patients. The atrophic telangiectatic changes are most evident near the temples and scalp. When the scalp is involved, there may be associated permanent alopecia. Dyspigmentation is frequent, but, with time, this change spontaneously resolves.
Two thirds of patients with skin findings have them at birth,[22] and the remainder develop cutaneous findings within the first 2-5 months of life. In some infants, solar exposure seems to precipitate the eruption, although exposure to ultraviolet (UV) light may not be necessary for the development of cutaneous lesions.[23] The eruptions usually disappear when maternal antibodies are no longer present in the neonatal circulation at approximately the sixth month of life.
At times, small angioma-like papulonodules may be seen. Follicular plugging is usually not evident. Targetoid plaques may rarely be seen.[24]
In one study, cutaneous involvement was characterized as erythematous patches (91.7%), SCLE-like lesions (50%), petechiae (41.7%), persistent cutis marmorata (16.7%), and discoid-like lesions (8.3%).[13]
In children selected because of cutaneous involvement, thrombocytopenia and hepatic disease may be as common as cardiac disease, and these diseases occur more often in male babies with crusted plaques than in female babies. Thus, children with cutaneous NLE should be evaluated for hematologic, hepatic, and cardiac involvement.
Cardiac disease
Cardiac involvement in NLE is common, occurring in roughly 65% of patients.[13] Cardiac rhythm abnormalities and conduction defects may be observed in various forms, but the occurrence of congenital complete heart block is most closely related to NLE, with an incidence of 15-30%. Cardiac blocks usually develop in utero between the 18th and 20th weeks of gestation. Mothers with primary Sjögren syndrome or undifferentiated autoimmune syndrome have a greater risk of delivering an infant with congenital complete heart block than those with systemic LE (SLE).[25]
NLE that affects the heart is often noted upon physical examination at birth, but it may be recognized with ultrasonography in utero. Complete congenital heart block is the usual finding, but incomplete heart block is possible. This finding may be noted as a bradycardia in utero or during physical examination at birth.
Heart failure is a well-recognized complication during the neonatal period. Other disturbances may also be present. These disturbances lead to blocks in the atrioventricular or Purkinje systems, potentially resulting in sinus bradycardia or prolongation of the QT interval. Incomplete heart block and an irregular heartbeat may also be present. In some cases, myocarditis and pericarditis can develop and lead to bradycardia. Congenital heart block may be associated with endocardial fibroelastosis, which can be severe, and dilated cardiomyopathy.[26]
Circulating fetal blood antibodies, which have been passively acquired, can lead to permanent heart disease and transient cutaneous manifestations. Hematologic and hepatic abnormalities may also occur.
Hepatobiliary findings
Hepatobiliary involvement occurs in approximately 53% of patients with NLE.[13] The clinical spectrum of associated hepatobiliary disease may vary from mild elevations of aminotransferase levels to conjugated hyperbilirubinemia with normal or slightly elevated aminotransferase levels. Hepatosplenomegaly is an occasional transient finding.
Hematologic findings
Hematologic disturbances in NLE (eg, hemolytic anemia, profound thrombocytopenia, neutropenia) may occur in the first 2 weeks of life.[13] Autoantibodies, mainly anti-Ro, can bind directly to the neutrophil and cause neutropenia. Thrombocytopenia may manifest as petechiae (see the image below). Hematologic symptoms may vary from benign to severe and usually appear at around the second week of life and disappear by the end of the second month; these findings may improve or disappear as maternal antibodies are metabolized.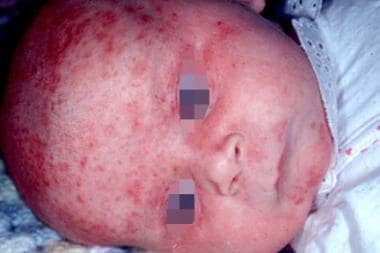 This child presented with petechial lesions, hepatosplenomegaly, and thrombocytopenia. Initially, he was thought to have histiocytosis (Letterer-Siwe disease); however, a skin biopsy revealed an interface dermatitis, and his mother had circulating autoantibodies.
Other manifestations
Neurologic involvement may also be seen in NLE and may manifest as hydrocephalus and/or macrocephaly.[27] A recent systematic literature review determined that most cases of neurologic NLE are asymptomatic and identified by neuroimaging. White matter abnormalities, calcification of the basal ganglia, intracranial hemorrhage, and subependymal pseudocysts were amongst the abnormalities identified on neuroimaging. Symptomatic patients manifested with seizures, spastic paraparesis, myelopathy, disturbance of consciousness, and hydrocephalus.[28] Infants born to mothers with anti-Ro antibodies should probably be monitored for hydrocephalus and other neurologic manifestations with cerebral sonography as part of their routine physical examination.
Pneumonitis may also be seen, manifesting as tachypnea or tachycardia.
In addition, rare reports describe chondrodysplasia punctata occurring in association with NLE.[29]
Lupus erythematosus of childhood
LE of childhood has similar clinical manifestations to LE occurring in adults, although in children, the disease course may be more severe, and certain cutaneous manifestations may have a stronger link with systemic disease. Photosensitivity, arthritis/polyarthritis, arthralgia, and fever may be the presenting symptoms of childhood LE. The patient may also report having a malar rash, which manifests with edematous and erythematous plaques and is strongly associated with systemic disease. In addition, patients may present with discoid LE (DLE) or SCLE lesions. Cutaneous lesions of DLE appear as erythematous plaques with scaling and associated follicular plugging, dyspigmentation, and atrophy and frequently resolve with scarring. Cutaneous lesions of SCLE are generally annular, erythematous patches and plaques with associated scaling and crusting and may resolve with dyspigmentation, but without scarring.
Adults with DLE have a low risk of systemic disease; however, the risk of systemic disease and progression to systemic involvement appears to be greater in children, with one report suggesting rates of 50%. Along the same lines, although SCLE is strongly associated with systemic disease in the adult population, data suggest this link is even greater in children, with approximately 83% of children progressing to systemic involvement.[1] Therefore, children with DLE or SCLE lesions should undergo a complete review of systems, including questions regarding symptoms of pleuritis, pericarditis, and neurologic or renal involvement. In childhood-onset systemic lupus erythematosus (SLE), neuropsychiatric and renal involvement may be more common than in adults.
Drug-induced lupus erythematosus
Drug-induced LE may develop in children and adolescents. Reports have described multiple cases of an LE-like syndrome in patients who take minocycline for acne. These patients often demonstrate fever and polyarthralgia or arthritis. Reports also describe drug-induced LE occurring as a result of antitumor necrosis factor-α medications in the pediatric population.
References
Dickey BZ, Holland KE, Drolet BA, Galbraith SS, Lyon VB, Siegel DH. Demographic and clinical characteristics of cutaneous lupus erythematosus at a paediatric dermatology referral centre. Br J Dermatol. 2013 Aug. 169(2):428-33. [Medline].

Lepore L, Marchetti F, Facchini S, Leone V, Ventura A. Drug-induced systemic lupus erythematosus associated with etanercept therapy in a child with juvenile idiopathic arthritis. Clin Exp Rheumatol. 2003 Mar-Apr. 21(2):276-7. [Medline].

Inoue CN, Kondo Y, Suwabe N, Igarashi Y, Tada K. Minocycline-related lupus in childhood. Eur J Pediatr. 1994 Jul. 153(7):540. [Medline].

Chiou AS, Sun G, Kim J, Wang KC, Marqueling AL. Cutaneous Neonatal Lupus Arising in an Infant Conceived From an Oocyte Donation Pregnancy. JAMA Dermatol. 2016 Mar 9. [Medline].

Franceschini F, Cavazzana I. Anti-Ro/SSA and La/SSB antibodies. Autoimmunity. 2005 Feb. 38(1):55-63. [Medline].

Eftekhari P, Sallé L, Lezoualc'h F, Mialet J, Gastineau M, Briand JP, et al. Anti-SSA/Ro52 autoantibodies blocking the cardiac 5-HT4 serotoninergic receptor could explain neonatal lupus congenital heart block. Eur J Immunol. 2000 Oct. 30(10):2782-90. [Medline].

Boutjdir M, Chen L, Zhang ZH, Tseng CE, El-Sherif N, Buyon JP. Serum and immunoglobulin G from the mother of a child with congenital heart block induce conduction abnormalities and inhibit L-type calcium channels in a rat heart model. Pediatr Res. 1998 Jul. 44(1):11-9. [Medline].

Briassouli P, Halushka MK, Reed JH, et al. A central role of plasmin in cardiac injury initiated by fetal exposure to maternal anti-Ro autoantibodies. Rheumatology (Oxford). 2013 Aug. 52(8):1448-53. [Medline]. [Full Text].

Woodman I. Paediatric rheumatology: uPA-uPAR at the heart of cardiac neonatal lupus. Nat Rev Rheumatol. 2013 Jun. 9(6):322. [Medline].

Terzoglou AG, Routsias JG, Avrameas S, Moutsopoulos HM, Tzioufas AG. Preferential recognition of the phosphorylated major linear B-cell epitope of La/SSB 349-368 aa by anti-La/SSB autoantibodies from patients with systemic autoimmune diseases. Clin Exp Immunol. 2006 Jun. 144(3):432-9. [Medline]. [Full Text].

Meisgen S, Ostberg T, Salomonsson S, et al. The HLA locus contains novel foetal susceptibility alleles for congenital heart block with significant paternal influence. J Intern Med. 2013 Dec 20. [Medline].

Bansal C, Ross AS, Cusack CA. Chronic cutaneous lupus in childhood: a report of two cases and review of the literature. Int J Dermatol. 2008 May. 47(5):525-6. [Medline].

Wisuthsarewong W, Soongswang J, Chantorn R. Neonatal lupus erythematosus: clinical character, investigation, and outcome. Pediatr Dermatol. 2011 Mar-Apr. 28(2):115-21. [Medline].

Yang Q, Shao XM, Cao Y, Chen C, Cheng GQ, Shi YY, et al. [Neonatal lupus erythematosus: analysis of 8 cases]. Zhonghua Er Ke Za Zhi. 2008 Jan. 46(1):18-21. [Medline].

Morgan TA, Watson L, McCann LJ, Beresford MW. Children and adolescents with SLE: not just little adults. Lupus. 2013 Oct. 22(12):1309-19. [Medline].

Mina R, Brunner HI. Update on differences between childhood-onset and adult-onset systemic lupus erythematosus. Arthritis Res Ther. 2013 Aug 21. 15(4):218. [Medline].

Rivera TL, Izmirly PM, Birnbaum BK, et al. Disease progression in mothers of children enrolled in the Research Registry for Neonatal Lupus. Ann Rheum Dis. 2009 Jun. 68(6):828-35. [Medline].

Spence D, Hornberger L, Hamilton R, Silverman ED. Increased risk of complete congenital heart block in infants born to women with hypothyroidism and anti-Ro and/or anti-La antibodies. J Rheumatol. 2006 Jan. 33(1):167-70. [Medline].

Peñate Y, Luján D, Rodríguez J, Hernández-Machín B, Montenegro T, Afonso JL, et al. [Neonatal lupus erythematosus: 4 cases and clinical review]. Actas Dermosifiliogr. 2005 Dec. 96(10):690-6. [Medline].

Asboth D, Kassay E, Noll J, Szalai Z. Neonatal lupus erythematosus: deep and ulcerating form. Borgyogaszati Venerol Szemle. 2000;. 76:263-5.

Lynn Cheng C, Galbraith S, Holland K. Congenital lupus erythematosus presenting at birth with widespread erosions, pancytopenia, and subsequent hepatobiliary disease. Pediatr Dermatol. 2010 Jan-Feb. 27(1):109-11. [Medline].

Elish D, Silverberg NB. Neonatal lupus erythematosus. Cutis. 2006 Feb. 77(2):82-6. [Medline].

Cimaz R, Biggioggero M, Catelli L, Muratori S, Cambiaghi S. Ultraviolet light exposure is not a requirement for the development of cutaneous neonatal lupus. Lupus. 2002. 11(4):257-60. [Medline].

Floristan U, Feltes R, González-Beato M, Feito M, Laguna Rde L. Targetoid lesions and neutrophilic dermatosis within neonatal lupus erythematosus: unusual clinical and histologic presentations. J Cutan Med Surg. 2010 Jan-Feb. 14(1):46-7. [Medline].

Brucato A, Frassi M, Franceschini F, Cimaz R, Faden D, Pisoni MP, et al. Risk of congenital complete heart block in newborns of mothers with anti-Ro/SSA antibodies detected by counterimmunoelectrophoresis: a prospective study of 100 women. Arthritis Rheum. 2001 Aug. 44(8):1832-5. [Medline].

Guettrot-Imbert G, Cohen L, Fermont L, Villain E, Francès C, Thiebaugeorges O, et al. A new presentation of neonatal lupus: 5 cases of isolated mild endocardial fibroelastosis associated with maternal Anti-SSA/Ro and Anti-SSB/La antibodies. J Rheumatol. 2011 Feb. 38(2):378-86. [Medline].

Boros CA, Spence D, Blaser S, Silverman ED. Hydrocephalus and macrocephaly: new manifestations of neonatal lupus erythematosus. Arthritis Rheum. 2007 Mar 15. 57(2):261-6. [Medline].

Chen CC, Lin KL, Chen CL, Wong AM, Huang JL. Central nervous system manifestations of neonatal lupus: a systematic review. Lupus. 2013 Dec. 22(14):1484-8. [Medline].

Silverman E, Jaeggi E. Non-cardiac manifestations of neonatal lupus erythematosus. Scand J Immunol. 2010 Sep. 72(3):223-5. [Medline].

Demaestri M, Sciascia S, Kuzenko A, Bergia R, Barberis L, Lanza MG, et al. Neonatal lupus in triplet pregnancy of a patient with undifferentiated connective tissue disease evolving to systemic lupus erythematosus. Lupus. 2009 Apr. 18(4):368-71. [Medline].

Vogel T, Kitcharoensakkul M, Fotis L, Baszis K. The heart and pediatric rheumatology. Rheum Dis Clin North Am. 2014 Feb. 40(1):61-85. [Medline].

Trucco SM, Jaeggi E, Cuneo B, et al. Use of intravenous gamma globulin and corticosteroids in the treatment of maternal autoantibody-mediated cardiomyopathy. J Am Coll Cardiol. 2011 Feb 8. 57(6):715-23. [Medline].

Yang CH, Chen JY, Lee SC, Luo SF. Successful preventive treatment of congenital heart block during pregnancy in a woman with systemic lupus erythematosus and anti-Sjögren's syndrome A/Ro antibody. J Microbiol Immunol Infect. 2005 Oct. 38(5):365-9. [Medline].

Buyon JP, Clancy RM, Friedman DM. Cardiac manifestations of neonatal lupus erythematosus: guidelines to management, integrating clues from the bench and bedside. Nat Clin Pract Rheumatol. 2009 Mar. 5(3):139-48. [Medline].

Friedman DM, Llanos C, Izmirly PM, et al. Evaluation of fetuses in a study of intravenous immunoglobulin as preventive therapy for congenital heart block: Results of a multicenter, prospective, open-label clinical trial. Arthritis Rheum. 2010 Apr. 62(4):1138-46. [Medline].

Pisoni CN, Brucato A, Ruffatti A, et al. Failure of intravenous immunoglobulin to prevent congenital heart block: Findings of a multicenter, prospective, observational study. Arthritis Rheum. 2010 Apr. 62(4):1147-52. [Medline].

Izmirly PM, Kim MY, Llanos C, et al. Evaluation of the risk of anti-SSA/Ro-SSB/La antibody-associated cardiac manifestations of neonatal lupus in fetuses of mothers with systemic lupus erythematosus exposed to hydroxychloroquine. Ann Rheum Dis. 2010 Oct. 69(10):1827-30. [Medline].

Izmirly PM, Costedoat-Chalumeau N, Pisoni C, Khamashta MA, Kim MY, Saxena A, et al. Maternal Use of Hydroxychloroquine is Associated with a Reduced Risk of Recurrent Anti-SSA/Ro Associated Cardiac Manifestations of Neonatal Lupus. Circulation. 2012 May 24. [Medline].

Shinohara K, Miyagawa S, Fujita T, Aono T, Kidoguchi K. Neonatal lupus erythematosus: results of maternal corticosteroid therapy. Obstet Gynecol. 1999 Jun. 93(6):952-7. [Medline].

Martin V, Lee LA, Askanase AD, Katholi M, Buyon JP. Long-term followup of children with neonatal lupus and their unaffected siblings. Arthritis Rheum. 2002 Sep. 46(9):2377-83. [Medline].

Tlacuilo-Parra A, Guevara-Gutiérrez E, Gutiérrez-Murillo F, et al. Pimecrolimus 1% cream for the treatment of discoid lupus erythematosus. Rheumatology (Oxford). 2005 Dec. 44(12):1564-8. [Medline].

Magaña-García M. Antimalarials for children. J Am Acad Dermatol. 1994 Mar. 30(3):510. [Medline].

Miettunen PM, Bruecks A, Remington T. Dramatic response of scarring scalp discoid lupus erythematosus (DLE) to intravenous methylprednisolone, oral corticosteroids, and hydroxychloroquine in a 5-year-old child. Pediatr Dermatol. 2009 May-Jun. 26(3):338-41. [Medline].

Moises-Alfaro C, Berrón-Pérez R, Carrasco-Daza D, Gutiérrez-Castrellón P, Ruiz-Maldonado R. Discoid lupus erythematosus in children: clinical, histopathologic, and follow-up features in 27 cases. Pediatr Dermatol. 2003 Mar-Apr. 20(2):103-7. [Medline].

Abe M, Ishikawa O, Miyachi Y. Linear cutaneous lupus erythematosus following the lines of Blaschko. Br J Dermatol. 1998 Aug. 139(2):307-10. [Medline].

Baskin E, Ozen S, Cakar N, Bayrakci US, Demirkaya E, Bakkaloglu A. The use of low-dose cyclophosphamide followed by AZA/MMF treatment in childhood lupus nephritis. Pediatr Nephrol. 2010 Jan. 25(1):111-7. [Medline].

Silverman ED, Lang B. An overview of the treatment of childhood SLE. Scand J Rheumatol. 1997. 26(4):241-6. [Medline].

Carreno L, Lopez-Longo FJ, Gonzalez CM, Monteagudo I. Treatment options for juvenile-onset systemic lupus erythematosus. Paediatr Drugs. 2002. 4(4):241-56. [Medline].

Tincani A, Rebaioli CB, Frassi M, Taglietti M, Gorla R, Cavazzana I, et al. Pregnancy and autoimmunity: maternal treatment and maternal disease influence on pregnancy outcome. Autoimmun Rev. 2005 Sep. 4(7):423-8. [Medline].
Medscape Reference © 2011 WebMD, LLC