Neonatal and Pediatric Lupus Erythematosus Treatment & Management
Author: Alisa N Femia, MD; Chief Editor: Lawrence K Jung, MD more...
Updated: Jun 08, 2016
What would you like to print?
Approach Considerations
Neonatal lupus erythematosus (NLE) that affects the skin (see the image below), blood, spleen, or liver is usually self-limited and resolves without intervention within 2-6 months.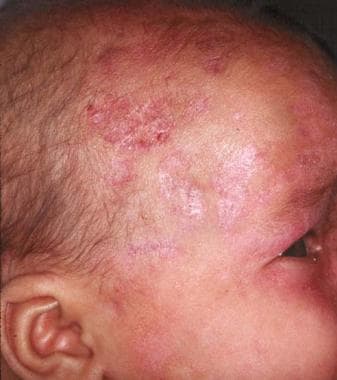 This child was one of a pair of fraternal twins. Her sibling was not affected, although the mother and both infants had similar autoantibodies in their circulations. Eventually, the lesions seen here resolved and healed without sequelae.
Treatment should be supportive and depends on the specific manifestations present.
Treatment of cutaneous NLE is not required as lesions resolve without scarring. However, in cases in which therapy is desired, treatment includes mild topical corticosteroids, antimalarial agents, and, possibly, laser treatment for residual telangiectasia. Photoprotection such as sunscreen and protective clothing is highly desirable, because solar exposure may precipitate skin lesions.
The type of treatment and the long-term prognosis for neonates with cardiac rhythm and conduction disturbances depends on the presence of underlying congenital heart abnormalities. Systemic corticosteroids may be used to treat or prevent cardiac NLE, but they are generally not recommended for established third-degree heart block as this condition is typically irreversible. While intravenous immunoglobulin (IVIG) has not been helpful in preventing congenital heart block, IVIG combined with corticosteroids administered prenatally to mothers may be helpful in preventing fetal cardiomyopathy or endocardial fibroelastosis.[31, 32] In severe cases, NLE that affects the heart may result in cardiac failure and death. A pacemaker is often necessary.
Consider transfer to a tertiary care center for all children and neonates with lupus erythematosus (LE). Consultations with specialists in dermatology, cardiology, rheumatology, nephrology, neurology, hepatology, immunology, and hematology may also be indicated.
Management of cutaneous and systemic LE in children is similar to management in adults and depends on specific disease manifestations. Therapy is directed towards any internal organ involvement and the prevention of dyspigmentation, disfigurement, and scarring as a result of cutaneous disease.
Prevention and Long-Term Monitoring
Observe mothers with positive autoantibodies and/or mothers who give birth to a child with neonatal lupus erythematosus (NLE).[33] Mothers of such neonates, particularly neonates with congenital heart block, have at least a 2- to 3-fold increased risk of subsequent affected neonates. An estimated 15-25% of subsequent pregnancies are affected.[33] Therefore, carefully monitor subsequent pregnancies with serial ultrasonography and echocardiography, particularly at 18-24 weeks gestation.
Fluorinated systemic steroids may help prevent NLE. Intravenous immunoglobulin (IVIG) merits evaluation as a potential prophylactic approach in mothers who have previously had an affected child.[34] While neither of 2 recent studies demonstrated benefit in outcome IVIG,[35, 36] a recent study suggests that prenatal administration of IVIG along with corticosteroids may decrease the risk for fetal cardiomyopathy or endocardial fibroelastosis.[32]
The use of hydroxychloroquine for anti-Ro/SSA–positive mothers with systemic lupus erythematosus (SLE) has been associated with a lower rate of NLE during pregnancy.[37] In addition, aggregate multinational data have revealed that maternal use of hydroxychloroquine reduces the risk of NLE in subsequent pregnancies for mothers who are anti-Ro/SSA positive and have previously given birth to an infant with cardiac NLE, regardless of maternal health status.[38]
Consult an obstetrician with experience with high-risk pregnancies, and consider administration of prednisolone or fluorinated steroids during subsequent pregnancies to prevent NLE. In at least one instance, congenital heart block was prevented with the use of systemic corticosteroids beginning at 10 weeks' gestation, azathioprine shortly thereafter, and plasmapheresis beginning at 18 weeks' gestation.[39]
Children with NLE need continued follow-up, especially before adolescence and in cases in which the mother herself has an autoimmune disease.[40] Although the child may not be at increased risk of developing SLE, the development of some form of autoimmune disease in early childhood may be of concern.
Patients with NLE and cardiac involvement require regular monitoring to assess cardiac function and the need for a pacemaker. Thus, serial echocardiography to monitor for a prolonged PR interval may be warranted.
Patients with cutaneous NLE do not require monitoring after lesions resolve. Although children with cutaneous disease may be more prone to develop lupus erythematosus (LE) later in life, this reflects genetic predisposition, rather than the occurrence of NLE earlier in life. Nonaffected siblings are also at risk for the development of SLE.
References
Dickey BZ, Holland KE, Drolet BA, Galbraith SS, Lyon VB, Siegel DH. Demographic and clinical characteristics of cutaneous lupus erythematosus at a paediatric dermatology referral centre. Br J Dermatol. 2013 Aug. 169(2):428-33. [Medline].

Lepore L, Marchetti F, Facchini S, Leone V, Ventura A. Drug-induced systemic lupus erythematosus associated with etanercept therapy in a child with juvenile idiopathic arthritis. Clin Exp Rheumatol. 2003 Mar-Apr. 21(2):276-7. [Medline].

Inoue CN, Kondo Y, Suwabe N, Igarashi Y, Tada K. Minocycline-related lupus in childhood. Eur J Pediatr. 1994 Jul. 153(7):540. [Medline].

Chiou AS, Sun G, Kim J, Wang KC, Marqueling AL. Cutaneous Neonatal Lupus Arising in an Infant Conceived From an Oocyte Donation Pregnancy. JAMA Dermatol. 2016 Mar 9. [Medline].

Franceschini F, Cavazzana I. Anti-Ro/SSA and La/SSB antibodies. Autoimmunity. 2005 Feb. 38(1):55-63. [Medline].

Eftekhari P, Sallé L, Lezoualc'h F, Mialet J, Gastineau M, Briand JP, et al. Anti-SSA/Ro52 autoantibodies blocking the cardiac 5-HT4 serotoninergic receptor could explain neonatal lupus congenital heart block. Eur J Immunol. 2000 Oct. 30(10):2782-90. [Medline].

Boutjdir M, Chen L, Zhang ZH, Tseng CE, El-Sherif N, Buyon JP. Serum and immunoglobulin G from the mother of a child with congenital heart block induce conduction abnormalities and inhibit L-type calcium channels in a rat heart model. Pediatr Res. 1998 Jul. 44(1):11-9. [Medline].

Briassouli P, Halushka MK, Reed JH, et al. A central role of plasmin in cardiac injury initiated by fetal exposure to maternal anti-Ro autoantibodies. Rheumatology (Oxford). 2013 Aug. 52(8):1448-53. [Medline]. [Full Text].

Woodman I. Paediatric rheumatology: uPA-uPAR at the heart of cardiac neonatal lupus. Nat Rev Rheumatol. 2013 Jun. 9(6):322. [Medline].

Terzoglou AG, Routsias JG, Avrameas S, Moutsopoulos HM, Tzioufas AG. Preferential recognition of the phosphorylated major linear B-cell epitope of La/SSB 349-368 aa by anti-La/SSB autoantibodies from patients with systemic autoimmune diseases. Clin Exp Immunol. 2006 Jun. 144(3):432-9. [Medline]. [Full Text].

Meisgen S, Ostberg T, Salomonsson S, et al. The HLA locus contains novel foetal susceptibility alleles for congenital heart block with significant paternal influence. J Intern Med. 2013 Dec 20. [Medline].

Bansal C, Ross AS, Cusack CA. Chronic cutaneous lupus in childhood: a report of two cases and review of the literature. Int J Dermatol. 2008 May. 47(5):525-6. [Medline].

Wisuthsarewong W, Soongswang J, Chantorn R. Neonatal lupus erythematosus: clinical character, investigation, and outcome. Pediatr Dermatol. 2011 Mar-Apr. 28(2):115-21. [Medline].

Yang Q, Shao XM, Cao Y, Chen C, Cheng GQ, Shi YY, et al. [Neonatal lupus erythematosus: analysis of 8 cases]. Zhonghua Er Ke Za Zhi. 2008 Jan. 46(1):18-21. [Medline].

Morgan TA, Watson L, McCann LJ, Beresford MW. Children and adolescents with SLE: not just little adults. Lupus. 2013 Oct. 22(12):1309-19. [Medline].

Mina R, Brunner HI. Update on differences between childhood-onset and adult-onset systemic lupus erythematosus. Arthritis Res Ther. 2013 Aug 21. 15(4):218. [Medline].

Rivera TL, Izmirly PM, Birnbaum BK, et al. Disease progression in mothers of children enrolled in the Research Registry for Neonatal Lupus. Ann Rheum Dis. 2009 Jun. 68(6):828-35. [Medline].

Spence D, Hornberger L, Hamilton R, Silverman ED. Increased risk of complete congenital heart block in infants born to women with hypothyroidism and anti-Ro and/or anti-La antibodies. J Rheumatol. 2006 Jan. 33(1):167-70. [Medline].

Peñate Y, Luján D, Rodríguez J, Hernández-Machín B, Montenegro T, Afonso JL, et al. [Neonatal lupus erythematosus: 4 cases and clinical review]. Actas Dermosifiliogr. 2005 Dec. 96(10):690-6. [Medline].

Asboth D, Kassay E, Noll J, Szalai Z. Neonatal lupus erythematosus: deep and ulcerating form. Borgyogaszati Venerol Szemle. 2000;. 76:263-5.

Lynn Cheng C, Galbraith S, Holland K. Congenital lupus erythematosus presenting at birth with widespread erosions, pancytopenia, and subsequent hepatobiliary disease. Pediatr Dermatol. 2010 Jan-Feb. 27(1):109-11. [Medline].

Elish D, Silverberg NB. Neonatal lupus erythematosus. Cutis. 2006 Feb. 77(2):82-6. [Medline].

Cimaz R, Biggioggero M, Catelli L, Muratori S, Cambiaghi S. Ultraviolet light exposure is not a requirement for the development of cutaneous neonatal lupus. Lupus. 2002. 11(4):257-60. [Medline].

Floristan U, Feltes R, González-Beato M, Feito M, Laguna Rde L. Targetoid lesions and neutrophilic dermatosis within neonatal lupus erythematosus: unusual clinical and histologic presentations. J Cutan Med Surg. 2010 Jan-Feb. 14(1):46-7. [Medline].

Brucato A, Frassi M, Franceschini F, Cimaz R, Faden D, Pisoni MP, et al. Risk of congenital complete heart block in newborns of mothers with anti-Ro/SSA antibodies detected by counterimmunoelectrophoresis: a prospective study of 100 women. Arthritis Rheum. 2001 Aug. 44(8):1832-5. [Medline].

Guettrot-Imbert G, Cohen L, Fermont L, Villain E, Francès C, Thiebaugeorges O, et al. A new presentation of neonatal lupus: 5 cases of isolated mild endocardial fibroelastosis associated with maternal Anti-SSA/Ro and Anti-SSB/La antibodies. J Rheumatol. 2011 Feb. 38(2):378-86. [Medline].

Boros CA, Spence D, Blaser S, Silverman ED. Hydrocephalus and macrocephaly: new manifestations of neonatal lupus erythematosus. Arthritis Rheum. 2007 Mar 15. 57(2):261-6. [Medline].

Chen CC, Lin KL, Chen CL, Wong AM, Huang JL. Central nervous system manifestations of neonatal lupus: a systematic review. Lupus. 2013 Dec. 22(14):1484-8. [Medline].

Silverman E, Jaeggi E. Non-cardiac manifestations of neonatal lupus erythematosus. Scand J Immunol. 2010 Sep. 72(3):223-5. [Medline].

Demaestri M, Sciascia S, Kuzenko A, Bergia R, Barberis L, Lanza MG, et al. Neonatal lupus in triplet pregnancy of a patient with undifferentiated connective tissue disease evolving to systemic lupus erythematosus. Lupus. 2009 Apr. 18(4):368-71. [Medline].

Vogel T, Kitcharoensakkul M, Fotis L, Baszis K. The heart and pediatric rheumatology. Rheum Dis Clin North Am. 2014 Feb. 40(1):61-85. [Medline].

Trucco SM, Jaeggi E, Cuneo B, et al. Use of intravenous gamma globulin and corticosteroids in the treatment of maternal autoantibody-mediated cardiomyopathy. J Am Coll Cardiol. 2011 Feb 8. 57(6):715-23. [Medline].

Yang CH, Chen JY, Lee SC, Luo SF. Successful preventive treatment of congenital heart block during pregnancy in a woman with systemic lupus erythematosus and anti-Sjögren's syndrome A/Ro antibody. J Microbiol Immunol Infect. 2005 Oct. 38(5):365-9. [Medline].

Buyon JP, Clancy RM, Friedman DM. Cardiac manifestations of neonatal lupus erythematosus: guidelines to management, integrating clues from the bench and bedside. Nat Clin Pract Rheumatol. 2009 Mar. 5(3):139-48. [Medline].

Friedman DM, Llanos C, Izmirly PM, et al. Evaluation of fetuses in a study of intravenous immunoglobulin as preventive therapy for congenital heart block: Results of a multicenter, prospective, open-label clinical trial. Arthritis Rheum. 2010 Apr. 62(4):1138-46. [Medline].

Pisoni CN, Brucato A, Ruffatti A, et al. Failure of intravenous immunoglobulin to prevent congenital heart block: Findings of a multicenter, prospective, observational study. Arthritis Rheum. 2010 Apr. 62(4):1147-52. [Medline].

Izmirly PM, Kim MY, Llanos C, et al. Evaluation of the risk of anti-SSA/Ro-SSB/La antibody-associated cardiac manifestations of neonatal lupus in fetuses of mothers with systemic lupus erythematosus exposed to hydroxychloroquine. Ann Rheum Dis. 2010 Oct. 69(10):1827-30. [Medline].

Izmirly PM, Costedoat-Chalumeau N, Pisoni C, Khamashta MA, Kim MY, Saxena A, et al. Maternal Use of Hydroxychloroquine is Associated with a Reduced Risk of Recurrent Anti-SSA/Ro Associated Cardiac Manifestations of Neonatal Lupus. Circulation. 2012 May 24. [Medline].

Shinohara K, Miyagawa S, Fujita T, Aono T, Kidoguchi K. Neonatal lupus erythematosus: results of maternal corticosteroid therapy. Obstet Gynecol. 1999 Jun. 93(6):952-7. [Medline].

Martin V, Lee LA, Askanase AD, Katholi M, Buyon JP. Long-term followup of children with neonatal lupus and their unaffected siblings. Arthritis Rheum. 2002 Sep. 46(9):2377-83. [Medline].

Tlacuilo-Parra A, Guevara-Gutiérrez E, Gutiérrez-Murillo F, et al. Pimecrolimus 1% cream for the treatment of discoid lupus erythematosus. Rheumatology (Oxford). 2005 Dec. 44(12):1564-8. [Medline].

Magaña-García M. Antimalarials for children. J Am Acad Dermatol. 1994 Mar. 30(3):510. [Medline].

Miettunen PM, Bruecks A, Remington T. Dramatic response of scarring scalp discoid lupus erythematosus (DLE) to intravenous methylprednisolone, oral corticosteroids, and hydroxychloroquine in a 5-year-old child. Pediatr Dermatol. 2009 May-Jun. 26(3):338-41. [Medline].

Moises-Alfaro C, Berrón-Pérez R, Carrasco-Daza D, Gutiérrez-Castrellón P, Ruiz-Maldonado R. Discoid lupus erythematosus in children: clinical, histopathologic, and follow-up features in 27 cases. Pediatr Dermatol. 2003 Mar-Apr. 20(2):103-7. [Medline].

Abe M, Ishikawa O, Miyachi Y. Linear cutaneous lupus erythematosus following the lines of Blaschko. Br J Dermatol. 1998 Aug. 139(2):307-10. [Medline].

Baskin E, Ozen S, Cakar N, Bayrakci US, Demirkaya E, Bakkaloglu A. The use of low-dose cyclophosphamide followed by AZA/MMF treatment in childhood lupus nephritis. Pediatr Nephrol. 2010 Jan. 25(1):111-7. [Medline].

Silverman ED, Lang B. An overview of the treatment of childhood SLE. Scand J Rheumatol. 1997. 26(4):241-6. [Medline].

Carreno L, Lopez-Longo FJ, Gonzalez CM, Monteagudo I. Treatment options for juvenile-onset systemic lupus erythematosus. Paediatr Drugs. 2002. 4(4):241-56. [Medline].

Tincani A, Rebaioli CB, Frassi M, Taglietti M, Gorla R, Cavazzana I, et al. Pregnancy and autoimmunity: maternal treatment and maternal disease influence on pregnancy outcome. Autoimmun Rev. 2005 Sep. 4(7):423-8. [Medline].
Medscape Reference © 2011 WebMD, LLC