Circumcision
Author: Carlos A Angel, MD; Chief Editor: Ted Rosenkrantz, MD more...
Updated: Jul 01, 2016
What would you like to print?
Background
Circumcision of males involves removing the fold of skin that normally covers the glans penis.
Although no consensus exists among scholars regarding the origins of circumcision, some have suggested that this procedure likely originated in Egypt some 15,000 years ago and that its practice later spread throughout the world during prehistoric human migrations. Egyptian mummies and wall carvings discovered in the 19th century offer some of the earliest records of circumcision dating this procedure to at least 6000 years BC. However, other authors believe that circumcision developed independently in different cultures. For example, on his arrival to the New World, Columbus found that many of the natives were already circumcised.
Many cultures have historically used circumcision for hygienic reasons, for instance, as a rite of passage to manhood, as a mark of cultural identity (similar to a tattoo), or as a ceremonial offering to the gods. Ritual circumcisions in Middle Eastern cultures have been practiced for at least 3000 years. Late in the 19th century, this ancient ritual evolved into routine medical practice influenced by reports that associated it with miraculous cures for hernias, paralysis, epilepsy, insanity, masturbation, headache, strabismus, rectal prolapse, hydrocephalus, clubfoot, asthma, enuresis, and gout.
Routine neonatal circumcision has become a controversial issue in the past 2 decades as many of the previously accepted medical indications have come under considerable scrutiny. Because neonatal circumcision poses both potential benefits and risks and because the procedure is not necessary for a child's well-being, the American Academy of Pediatrics (AAP) Task Force on Circumcision in its latest policy statement in 1999 affirms that "existing scientific evidence demonstrates potential benefits of newborn male circumcision; however, these data are not sufficient to recommend routine neonatal circumcision."[1] As a consequence, parents should be appropriately counseled so that they can make an informed choice and decide whether a circumcision is in the best interest of their child.
Bossio et al conducted a review of peer-reviewed medical journal articles to assess the state of circumcision research, as that research applies to North American populations.[2] Their review uncovered considerable gaps within the current literature on circumcision, including a need for empirically based studies to address questions about circumcision and sexual function, penile sensitivity, the effect of circumcision on men's sexual partners, reasons for circumcision, the effects of age at circumcision (particularly with regard to neonatal circumcision), and the need for objective research outcomes. The investigators commented that such research is needed to inform policy makers, healthcare professionals, parents, and others with regard to the decision to perform routine circumcision on male neonates in North America.[2]
The penile skin is continuous with that of the lower abdominal wall. Distally, the penile skin is confluent with the smooth, hairless skin covering the glans. At the corona, it is folded on itself to form the prepuce (foreskin), which overlies the glans. The subcutaneous connective tissue of the penis and scrotum has abundant smooth muscle and is called the dartos fascia, which continues into the perineum and fuses with the superficial perineal (Colle) fascia. In the penis, the dartos fascia is loosely attached to the skin and deep penile (Buck) fascia and contains the superficial arteries, veins, and nerves of the penis. For more information about the relevant anatomy, see Penis Anatomy.
Pathophysiology
The prepuce, a fold of skin that covers the glans penis, is lined up by an external keratinized layer and an internal mucosal layer. The pouch thus created can collect desquamated epithelial cells forming the so-called keratin pearls in infants and toddlers (which are not infectious in nature). In adolescence, cellular debris and local secretions collect in the form of smegma if the penis is not cleaned regularly. The prepuce provides protection to the glans from dryness and keratinization. Innervation of the prepuce is complex, the dorsal nerve of the penis and branches of the perineal nerve provide somatosensory input, whereas autonomic innervation comes primarily from the pelvic plexus.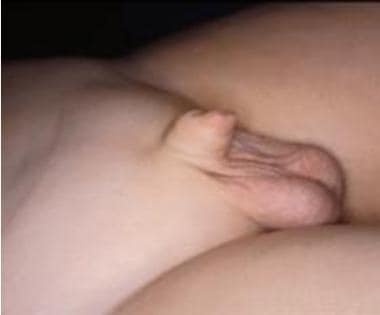 Infant penis.
Epidemiology
Frequency
United States
In the United States, accurate estimates of the rate of neonatal circumcisions are limited. The frequency of circumcision varies depending on geographic location, religious affiliation, and socioeconomic classification. One study showed differences in neonatal circumcision rates among racial and ethnic groups: 81% in whites, 65% in African-Americans, and 54% in Hispanics.
According to data from the National Hospital Discharge Survey, 1.2 million (65.3%) babies were circumcised in the United States in 1999, making this the highest rate of routine neonatal circumcision among developed nations. Healthcare coverage has and will continue to affect the rates of routine neonatal circumcision. As of 2004, 13 states had terminated Medicaid funding for neonatal circumcisions. At present, approximately 70% of obstetricians, 60% of family practitioners, and 35% of pediatricians practice newborn circumcision.
Sex
Circumcision applies only to male individuals.
References
Lannon CM, Bailey AGB, Fleischman AR. Circumcision policy statement. American Academy of Pediatrics. Task Force on Circumcision. Pediatrics. 1999 Mar. 103(3):686-93. [Medline].

Bossio JA, Pukall CF, Steele S. A Review of the Current State of the Male Circumcision Literature. J Sex Med. 2014 Oct 6. [Medline].

Bossio JA, Pukall CF, Steele SS. Examining Penile Sensitivity in Neonatally Circumcised and Intact Men Using Quantitative Sensory Testing. J Urol. 2016 Jun. 195 (6):1848-53. [Medline].

Lewis R. Neonatal Circumcision Does Not Reduce Sensitivity in Men. Medscape Medical News. Available at http://www.medscape.com/viewarticle/862071. April 18, 2016; Accessed: July 1, 2016.

Sneppen I, Thorup J. Foreskin Morbidity in Uncircumcised Males. Pediatrics. 2016 May. 137 (5):[Medline].

Freedman AL. The Circumcision Debate: Beyond Benefits and Risks. Pediatrics. 2016 May. 137(5):[Medline].

Wiswell TE, Hachey WE. Urinary tract infections and the uncircumcised state: an update. Clin Pediatr (Phila). 1993 Mar. 32(3):130-4. [Medline].

Alanis MC, Lucidi RS. Neonatal circumcision: a review of the world's oldest and most controversial operation. Obstet Gynecol Surv. 2004 May. 59(5):379-95. [Medline].

Weiss HA, Quigley MA, Hayes RJ. Male circumcision and risk of HIV infection in sub-Saharan Africa: a systematic review and meta-analysis. AIDS. 2000. 14(15):2361-70. [Medline].

Bailey RC, Neema S, Othieno R. Sexual behaviors and other HIV risk factors in circumcised and uncircumcised men in Uganda. J Acquir Immune Defic Syndr. 1999. Nov 1;22(3):294-301. [Medline].

Wolbars AL. Circumcision and penile cancer. Lancet. 1932. 1:150-3.

Schoen EJ. Ignoring evidence of circumcision benefits. Pediatrics. 2006. 118(1):385-7. [Medline].

Berdeu D, Sauze L, Ha-Vinh P, Blum-Boisgard C. Cost-effectiveness analysis of treatments for phimosis: a comparison of surgical and medicinal approaches and their economic effect. BJU Int. 2001 Feb. 87(3):239-44. [Medline].

Alexander SE, Storm DW, Cooper CS. Teasing in School Locker Rooms Regarding Penile Appearance. J Urol. 2014 Oct 1. [Medline].

Auvert B, Sobngwi-Tambekou J, Cutler E, Nieuwoudt M, Lissouba P, Puren A, et al. Effect of male circumcision on the prevalence of high-risk human papillomavirus in young men: results of a randomized controlled trial conducted in Orange Farm, South Africa. J Infect Dis. 2009 Jan 1. 199(1):14-9. [Medline]. [Full Text].

Cantu S Jr. Phimosis and paraphimosis. Medscape Reference Journal [serial online]. 2001. Available at: http://emedicine.medscape.com/article/777539-overview. [Full Text].

Doyle SM, Kahn JG, Hosang N, Carroll PR. The impact of male circumcision on HIV transmission. J Urol. 2010 Jan. 183(1):21-6. [Medline].

Hart-Cooper GD, Tao G, Stock JA, Hoover KW. Circumcision of privately insured males aged 0 to 18 years in the United States. Pediatrics. 2014 Nov. 134(5):950-6. [Medline].

Mehta SD, Moses S, Agot K, Parker C, Ndinya-Achola JO, Maclean I, et al. Adult male circumcision does not reduce the risk of incident Neisseria gonorrhoeae, Chlamydia trachomatis, or Trichomonas vaginalis infection: results from a randomized, controlled trial in Kenya. J Infect Dis. 2009 Aug 1. 200(3):370-8. [Medline].

Moses S. Male circumcision: a new approach to reducing HIV transmission. CMAJ. 2009 Oct 13. 181(8):E134-5. [Medline]. [Full Text].

Prais D, Shoov-Furman R, Amir J. Is ritual circumcision a risk factor for neonatal urinary tract infections?. Arch Dis Child. 2009 Mar. 94(3):191-4. [Medline].

Roth DR, Gonzales ET Jr. Disorders of renal development and anomalies of the collecting system, bladder, penis, and scrotum. Oski FA, ed. Oski's Essential Pediatrics. 2nd ed. Wolters Kluwer; 1994. 1763-5.

Tobian AA, Serwadda D, Quinn TC, Kigozi G, Gravitt PE, Laeyendecker O, et al. Male circumcision for the prevention of HSV-2 and HPV infections and syphilis. N Engl J Med. 2009 Mar 26. 360(13):1298-309. [Medline]. [Full Text].
Medscape Reference © 2011 WebMD, LLC