Reduction of Radial Head Subluxation Periprocedural Care
Author: Gretchen S Lent, MD; Chief Editor: Erik D Schraga, MD more...
Updated: May 16, 2016
What would you like to print?
Patient Education and Consent
Recurrence of radial head subluxation may be avoided by instructing parents and caregivers not to pull children by their arms. Some practitioners advocate teaching parents or caregivers how to reduce a subluxated radial head so that they can provide appropriate management in the event of a recurrence. Cases in which the subluxation was diagnosed and treated over the telephone have been reported.[10]
Preprocedural Evaluation
Children are often brought for evaluation because they are not using the affected arm. Because these children often support the affected hand or wrist, caregivers may suspect wrist injury. An examination quickly rules out injury to these areas.
A child with a radial head subluxation usually is not in any distress. The affected arm is held semiflexed, adducted, and pronated (see the image below).[11] The lateral elbow may be mildly tender, and attempts to pronate or supinate the arm may cause pain. All other range of motion is often permitted.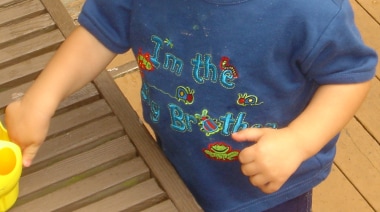 In radial head subluxation, subluxated arm is held semiflexed, adducted, and pronated.
No significant edema or effusion should be found on clinical examination. If focal swelling or other areas of tenderness are present, radiographs should be performed. The examiner should keep in mind that fractures, especially supracondylar ones, can be mistaken for simple subluxations.[12]
As a rule, if there is no history of significant trauma and if no deformity or local tenderness (other than that at the radial head) is noted, radiographs are not necessary.[13] When radiography is performed, the radiographs of the subluxated radial head are typically normal; however, they can sometimes demonstrate subtle discontinuity of the radius and capitellum along a straight line.[14] The positioning required to take proper radiographs often reduces the radial head into place.
Ultrasonography can also be used to demonstrate displacement of the cartilaginous radial head away from the capitellum.[15] Arthrography is useful for detecting occult subluxations in children with other operative injuries of the elbow.[16]
As with any injury, neurologic and vascular status should be documented both before and after manipulation.
Patient Preparation
Reduction of a radial head subluxation is generally a quick and easy procedure that requires no anesthesia. Acetaminophen or ibuprofen may be given to a child for pain relief. In special situations, procedural sedation may be used; however, in routine reductions, the risks of sedation usually outweigh the benefits.
During radial head reduction, the patient stands or sits on the caregiver's lap for comfort and support. The physician faces the patient and sits or kneels to be at the same eye level.
References
Macias CG, Bothner J, Wiebe R. A comparison of supination/flexion to hyperpronation in the reduction of radial head subluxations. Pediatrics. 1998 Jul. 102(1):e10. [Medline].

Pearson BV, Kuhns DW. Nursemaid's elbow in a 31-year old female. American Journal of Emergency Medicine. February 2007. 25:222-223. [Medline].

Bretland PM. Pulled elbow in childhood. Br J Radiol. 1994 Dec. 67(804):1176-85. [Medline].

Schunk JE. Radial head subluxations: Epidemiology and treatment of 87 episodes. Ann Emerg Med. 1990. 19:1019-1023. [Medline].

Kim JH, Lee HJ, Baek GH. Intra-articular osteoid osteoma in the proximal ulna combined with radial head subluxation: a case report. J Shoulder Elbow Surg. 2012 Aug. 21(8):e1-5. [Medline].

Curtis E. Managing 'pulled elbow' in the paediatric emergency department. Emerg Nurse. 2012 Feb. 19(9):24-7; quiz 29. [Medline].

Meiner EM, Sama AE, Lee DC, Nelson M, Kats DS, Trope A. Bilateral nursemaid's elbow. American Journal of Emergency Medicine. October 2004. 22:502-503. [Medline].

Van Zeeland NL, Bae DS, Goldfarb CA. Intra-articular radial head fracture in the skeletally immature patient: progressive radial head subluxation and rapid radiocapitellar degeneration. J Pediatr Orthop. 2011 Mar. 31(2):124-9. [Medline].

Tatebe M, Hirata H, Shinohara T, Yamamoto M, Morita A, Horii E. Pathomechanical significance of radial head subluxation in the onset of osteochondritis dissecans of the radial head. J Orthop Trauma. 2012 Jan. 26(1):e4-6. [Medline].

Kaplan RE, Lillis KA. Recurrent nursemaid's elbow (annular ligament displacement) treatment via telephone. Pediatrics. July 2008. 110:171-174. [Medline].

Sacchetti A, Ramoska EE, Glascow C. Nonclassic history in children with radial head subluxations. J Emerg Med. 1990 Mar-Apr. 8(2):151-3. [Medline].

Kraus R, Dongowski N, Szalay G, Schnettler R. Missed elbow fractures misdiagnosed as radial head subluxations. Acta Orthopaedica Belgica. June 2010. 76:312-315. [Medline].

Choung W, Heinrich SD. Acute annular ligament interposition into the radiocapitellar joint in children (nursemaid's elbow). J Pediatr Orthop. 1995 Jul-Aug. 15(4):454-6. [Medline].

Frumkin K. Nursemaid's elbow: A radiographic demonstration. Annals of Emergency Medicine. 1985. 14:690-693.

Shabat S, Folman F, Mann G, Kots Y, Fredman B, Banian M, et al. The role of sonography in detecting radial head subluxation in a child. Journal of Clinical Ultrasound. May 2005. 33:187-189. [Medline].

Lee DH, Han SB, Park JH, Park SY, Jeong WK, Lee SH. Elbow arthrography in children with an ulnar fracture and occult subluxation of the radial head. J Pediatr Orthop B. 2011 Jul. 20(4):257-63. [Medline].

Krul M, van der Wouden JC, van Suijlekom-Smit LW, Koes BW. Manipulative interventions for reducing pulled elbow in young children. Cochrane Database Syst Rev. 2012 Jan 18. 1:CD007759. [Medline].

McDonald J, Whitelaw C, Goldsmith LJ. Radial head subluxation: comparing two methods of reduction. Acad Emerg Med. 1999 Jul. 6(7):715-8. [Medline].

Green DA, Linares MYR, Garcia P, Greenberg B, Bakery RL. Randomized comparison of pain perception during radial head subluxation reduction using supination-flexion or forced pronation. Pediatric Emergency Care. April 2006. 22:235-238. [Medline].

Quan L, Marcuse EK. The epidemiology and treatment of radial head subluxation. Am J Dis Child. 1985 Dec. 139(12):1194-7. [Medline].

Joffe MD, Loiselle J. Orthopedic emergencies. Ludwig S, Henretig FM. Textbook of Pediatric Emergency Medicine. Philadelphia, PA: Lippincott Williams and Wilkins; 2000. 1601.

Kim MC, Eckhardt BP, Craig C, Kuhns LR. Ultrasonography of the annular ligament partial tear and recurrent "pulled elbow". Pediatr Radiol. 2004 Dec. 34(12):999-1004. [Medline].
Medscape Reference © 2011 WebMD, LLC