Otogenic Lateral Sinus Thrombosis
Author: B Viswanatha, DO, MBBS, PhD, MS, FACS; Chief Editor: Arlen D Meyers, MD, MBA more...
Updated: Mar 03, 2015
What would you like to print?
Background
Otogenic lateral sinus thrombosis is a well-known intracranial complication of otitis media. It occurs in combination with other intracranial complications. The advent of antibiotics has brought about a decline in this condition. Before the advent of antibiotics, most lateral sinus thrombosis was attributable to acute otitis media; however, in most of the recent published reports, chronic otitis media predominates.
An image depicting otogenic lateral sinus thrombosis can be seen below.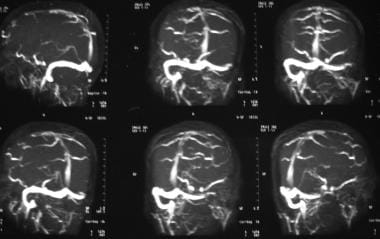 MR venogram that shows nonfilling of the lateral sinus on the left side.
History of the Procedure
Lateral sinus thrombosis was first described in 1826. Three decades later, the pathology of lateral sinus thrombosis was first described by Lebert. In 1888, Lane performed the first successful surgery for lateral sinus thrombosis.
Problem
Lateral sinus thrombosis is a potentially fatal condition in which early diagnosis may be difficult because of previous antibiotic therapy. In the antibiotic era, the presentation of lateral sinus thrombosis has changed from pronounced signs and symptoms to vague and nonspecific symptoms. The decreased incidence and change in presentation requires clinicians to maintain a high index of suspicion to make the diagnosis.
Lateral sinus thrombosis should be suspected in patients who have persistent fever, otorrhea, and headache despite adequate antibiotic treatment.
Epidemiology
Frequency
Lateral sinus thrombosis accounts for 6% of all intracranial complications in the era of antibiotic treatment of suppurative ear disease.
Etiology
The proximity of the middle ear and mastoid air cells to the dural venous sinuses predisposes them to thrombosis and thrombophlebitis secondary to infection and inflammation in the middle ear and mastoid.
Lateral sinus thrombosis usually develops as a complication of chronic otitis media caused by the direct dissemination of the infection through the neighboring eroded bone. It has been reported in a patient with an intact sigmoid plate, indicating propagation by the thrombophlebitic spread through the small emissary vein. It may also develop as a complication of acute suppurative otitis media by thrombophlebitic dissemination through the emissary vein in the intact bone. Lateral sinus thrombosis was ranked second to meningitis in the preantibiotic era as the most frequent fatal complication of otitis media and lateral sinus thrombosis occurred largely as a complication of acute otitis media. It is less often a disease of children in association with acute otitis media. More often, it is seen in the adult patient after a long history of chronic ear disease.
Pathophysiology
Initially, a perisinus abscess is formed, and, as the infection penetrates the dura and approach intima, a mural thrombus develops. Damage to the intima of blood vessels, hypercoagulation, and decreased blood flow are contributory factors in the formation of thrombus within the vessels. Damage to the tunica intima is the predominant factor in septic sinus thrombosis because the inflammatory process initiates fibrin formation and aggregation of blood platelets. The thrombogenic properties of bacteria are supposed to accelerate the process. Unless effective treatment is properly instituted, the mural clot grows and necrotizes, forming an intramural abscess. A mural thrombus then develops within the lumen of the sinus, propagates proximally and distally, and may become infected. The lumen of the vessel is eventually occluded by the propagating thrombus, and infected material may be embolized into the systemic circulation, causing septicemia.
Presentation
Clinical features vary according to the stage of the disease. Patients present with headache, fever, and otorrhea. The classic case of lateral sinus thrombosis in the preantibiotic era typically produced a picket fence fever curve, due to the periodic release of hemolytic streptococci from the septic sinus thrombus. With the occlusion of the lumen of the sinus, an interruption of the cortical venous circulation results in headache, papilledema, and increased intracranial pressure. Involvement of the torcular and sagittal sinus can result in otitic hydrocephalus.
Tenderness and edema over the mastoid (the Griesinger sign) are highly suggestive of lateral sinus thrombosis and reflex thrombosis of mastoid emissary vein. With the extension of thrombophlebitis into the jugular bulb and internal jugular vein, pain may be present in the neck, particularly on rotation. Internal jugular vein may be palpated in the neck as a tender cord. The 9th, 10th, and 11th cranial nerve may be paralyzed by the presence and pressure of a clot in the jugular bulb (jugular foramen syndrome).
Because the right transverse is usually dominant, the symptoms are more likely to occur when this sinus is involved. Recovery depends on the development of collateral circulation or possibly recanalization of the sinus. Because of this, the presence of anastomotic channel is important for recovery.
Relevant Anatomy
The lateral sinus is formed by the confluence of the superior petrosal sinus and the transverse sinus. The right transverse sinus is usually a continuation of the sagittal sinus, and the left transverse sinus is a continuation of the straight sinus. The lateral, or sigmoid, sinus exits the skull through the jugular foramen to become the internal jugular vein. It is called the lateral sinus because it is encountered laterally in mastoid surgery.
References
Au JK, Adam SI, Michaelides EM. Contemporary management of pediatric lateral sinus thrombosis: a twenty year review. Am J Otolaryngol. 2013 Mar-Apr. 34(2):145-50. [Medline].

Manolidis S, Kutz JW Jr. Diagnosis and management of lateral sinus thrombosis. Otol Neurotol. 2005 Sep. 26(5):1045-51. [Medline].

Bradley DT, Hashisaki GT, Mason JC. Otogenic sigmoid sinus thrombosis: what is the role of anticoagulation?. Laryngoscope. 2002 Oct. 112(10):1726-9. [Medline].

Levine SC, DeSouza SC. Intracranial complications of otitis media. Glasscock III ME, Gulya CJ. Shambaug's Surgery of the Ear. 5th. Ontario, British Columbia: Deckers Inc; 2003. 443-461.

Viswanatha B, Sarojamma MS, Vijayashree D, et al. Unilateral attico antral ear disease with bilateral intracranial complications. Indian J Otolaryn Head Neck Surg. Jan-March 2012. 64:82-6.

Samuel J, Fernandes CM. Lateral sinus thrombosis (a review of 45 cases). J Laryngol Otol. 1987 Dec. 101(12):1227-9. [Medline].

Amirmajdi NM. Sigmoid sinus involvement in middle-ear infection. Laryngoscope. 1988 Mar. 98(3):310-2. [Medline].

O'Connell JE. Lateral sinus thrombosis: a problem still with us. J Laryngol Otol. 1990 Dec. 104(12):949-51. [Medline].

Syms MJ, Tsai PD, Holtel MR. Management of lateral sinus thrombosis. Laryngoscope. 1999 Oct. 109(10):1616-20. [Medline].

Ooi EH, Hilton M, Hunter G. Management of lateral sinus thrombosis: update and literature review. J Laryngol Otol. 2003 Dec. 117(12):932-9. [Medline].

B.Viswanatha. Lateral sinus thrombosis: A major problem still with us. Indian Journal of Otolaryngology and Head and Neck Surgery. Jan - Mar 2007. Vol.59,No.1:24-27.

Cody.C.C.Jr. Thrombosis of the lateral sinus. Archives of Otolaryngology. 1939. 29:674-680.

Lyman.R. The pros and cons of jugular ligation for lateral sinus thrombosis. Kentucky Medical Journal. 1935. 33:351-354.

Ropposch T, Nemetz U, Braun EM, Lackner A, Tomazic PV, Walch C. Management of otogenic sigmoid sinus thrombosis. Otol Neurotol. 2011 Sep. 32(7):1120-3. [Medline].

Agarwal A,Lowry P,Issacson G. Natural history of sigmoid sinus thrombosis. Ann Otol Rhinol Laryngol. 2003. 112(2):191-194.

Agrawal S,Husein M,Mac Rae D. Complication of otitis media: an evolving state. J otolaryngol. 2005. 34 (suppl 1):s33 -39.

B.Viswanatha. Lateral sinus thrombosis with cranial nerves palsies. International Journal of Pediatric Otorhinolaryngology extra. September 2007. 2:165-168.

Dew LA, Shelton C. Complications of temporal bone infection. Cumings CW, Harker LA, Krause CJ et al. Otolaryngology and Head and neck surgery. 3rd edition. St Louis, Missouri: Mobsy Year-Book,Inc; 1998. Vol IV: 3047-3075.

Goldenberg RA. Lateral sinus thrombosis. Medical or surgical treatment?. Arch Otolaryngol. 1985 Jan. 111(1):56-8. [Medline].

Hawkins DB. Lateral sinus thrombosis: a sometimes unexpected diagnosis. Laryngoscope. 1985 Jun. 95(6):674-7. [Medline].

Irving RM, Jones NS, Hall-Craggs MA, Kendall B. CT and MR imaging in lateral sinus thrombosis. J Laryngol Otol. 1991 Aug. 105(8):693-5. [Medline].

Iseri M, AydÂn Ö, Üstündaf E, Keskin G, Almac A. Managementof lateral sinus thrombosis in chronic otitis media. Otol Neurotol. 2006. 27:1098-1103.

Jun H L, Seong J C, Keehyun P, Yun-Hoon C. Managements for lateral sinus thrombosis: does it need the ligation of internal jugular vein or anticoagulants?. Eur Arch Otorhinolaryngol. 2009. 266:51-58.

Kaplan DM, Kraus M, Puterman M, Niv A, Leiberman A, Fliss DM. Otogenic lateral sinus thrombosis in children. International Journal of Pediatric Otorhinolaryngology. 1999. 49:177-183.

Kutluhan A, Kiris M, Yurttas V, Kiroglu AF, Unal O. When can lateral sinus thrombosis be treated conservatively?. J Otolaryngol. 2004. 33:107-110.

Leiberman A, Lupu L, Landsberg R, Fliss DM. Unusual complications of otitis media. Am J Otol. 1994. 15:444-448.

Nathan C, John W, Jared S. Lateral sinus thrombosis: A review of seven cases and proposal of a management algorithm. International Journal of Pediatric Otorhinolaryngology. 2009. 73:581-584.

Oyarzabal MF, Patel KS, Tolley NS. Bilateral acute mastoiditis complicated by lateral sinus thrombosis. J Laryngol Otol. 1992 Jun. 106(6):535-7. [Medline].

Seid AB, Sellars. The management of otogenic lateralsinus disease at Groote Schuur Hospital. Laryngoscope. 1973. 83:397-403.

Smith JA,Danner CJ. Comlication of chronic otitis media and cholesteatoma. Otolaryngolo clinics of North America. 2006. 39:1237 - 1255.

Teichgraeber JF, Per-Lee JH, Turner JS Jr. Lateral sinus thrombosis: a modern perspective. Laryngoscope. 1982 Jul. 92(7 Pt 1):744-51. [Medline].

Tovi F, Fliss DM, Noyek AM. Septic internal jugular vein thrombosis. J Otolaryngol. 1993. 22:415-420.

Tveteras K, Kristensen S, Dommerby H. Septic cavernous and lateral sinus thrombosis: modern diagnostic and therapeutic principles. J Laryngol Otol. 1988 Oct. 102(10):877-82. [Medline].
Medscape Reference © 2011 WebMD, LLC