Atopic Dermatitis Clinical Presentation
Author: Brian S Kim, MD; Chief Editor: William D James, MD more...
Updated: May 03, 2016
What would you like to print?
History
Incessant pruritus is the central and most debilitating symptom of atopic dermatitis (AD); children often scratch themselves uncontrollably. Although pruritus may be present in the first few weeks of life, parents become more aware of the itch as the itch-scratch cycle matures when the patient is aged approximately 3 months. The disease typically has an intermittent course with flares and remissions occurring, often for unexplained reasons.
Data from a study by Garmhausen et al indicate that the natural course of the disease can be divided into subgroups with different clinical features.[34] The most frequent course type (31.1% of the sample) was characterized by an early disease onset (before age 2 years) and a chronic persisting course through adulthood.
Of the 607 patients in the study, 85.7% were categorized into 5 main different course types.[34] The greatest differences in the number of sensitizations, total immunoglobulin E serum levels, and predilection of skin lesions were seen between subjects with early-onset disease and a chronic persisting course until adulthood and those with late-onset AD developing after age 20 years.
AD patients often present with a personal or family history of type I hypersensitivity, allergic rhinitis, and asthma.
Essential historical features (must be present) are as follows:
Pruritus

Chronic or relapsing history of disease
Important historical features (supports the diagnosis) are as follows:
Early age of onset

Atopy: Personal and/or family history
Physical
Perform a routine skin examination to look for features associated with atopic dermatitis (AD). In younger patients, examine for dermatographism as many patient may have acute urticaria in the setting of AD.
Primary findings of AD include xerosis, lichenification, and eczematous lesions. Excoriations and crusting are common and some patients exhibit prurigo nodularis‒like lesions. The eczematous changes and its morphology are seen in different locations depending on the age of the patient.
Essential features (must be present) are as follows:
Pruritus

Eczema (acute, subacute, chronic): (1) Typical morphology and age-specific patterns (facial/neck/extensor involvement in children, flexural involvement in any age group, sparing the groin and axillary regions); (2) chronic or relapsing history
Important features (supports the diagnosis) are as follows:
Early age of onset

Atopy: (1) Personal and/or family history; (2) IgE reactivity

Xerosis
Associated features(nonspecific but suggest the diagnosis of AD) are as follows:
Atypical vascular responses (eg, facial pallor, delayed blanch response)

Keratosis pilaris/pityriasis alba/hyperlinear palms/ichthyosis

Ocular/periorbital changes

Other regional findings (eg, perioral changes/periauricular lesions)

Perifollicular accentuation/lichenification/prurigo
Infancy
AD is usually noticed soon after birth. Xerosis occurs early and often involves the whole body; the diaper area is usually spared.
The earliest lesions affect the creases (antecubital and popliteal fossae), with erythema and exudation. Over the following few weeks, lesions usually localize to the cheeks, the forehead and scalp, and the extensors of the lower legs; however, they may occur in any location on the body, usually sparing the diaper area and the nose. Lesions are ill-defined, erythematous, scaly, and crusted (eczematous) patches and plaques.
Lichenification is seldom seen in infancy. A typical presentation is shown in the image below.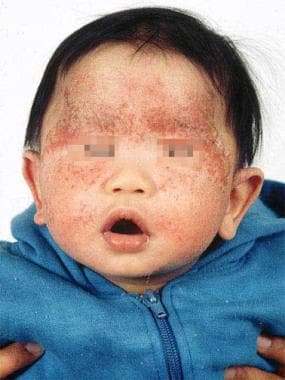 Typical atopic dermatitis on the face of an infant.
Childhood
Xerosis is often generalized. The skin is flaky and rough.
Lichenification is characteristic of childhood AD. It signifies repeated rubbing of the skin and is seen mostly over the folds, bony protuberances, and forehead.
Lesions are eczematous and exudative. Pallor of the face is common; erythema and scaling occur around the eyes. Dennie-Morgan folds (ie, increased folds below the eye) are often seen. Flexural creases, particularly the antecubital and popliteal fossae, and buttock-thigh creases are often affected. See the image below.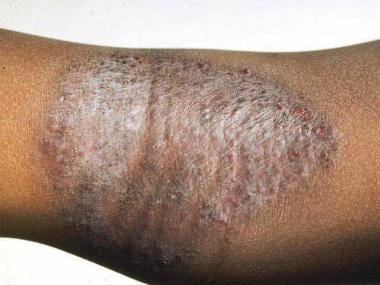 Flexural involvement in childhood atopic dermatitis.
Excoriations and crusting are common. The crusting with AD should not be confused with infection because both may manifest oozing and crusting.
Children with AD are likely to experience symptoms into their teens and beyond.[30, 31, 32]
Adulthood
Lesions become more diffuse with an underlying background of erythema. The face is commonly involved and is dry and scaly. Xerosis is prominent. Lichenification may be present. A brown macular ring around the neck is typical but not always present. It represents localized deposition of amyloid. See the image below.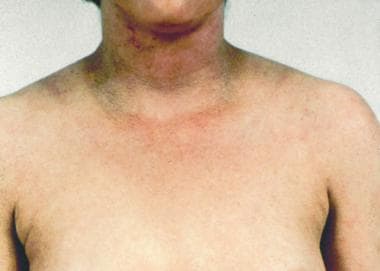 Dirty neck sign in chronic atopic dermatitis.
Diagnostic criteria
Until Hanifin and Rajka[35] developed diagnostic criteria for the diagnosis of AD in 1980, no standardized methods were available to make the diagnosis. Since then, numerous other experts have developed different criteria suitable for their own environment, and varying with age. The original criteria of Hanifin and Rajka have been modified many times. Efforts to develop practical clinical criteria have not been successful, and those available are not suitable for all geographic areas and age groups. The lack of a good biomarker for diagnosing the disease is an enormous obstacle to the study of AD.
Exclusionary conditions (conditions that should be excluded) are as follows:
Scabies

Seborrheic dermatitis

Contact dermatitis

Ichthyoses

Cutaneous T-cell lymphoma

Psoriasis

Photosensitivity dermatoses

Immune deficiency diseases

Erythroderma of other causes
Causes
Genetics [36, 37]
A family history of atopic dermatitis (AD) is common. The strongest known genetic risk factor for developing AD is the presence of a loss-of-function mutation in filaggrin. More recently, genome-wide association studies (GWAS) have identified susceptibility loci at 11q13.5 in European populations, at 5q22.1 and 1q21.3 in a Chinese Han population, and at 20q13.33 in both Chinese Han and German populations. A recent meta-analysis of GWAS studies in European populations identified SNPs rs479844 near OVOL1, rs2164983 near ACTL9, and rs2897442 in intron 8 of KIF3A. Many of these loci contain genes that encode proteins involved in epidermal proliferation and differentiation or inflammatory cytokines.
Infection
The skin of patients with AD is colonized by S. aureus. Clinical infection with S aureus often causes a flare of AD, and S aureus has been proposed as a cause of AD by acting as a superantigen. Similarly, superinfection with herpes simplex virus can also lead to a flare of disease and a condition referred to as eczema herpeticum.
Hygiene
The hygiene hypothesis is touted as a cause for the increase in AD. This attributes the rise in AD to reduced exposure to various childhood infections and bacterial endotoxins.[38, 39]
Climate
AD flares occur in extremes of climate. Heat is poorly tolerated, as is extreme cold. A dry atmosphere increases xerosis. Sun exposure improves lesions, but sweating increases pruritus. These external factors act as irritants or allergens, ultimately setting up an inflammatory cascade.
Food antigens
The role of food antigens in the pathogenesis of AD is controversial, both in the prevention of AD and by the withdrawal of foods in persons with established disease. Because of the controversy regarding the role of food in AD, most physicians do not withdraw food from the diet. Nevertheless, acute food reactions (urticaria and anaphylaxis) are commonly encountered in children with AD.
Probiotics [40]
The role of probiotics in the diet of patients with AD remains controversial.
Aeroallergens
A role for aeroallergens and house dust mites has been proposed, but this awaits further corroboration.
Tobacco
A study by Lee et al suggested a correlation between early and/or current exposure to cigarette smoking and adult onset of AD.[41] The study also determined that exposure to tobacco smoke in childhood is linked to adult onset of AD.
References
Spergel JM. From atopic dermatitis to asthma: the atopic march. Ann Allergy Asthma Immunol. 2010 Aug. 105(2):99-106; quiz 107-9, 117. [Medline].

Carlsten C, Dimich-Ward H, Ferguson A, Watson W, Rousseau R, Dybuncio A, et al. Atopic dermatitis in a high-risk cohort: natural history, associated allergic outcomes, and risk factors. Ann Allergy Asthma Immunol. 2013 Jan. 110(1):24-8. [Medline].

[Guideline] Eichenfield LF, Tom WL, Chamlin SL, Feldman SR, Hanifin JM, Simpson EL, et al. Guidelines of care for the management of atopic dermatitis: section 1. Diagnosis and assessment of atopic dermatitis. J Am Acad Dermatol. 2014 Feb. 70(2):338-51. [Medline].

Heller M, Shin HT, Orlow SJ, Schaffer JV. Mycophenolate mofetil for severe childhood atopic dermatitis: experience in 14 patients. Br J Dermatol. 2007 Jul. 157(1):127-32. [Medline].

Van Velsen SG, Haeck IM, Bruijnzeel-Koomen CA. Severe atopic dermatitis treated with everolimus. J Dermatolog Treat. 2009. 20(6):365-7. [Medline].

Feldman SR. Adherence must always be considered: is everolimus really ineffective as a treatment for atopic dermatitis?. J Dermatolog Treat. 2009. 20(6):317-8. [Medline].

Huang JT, Abrams M, Tlougan B, Rademaker A, Paller AS. Treatment of Staphylococcus aureus colonization in atopic dermatitis decreases disease severity. Pediatrics. 2009 May. 123(5):e808-14. [Medline].

Jansen CT, Haapalahti J, Hopsu-Havu VK. Immunoglobulin E in the human atopic skin. Arch Dermatol Forsch. 1973 May 28. 246(4):209-302. [Medline].

Koga C, Kabashima K, Shiraishi N, Kobayashi M, Tokura Y. Possible pathogenic role of Th17 cells for atopic dermatitis. J Invest Dermatol. 2008 Nov. 128 (11):2625-30. [Medline].

Molfino NA, Gossage D, Kolbeck R, Parker JM, Geba GP. Molecular and clinical rationale for therapeutic targeting of interleukin-5 and its receptor. Clin Exp Allergy. 2011 Sep 23. [Medline].

Hershko AY, Suzuki R, Charles N, Alvarez-Errico D, Sargent JL, Laurence A, et al. Mast cell interleukin-2 production contributes to suppression of chronic allergic dermatitis. Immunity. 2011 Oct 28. 35 (4):562-71. [Medline].

Kim BS, Siracusa MC, Saenz SA, Noti M, Monticelli LA, Sonnenberg GF, et al. TSLP elicits IL-33-independent innate lymphoid cell responses to promote skin inflammation. Sci Transl Med. 2013 Jan 30. 5 (170):170ra16. [Medline].

Kim BS, Wang K, Siracusa MC, Saenz SA, Brestoff JR, Monticelli LA, et al. Basophils promote innate lymphoid cell responses in inflamed skin. J Immunol. 2014 Oct 1. 193 (7):3717-25. [Medline].

Roediger B, Kyle R, Yip KH, Sumaria N, Guy TV, Kim BS, et al. Cutaneous immunosurveillance and regulation of inflammation by group 2 innate lymphoid cells. Nat Immunol. 2013 Jun. 14 (6):564-73. [Medline].

Imai Y, Yasuda K, Sakaguchi Y, Haneda T, Mizutani H, Yoshimoto T, et al. Skin-specific expression of IL-33 activates group 2 innate lymphoid cells and elicits atopic dermatitis-like inflammation in mice. Proc Natl Acad Sci U S A. 2013 Aug 20. 110 (34):13921-6. [Medline].

Salimi M, Barlow JL, Saunders SP, Xue L, Gutowska-Owsiak D, Wang X, et al. A role for IL-25 and IL-33-driven type-2 innate lymphoid cells in atopic dermatitis. J Exp Med. 2013 Dec 16. 210 (13):2939-50. [Medline].

Kim BS. Innate lymphoid cells in the skin. J Invest Dermatol. 2015 Mar. 135 (3):673-8. [Medline].

Osawa R, Akiyama M, Shimizu H. Filaggrin gene defects and the risk of developing allergic disorders. Allergol Int. 2011 Mar. 60(1):1-9. [Medline].

Smith FJ, Irvine AD, Terron-Kwiatkowski A, et al. Loss-of-function mutations in the gene encoding filaggrin cause ichthyosis vulgaris. Nat Genet. 2006 Mar. 38(3):337-42. [Medline].

Palmer CN, Irvine AD, Terron-Kwiatkowski A, et al. Common loss-of-function variants of the epidermal barrier protein filaggrin are a major predisposing factor for atopic dermatitis. Nat Genet. 2006 Apr. 38(4):441-6. [Medline].

Hvid M, Vestergaard C, Kemp K, Christensen GB, Deleuran B, Deleuran M. IL-25 in atopic dermatitis: a possible link between inflammation and skin barrier dysfunction?. J Invest Dermatol. 2011 Jan. 131 (1):150-7. [Medline].

Savinko T, Matikainen S, Saarialho-Kere U, Lehto M, Wang G, Lehtimäki S, et al. IL-33 and ST2 in atopic dermatitis: expression profiles and modulation by triggering factors. J Invest Dermatol. 2012 May. 132 (5):1392-400. [Medline].

Soumelis V, Reche PA, Kanzler H, Yuan W, Edward G, Homey B, et al. Human epithelial cells trigger dendritic cell mediated allergic inflammation by producing TSLP. Nat Immunol. 2002 Jul. 3 (7):673-80. [Medline].

Brandt EB, Sivaprasad U. Th2 Cytokines and Atopic Dermatitis. J Clin Cell Immunol. 2011 Aug 10. 2(3):[Medline]. [Full Text].

Margolis DJ, Kim B, Apter AJ, Gupta J, Hoffstad O, Papadopoulos M, et al. Thymic stromal lymphopoietin variation, filaggrin loss of function, and the persistence of atopic dermatitis. JAMA Dermatol. 2014 Mar. 150 (3):254-9. [Medline].

Kubo A, Nagao K, Amagai M. Epidermal barrier dysfunction and cutaneous sensitization in atopic diseases. J Clin Invest. 2012 Feb 1. 122(2):440-7. [Medline]. [Full Text].

Horii KA, Simon SD, Liu DY, Sharma V. Atopic dermatitis in children in the United States, 1997-2004: visit trends, patient and provider characteristics, and prescribing patterns. Pediatrics. 2007 Sep. 120(3):e527-34. [Medline].

Williams HC, Pembroke AC, Forsdyke H, Boodoo G, Hay RJ, Burney PG. London-born black Caribbean children are at increased risk of atopic dermatitis. J Am Acad Dermatol. 1995 Feb. 32(2 Pt 1):212-7. [Medline].

Leung DY, Bieber T. Atopic dermatitis. Lancet. 2003 Jan 11. 361(9352):151-60. [Medline].

Fox S. Atopic Dermatitis Symptoms in Children Are Persistent. Medscape Medical News. Available at http://www.medscape.com/viewarticle/823090. Accessed: April 15, 2014.

Margolis JS, Abuabara K, Bilker W, Hoffstad O, Margolis DJ. Persistence of Mild to Moderate Atopic Dermatitis. JAMA Dermatol. 2014 Apr 2. [Medline].

Silverberg JI. Persistence of Childhood Eczema Into Adulthood. JAMA Dermatol. 2014 Apr 2. [Medline].

Armstrong AW, Kim RH, Idriss NZ, Larsen LN, Lio PA. Online video improves clinical outcomes in adults with atopic dermatitis: a randomized controlled trial. J Am Acad Dermatol. 2011 Mar. 64(3):502-7. [Medline].

Garmhausen D, Hagemann T, Bieber T, Dimitriou I, Fimmers R, Diepgen T, et al. Characterization of different courses of atopic dermatitis in adolescent and adult patients. Allergy. 2013 Apr. 68(4):498-506. [Medline].

Hanifin JM, Rajka G. Diagnostic features of atopic dermatitis. Acta Derm Venereol (Stockh). 1980. 92 (suppl):44-7.

Sun LD, Xiao FL, Li Y, et al. Genome-wide association study identifies two new susceptibility loci for atopic dermatitis in the Chinese Han population. Nat Genet. 2011 Jun 12. 43(7):690-4. [Medline].

Paternoster L, Standl M, Chen CM, et al. Meta-analysis of genome-wide association studies identifies three new risk loci for atopic dermatitis. Nat Genet. 2011 Dec 25. 44(2):187-92. [Medline]. [Full Text].

Williams H, Flohr C. How epidemiology has challenged 3 prevailing concepts about atopic dermatitis. J Allergy Clin Immunol. 2006 Jul. 118(1):209-13. [Medline].

Zutavern A, Hirsch T, Leupold W, Weiland S, Keil U, von Mutius E. Atopic dermatitis, extrinsic atopic dermatitis and the hygiene hypothesis: results from a cross-sectional study. Clin Exp Allergy. 2005 Oct. 35(10):1301-8. [Medline].

Weston S, Halbert A, Richmond P, Prescott SL. Effects of probiotics on atopic dermatitis: a randomised controlled trial. Arch Dis Child. 2005 Sep. 90(9):892-7. [Medline].

Lee CH, Chuang HY, Hong CH, et al. Lifetime exposure to cigarette smoking and the development of adult-onset atopic dermatitis. Br J Dermatol. 2011 Mar. 164(3):483-9. [Medline]. [Full Text].

Schmitt J, Chen CM, Apfelbacher C, et al. Infant eczema, infant sleeping problems, and mental health at 10 years of age: the prospective birth cohort study LISAplus. Allergy. 2011 Mar. 66(3):404-11. [Medline].

Nikkels AF, Piérard GE. Occult varicella. Pediatr Infect Dis J. 2009 Dec. 28(12):1073-5. [Medline].

Haeck IM, Rouwen TJ, Timmer-de Mik L, et al. Topical corticosteroids in atopic dermatitis and the risk of glaucoma and cataracts. J Am Acad Dermatol. 2011 Feb. 64(2):275-81. [Medline].

Heil PM, Maurer D, Klein B, Hultsch T, Stingl G. Omalizumab therapy in atopic dermatitis: depletion of IgE does not improve the clinical course - a randomized, placebo-controlled and double blind pilot study. J Dtsch Dermatol Ges. 2010 Dec. 8(12):990-8. [Medline].

Beck LA, Thaçi D, Hamilton JD, Graham NM, Bieber T, Rocklin R, et al. Dupilumab treatment in adults with moderate-to-severe atopic dermatitis. N Engl J Med. 2014 Jul 10. 371 (2):130-9. [Medline].

Michail S. The role of Probiotics in allergic diseases. Allergy Asthma Clin Immunol. 2009 Oct 22. 5(1):5. [Medline]. [Full Text].

Hand L. Probiotics may protect infants from allergy, but not asthma. Medscape Medical News. August 19, 2013. [Full Text].

Elazab N, Mendy A, Gasana J, Vieira ER, Quizon A, Forno E. Probiotic Administration in Early Life, Atopy, and Asthma: A Meta-analysis of Clinical Trials. Pediatrics. 2013 Aug 19. [Medline].

Johnson K. Probiotics in Pregnancy, Lactation Reduce Dermatitis. Medscape Medical News. Nov 25 2014. [Full Text].

[Guideline] Fiocchi A, Pawankar R, Cuello-Garcia C, et al. World Allergy Organization-McMaster University Guidelines for Allergic Disease Prevention (GLAD-P): Probiotics. World Allergy Organ J. 2015. 8 (1):4. [Medline].

Douglas D. Methotrexate assay helpful in some children with skin disease. Medscape Medical News. January 7, 2014. [Full Text].

Rahman SI, Siegfried E, Flanagan KH, Armbrecht ES. The methotrexate polyglutamate assay supports the efficacy of methotrexate for severe inflammatory skin disease in children. J Am Acad Dermatol. 2013 Dec 8. [Medline].

Shi VY, Foolad N, Ornelas JN, Hassoun L, Monico G, Takeda N, et al. Comparing the Effect of Bleach and Water Baths on Skin Barrier Function in Atopic Dermatitis: A Split-Body Randomized Controlled Trial. Br J Dermatol. 2016 Feb 15. [Medline].

[Guideline] Eichenfield LF, Tom WL, Berger TG, Krol A, Paller AS, Schwarzenberger K, et al. Guidelines of care for the management of atopic dermatitis: section 2. Management and treatment of atopic dermatitis with topical therapies. J Am Acad Dermatol. 2014 Jul. 71(1):116-32. [Medline].

[Guideline] Sidbury R, Davis DM, Cohen DE, Cordoro KM, Berger TG, Bergman JN, et al. Guidelines of care for the management of atopic dermatitis: section 3. Management and treatment with phototherapy and systemic agents. J Am Acad Dermatol. 2014 Aug. 71(2):327-49. [Medline].

[Guideline] Sidbury R, Tom WL, Bergman JN, Cooper KD, Silverman RA, Berger TG, et al. Guidelines of care for the management of atopic dermatitis: Section 4. Prevention of disease flares and use of adjunctive therapies and approaches. J Am Acad Dermatol. 2014 Sep 25. [Medline].

Saenz SA, Taylor BC, Artis D. Welcome to the neighborhood: epithelial cell-derived cytokines license innate and adaptive immune responses at mucosal sites. Immunol Rev. 2008 Dec. 226:172-90. [Medline]. [Full Text].

Ito Y, Satoh T, Takayama K, Miyagishi C, Walls AF, Yokozeki H. Basophil recruitment and activation in inflammatory skin diseases. Allergy. 2011 Aug. 66(8):1107-13. [Medline].
Medscape Reference © 2011 WebMD, LLC