Acrodermatitis Chronica Atrophicans Clinical Presentation
Author: Robert A Schwartz, MD, MPH; Chief Editor: Dirk M Elston, MD more...
Updated: Jun 09, 2016
What would you like to print?
History
Because of the late onset of acrodermatitis chronica atrophicans (ACA), patients rarely remember a tick bite. Instead, they recall having been in the woods or grassy areas a few months or years previously, especially in a geographically endemic region.
About 20% of patients report a history of erythema migrans. ACA can develop directly from EM or can arise after 6-36 months, often involving the same region of the body. Sometimes, the disease may be preceded by a latent phase (lasting up to several years) or by other manifestations of Lyme borreliosis; the latter can also develop simultaneously.
Commonly, the patient notices localized cutaneous swelling on the distal extremity or on a single digit; sometimes, he or she discovers that one foot is larger than the other when buying shoes. ACA is most often unilateral, although bilateral ACA is also common.
Progressive allodynia (exaggerated reaction to pain) is a characteristic symptom and thus may be a clue to the diagnosis of ACA. Patients commonly report spontaneous acral pain and paresthesia or dysesthesia or cognitive dysfunction.
ACA starts with an inflammatory phase, characterized by multiple soft, erythematous, slowly enlarging cutaneous swellings or flat infiltrations of various sizes or by diffuse bluish red discoloration and edema of the skin. As noted, it usually appears on the distal part of at least one extremity, predominantly on the extensor surfaces of the bony prominences (see the image below).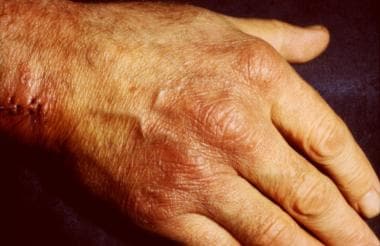 The typical inflammatory phase patches are seen on the right hand bone prominences.
Common sites of ACA are the foot, the lower leg or the hand, the forearm, and the olecranon area (see the image below); proximal locations on the upper arm and the shoulder or the thigh and the buttock may be seen but are uncommon. Sometimes, the erythema is slight and swelling may dominate, or the signs may be very subtle and go unrecognized by the patient or the physician. Lymphadenopathy may be noticed.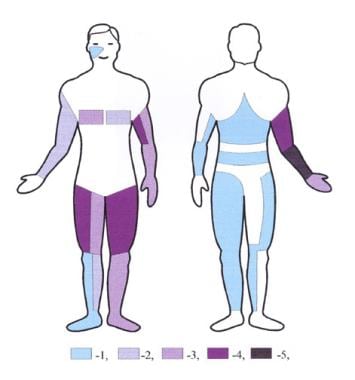 The most common localization of the skin lesions in 12 patients with acrodermatitis chronica atrophicans (ACA). The number of ACA lesions in the particular body region is shown.
For many months or years, only a single part of an extremity may be affected. With time, the skin lesions may extend on 1 extremity or may appear on additional extremities and also involve other parts of the body.
Fibrotic nodules (often multiple, localized linearly in the vicinity of joints) are typical. They can precede ACA or develop simultaneously with it. The most common sites of these nodules are the elbows and the knees.
ACA does not heal spontaneously; gradual conversion into its atrophic phase may occur over many years of infection. In this later phase, the skin becomes thin, atrophic, wrinkled, dry, and translucent. The hair is lost, and the numbers of sebaceous and sweat glands are decreased. Even minor trauma may produce large, slow-to-heal ulcerations of the affected skin.
About 5-10% of patients with ACA develop sclerodermalike plaques. Anetodermalike skin lesions can be seen concomitant with ACA. Occasionally, numerous small violaceous patches and small spinous papules with a background of faint erythema may be evident.[13]
Frequently, ACA is accompanied by peripheral neuropathy, musculoskeletal pains, and joint damage underneath the cutaneous plaques. Involvement of the small joints of the hands and the feet by the fibrotic reaction is often seen.
Physical Examination
Clinical recognition of ACA may be difficult, even in typical cases. A detailed history, including epidemiologic data, is helpful. Physicians should confirm the clinical diagnosis by means of histopathologic examination and serologic testing.
The early, inflammatory phase of acrodermatitis chronica atrophicans is marked by soft, painless, poorly demarcated, bluish red plaques that tend to coalesce or by diffuse erythema and edema localized on the distal extremities that spread proximally (see the images below).
In the authors' experience, not only the distal extremities but also the proximal parts, the trunk, and the face may be involved in the early stage of ACA. Others have also observed skin-colored facial edema as an initial manifestation of ACA (see the images below).[14] Skin changes are often associated with regional or generalized lymphadenopathy.
The later, atrophic phase of ACA is more characteristic clinically (see the images below). The affected skin exhibits the following:
Dark red or brownish red discoloration

Focal hyperpigmentation

Telangiectasias

Thin, wrinkled, cigarette paper–like, translucent appearance

Atrophic phase of acrodermatitis chronica atrophicans of the right upper limb with induration of the forearm.

A widespread acrodermatitis chronica atrophicans atrophic plaque on the back.

The atrophic skin lesions and fibrotic nodules of the right upper limb.
Because of the loss of subcutaneous fat, the skin vessels become prominent. Atrophy of the epidermis and lack of hairs, sebaceous glands, and often sweat glands make the skin poorly protected and vulnerable. Large ulcerations can be observed, and malignant lesions may also occur. The atrophic poikilodermic changes are often bilateral and most noticeable over the knees, the elbows, and the dorsal surfaces of the hands and the feet. They may also involve the trunk (particularly the chest) and the face. Note the image below.
Sclerodermalike changes may appear in both the inflammatory phase and the atrophic phase of ACA. These changes are usually limited to the legs and the feet, but they occasionally occur on the trunk. The lesions, similar to morphea and lichen sclerosus and atrophicus, may appear in regions where no ACA is present.
Single or multiple fibrotic nodules or bands may be seen on the extensor surfaces of the elbows and the knees or adjacent to other joints (see the image below). They are generally firm; bluish red, yellowish, or skin-colored; and 0.5 to 3 cm in diameter.
ACA has been described in association with localized amyloidosis, eczema, psoriasis, lupus erythematosus, leprosy, and Hodgkin disease; however, these associations may be coincidental. One of the authors' patients with histologically and serologically confirmed ACA was a 68-year-old woman first seen with prominent livedo racemosa on the leg where typical ACA inflammatory-phase patches developed.[9] Others observed the same phenomenon; thus, this may be more than a chance linkage.
Detailed clinical and neurophysiologic examinations in patients with ACA-associated polyneuropathy often show a sensory polyneuropathy. Neuropathy symptoms (typically pain, paresthesia or both) are evident in one half of patients with ACA. One of the authors' patients had paresis of the brachial plexus.[9] Marked abnormality of the vibratory threshold is a common finding.
Patients with localized or asymmetric neuropathy seem to have changes more often found in the extremities with, rather than without, visible acrodermatitis chronica atrophicans lesions. Abnormalities in cerebrospinal fluid seldom have been found in patients with acrodermatitis chronica atrophicans.
ACA can produce deformities of the fingers and the toes if it is not treated promptly. Persistent reducible deformities of the fingers may be consistent with Jaccoud arthropathy.
References
Bhate C, Schwartz RA. Lyme disease: Part I. Advances and perspectives. J Am Acad Dermatol. 2011 Apr. 64(4):619-36; quiz 637-8. [Medline].

Bhate C, Schwartz RA. Lyme disease: Part II. Management and prevention. J Am Acad Dermatol. 2011 Apr. 64(4):639-53; quiz 654, 653. [Medline].

Buchwald A. Ein Fall von diffuser idiopathischer Haut-Atrophie. Vrtljschr Derm. 1883. 10:553-6.

Herxheimer K, Hartmann K. Ueber Acrodermatitis chronica atrophicans. Arch f Dermatol u Syph (Wien). 1902. 61:57-76.

Smetanick MT, Zellis SL, Ermolovich T. Acrodermatitis chronica atrophicans: a case report and review of the literature. Cutis. 2010 May. 85(5):247-52. [Medline].

Aberer E. Country report - Austria. Report of WHO Workshop on Lyme Borreliosis Diagnosis and Surveillance, Warsaw. 1995.

Christova I, Komitova R. Clinical and epidemiological features of Lyme borreliosis in Bulgaria. Wien Klin Wochenschr. 2004 Jan 31. 116(1-2):42-6. [Medline].

Stinco G, Ruscio M, Bergamo S, Trotter D, Patrone P. Clinical features of 705 Borrelia burgdorferi seropositive patients in an endemic area of northern Italy. Scientific World Journal. 2014 Jan 16. 2014:414505. [Medline]. [Full Text].

Flisiak I, Schwartz RA, Chodynicka B. Clinical features and specific immunological response to Borrelia afzelii in patients with acrodermatitis chronica atrophicans. J Med. 1999. 30(3-4):267-78. [Medline].

Zalaudek I, Leinweber B, Kerl H, Mullegger RR. Acrodermatitis chronica atrophicans in a 15-year-old girl misdiagnosed as venous insufficiency for 6 years. J Am Acad Dermatol. 2005. 52:1091-4. [Medline].

Andres C, Ziai M, Bruckbauer H, Ring J, Hofmann H. Acrodermatitis chronica atrophicans in two children. Int J Dermatol. 2010 Feb. 49(2):180-3. [Medline].

Leverkus M, Finner AM, Pokrywka A, Franke I, Gollnick H. Metastatic squamous cell carcinoma of the ankle in long-standing untreated acrodermatitis chronica atrophicans. Dermatology. 2008. 217(3):215-8. [Medline].

Lenormand C, Jaulhac B, Debarbieux S, Dupin N, Granel-Brocard F, Adamski H, et al. Expanding the clinicopathological spectrum of late cutaneous Lyme borreliosis (acrodermatitis chronica atrophicans [ACA]): A prospective study of 20 culture- and/or polymerase chain reaction (PCR)-documented cases. J Am Acad Dermatol. 2016 Apr. 74 (4):685-92. [Medline].

Danz B, Kreft B, Radant K, Marsch WCh, Fiedler E. Skin-coloured facial oedema as an initial manifestation of acrodermatitis chronica atrophicans. J Eur Acad Dermatol Venereol. 2008 Jun. 22(6):751-3. [Medline].

Mullegger RR, Glatz M. Skin manifestations of lyme borreliosis: diagnosis and management. Am J Clin Dermatol. 2008. 9(6):355-68. [Medline].

Wittmann D, Heppt M, Ruzicka T. [Acrodermatitis chronica atrophicans]. MMW Fortschr Med. 2016 Mar 31. 158 (6):64, 66-7. [Medline].

Maraspin V, Ogrinc K, Ruzic-Sabljic E, Lotric-Furlan S, Strle F. Isolation of Borrelia burgdorferi sensu lato from blood of adult patients with borrelial lymphocytoma, Lyme neuroborreliosis, Lyme arthritis and acrodermatitis chronica atrophicans. Infection. 2011 Feb. 39(1):35-40. [Medline].

Brandt FC, Ertas B, Falk TM, Metze D, Boer-Auer A. Genotyping of Borrelia from formalin-fixed paraffin-embedded skin biopsies of cutaneous borreliosis and tick bite reactions by assays targeting the intergenic spacer region, ospA and ospC genes. Br J Dermatol. 2014 Sep. 171(3):528-43. [Medline].

Tee SI, Martinez-Escaname M, Zuriel D, et al. Acrodermatitis chronica atrophicans with pseudolymphomatous infiltrates. Am J Dermatopathol. 2013 May. 35(3):338-42. [Medline].
Medscape Reference © 2011 WebMD, LLC