Pseudomonas Folliculitis Clinical Presentation
Author: Charles B Toner, MD; Chief Editor: Dirk M Elston, MD  more...
Updated: Nov 19, 2015
What would you like to print?
History
Pseudomonas folliculitis is characterized by a rash, described as a dermatitis or a folliculitis. The rash onset is usually 48 hours (range, 8 h to 5 d) after exposure to contaminated water, but it can occur as long as 14 days after exposure.[16]
Lesions begin as pruritic, erythematous macules that progress to papules and pustules. Lesions are most prevalent in intertriginous areas or under bathing suits. The rash usually clears spontaneously in 2-10 days, rarely recurs, and heals without scarring, but it may cause desquamation or leave hyperpigmented macules.
Physical
The predominant manifestation of Pseudomonas folliculitis is dermatitis (79%).
Pseudomonas folliculitis is characterized by follicular papules, vesicles, and pustules, which may be crusted. Lesions involve exposed skin, but they usually spare the face, the neck, the soles, and the palms. Lesions progress to erythematous papulopustules that range in size from 2-10 mm in diameter, with a pinpoint central pustule. The rash is not unique in appearance and is most often confused with insect bites. See the images below.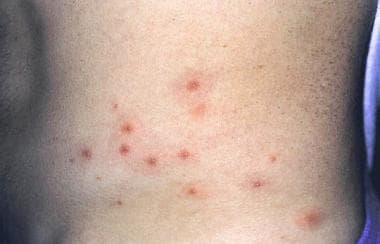 Erythematous papulopustules of pseudomonas folliculitis. Courtesy of Mark Welch, MD.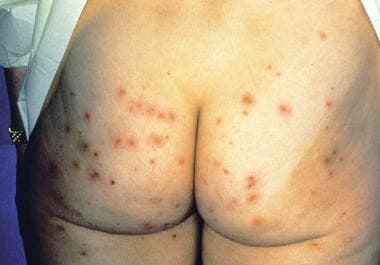 Erythematous papulopustules of pseudomonas folliculitis, with significant perilesional flare. Courtesy of Andy Montemarano, MD.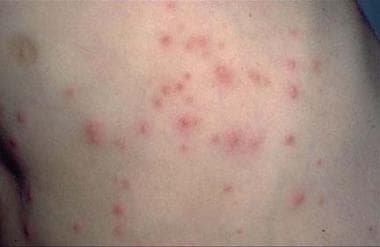 Pseudomonas folliculitis. Courtesy of Hon Pak, MD.
Other systemic signs of Pseudomonas folliculitis that can occur with the rash include the following:
Low-grade fever (4%), often accompanied by headache (15%) and malaise/fatigue (19%)

Otitis media and otitis externa

[17]

Breast tenderness in both women and men (The glands of Montgomery on the nipple may become infected or may involve frank mastitis [11%].)

Painful lymphadenopathy

Conjunctivitis

Rhinitis

Pneumonia (rare)

Urinary tract infection (UTI) (rare)

[18]
Rarely, lesions may progress to chronically draining subcutaneous nodules.
Causes
The following 3 primary environmental conditions are known to be associated with outbreaks of Pseudomonas folliculitis[19, 20, 21] :
Prolonged water exposure

Excessive numbers of bathers
Risk factors for Pseudomonas folliculitis include the following[24] :
Crowding

Youth

Wearing of snug bathing suits

Frequency and duration of exposure
Pseudomonas folliculitis outbreaks have been associated with waterslides and similar water attractions.[25] Superchlorinated water has been advised to decrease the incidence of outbreaks. Inflatable pool toys have also been implicated as a source of infection.[26]
Medscape Reference © 2011 WebMD, LLC