Apocrine Hidrocystoma Clinical Presentation
Author: Jesse M Olmedo, MD; Chief Editor: William D James, MD more...
Updated: Oct 07, 2015
What would you like to print?
History
Apocrine hidrocystomas usually are asymptomatic. No seasonal variation or familial tendencies have been identified. Apocrine hidrocystomas tend to appear during adulthood, grow slowly, and persist indefinitely.
Physical
Apocrine hidrocystomas usually occur as solitary translucent papules or nodules. Consistency is fluctuant and cystic. Size varies from a few millimeters to approximately 1.5 cm. Tumors occasionally manifest as multiple lesions, especially when of the eccrine hidrocystoma type.[1, 2, 3, 4, 5]
Apocrine hidrocystomas often appear tense and shiny. The coloration varies from flesh-colored to blue or black (see image below).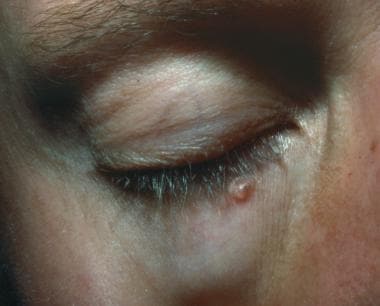 Clinical example of apocrine hidrocystoma.
Tumors have a predilection for the eyelid, particularly the inner canthus. Tumors may arise on other areas of the head, neck, and trunk.[6] Tumors also have been reported to occur on the penis, in the axillae, and in the anal region.
Lesion edges are not well delineated but blend gradually into adjacent skin. Walls, although translucent, are sufficiently thick that they seldom rupture spontaneously.
When incised, apocrine hidrocystomas collapse, and a thin, clear, brownish, or blackish fluid is released. The fluid color of an apocrine hidrocystoma does not result from the presence of melanin or hemosiderin but may result either from the Tyndall phenomenon or the presence of lipofuscin pigment.
Cysts are mobile with palpation and transilluminate.
Apocrine hidrocystomas are not affected by variation in temperature (unlike eccrine hidrocystomas).
Causes
Although the origin of apocrine hidrocystomas is not known entirely, they are believed to be adenomatous cystic proliferations of the apocrine glands.
References
Alessi E, Gianotti R, Coggi A. Multiple apocrine hidrocystomas of the eyelids. Br J Dermatol. 1997 Oct. 137(4):642-5. [Medline].

Combemale P, Kanitakis J, Dupin N, Parraud C, Guigon M. Multiple Moll's gland cysts (apocrine hidrocystomas) of the eyelids. Dermatology. 1997. 194(2):195-6. [Medline].

de Eusebio E, Lopez-Bran E, Rojo S, Suarez R, Sanchez Yus E, Robledo A. Multiple hidrocystomas. Dermatology. 1996. 193(2):152-3. [Medline].

Vani D, T R D, H B S, M B, Kumar HR, Ravikumar V. Multiple apocrine hidrocystomas: a case report. J Clin Diagn Res. 2013 Jan. 7(1):171-2. [Medline]. [Full Text].

Smith RJ, Kuo IC, Reviglio VE. Multiple apocrine hidrocystomas of the eyelids. Orbit. 2012 Apr. 31(2):140-2. [Medline].

Ter Poorten HJ. Apocrine hidrocystoma of the right scapula. Arch Dermatol. 1977 Dec. 113(12):1730. [Medline].

Zaballos P, Bañuls J, Medina C, Salsench E, Serrano P, Guionnet N. Dermoscopy of apocrine hidrocystomas: a morphological study. J Eur Acad Dermatol Venereol. 2014 Mar. 28 (3):378-81. [Medline].

del Pozo J, Garcia-Silva J, Pena-Penabad C, Fonseca E. Multiple apocrine hidrocystomas: treatment with carbon dioxide laser vaporization. J Dermatolog Treat. 2001 Jun. 12(2):97-100. [Medline].

Dailey RA, Saulny SM, Tower RN. Treatment of multiple apocrine hidrocystomas with trichloroacetic acid. Ophthal Plast Reconstr Surg. 2005 Mar. 21(2):148-50. [Medline].

Woolery-Lloyd H, Rajpara V, Nijhawan RI. Treatment for multiple periorbital eccrine hidrocystomas: botulinum toxin A. J Drugs Dermatol. 2009 Jan. 8(1):71-3. [Medline].

Hashimoto K, Lever WF. Tumors of skin appendages. Freedberg IM, Eisen AZ, Wolff K, eds. Fitzpatrick's Dermatology in General Medicine. McGraw-Hill Professional Publishing; 1999. Vol 1: 899.

Mackie RM. Tumors of skin appendages. Champion RH, Wilkinson DS, Ebling FJG, eds. Rook/Wilkinson/Ebling: Textbook of Dermatology. Blackwell Science Inc; 1998. Vol 2: 1703-6.
Medscape Reference © 2011 WebMD, LLC