Cutaneous Horn Clinical Presentation
Author: Patrick S Rush, DO; Chief Editor: William D James, MD  more...
Updated: Apr 27, 2015
What would you like to print?
History
Cutaneous horns usually are asymptomatic. Because of their excessive height, they can be traumatized. This may result in inflammation at the base with resulting pain. Rapid growth is common in presentation.
Physical
Cutaneous horns can occur anywhere on the body. However, the more typical distribution is on sun-exposed areas, particularly the face, pinna, nose, forearms, and dorsal hands. Thirty percent of cases have been seen to arise on the scalp and upper face.[2, 29, 30] They are most commonly a solitary lesion.
It is a hyperkeratotic papule with the height greater than one-half the width of the base. Usually, a cutaneous horn is several millimeters long, but they can grow to be quite large, up to 25 cm in some cases, and 36 cm diameter in historic cases.[1, 31]
See the images below.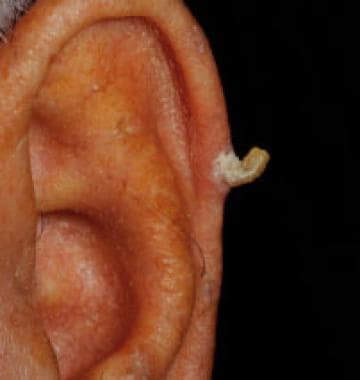 A typical presentation of a cutaneous horn on the ear.
An unusually large cutaneous horn extending from the ear.
Causes
Malignant lesions at the base of the horn usually are squamous cell carcinoma, although basal cell carcinoma has been rarely reported. These are predominately precipitated by ultraviolet radiation. Rare tumors at the base include Paget disease of the breast, sebaceous adenoma, and granular cell tumor. The premalignant lesion, actinic keratosis, is a frequent finding at the base. The human papilloma virus most frequently causes infectious etiology resulting in a verruca vulgaris.[24] Molluscum contagiosum of the poxvirus group occasionally has formed a cutaneous horn. The only other infectious cause has been leishmaniasis.
Benign idiopathic causes are frequent and include seborrheic keratosis, epidermal nevus, trichilemmal cyst, trichilemmoma, prurigo nodule, and intradermal nevus.
Medscape Reference © 2011 WebMD, LLC