Digital Mucous Cyst Clinical Presentation
Author: Murad Alam, MD; Chief Editor: Dirk M Elston, MD more...
Updated: Aug 12, 2016
What would you like to print?
History
Typically, the cysts are asymptomatic. They may appear suddenly or develop over a period of months. Grooving of the nail may precede the clinical manifestation of the cyst itself by up to 6 months. Often, osteoarthritis of the small joints is noted at the site of cyst emergence. Intermittent spontaneous discharge of cyst contents can occur, and, in a significant fraction of cases, cysts may disappear spontaneously.
Antecedent trauma has been documented in a small minority of cases. As cysts enlarge, pain is an increasingly common complaint. Patients are also likely to complain about the appearance of larger cysts and may report interference with function.
Physical
Pertinent physical findings are limited to the skin, joints, and nail unit. Note the images below.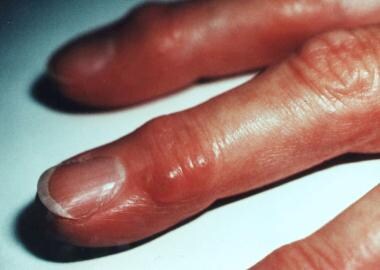 Digital mucous cyst proximal to nail unit.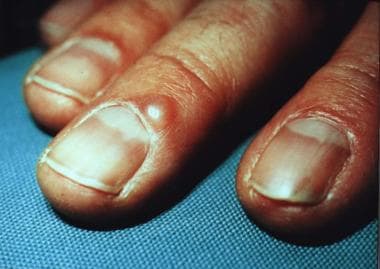 Digital mucous cyst at proximal nail fold.
Digital mucous cysts are usually solitary, round-to-oval, dome-shaped, firm-to-fluctuant papulonodules from 1-10 mm in diameter that have overlying skin that ranges from very thin to moderately thick. The cysts contain a viscous, gelatinous fluid that may be clear or yellow-tinged. Some cysts are verrucose. Pain is associated with relatively larger cysts.
The cysts are located off the midline of the digits and, according to one series, are more common on the radial than ulnar aspect of the fingers. They most often are found on the dorsolateral aspect of the fingers, intradermally, between the DIP joint and proximal nail fold.[2] Less frequently, they occur between the proximal nail fold and the nail plate, beneath the nail matrix, or in the pulp of the digit. Cysts most frequently are found on the middle or index finger of the dominant hand; toe involvement is less common.[3] Cysts located under the nail plate (subungual cysts) have common features that have been characterized in one series. In most cases, the lunula is discolored (most often red, less often blue) and transverse curvature of the nail is almost always increased, frequently resulting in lateral ingrowth
Digital mucous cysts are translucent to flesh-colored. One case report described a herpetiform appearance.[4] Lesions may be solitary or present as multiple nodules.[5] When they are under the nail matrix, a red lunula and a longitudinal brownish band may be seen.
Longitudinal grooving or depression of the nail occurs when digital mucous cysts involve the posterior nail fold. Grooving may be accompanied by transverse ridging and thinning of the nail overlying the cyst. Gross disruption of the nail is less common. Digital mucous cysts are more likely to be above than below the nail matrix.
A consensus has emerged that digital mucous cysts are frequently, if not always, located at osteoarthritic joints.
Causes
The causes of digital mucous cysts remain unclear. Historically, a variety of etiologies, including a tuberculous process, have been suggested. At present, it is believed that mucoid degeneration of connective tissue associated with proximal osteoarthritic changes is responsible for cyst formation. Trauma also may be a causative factor in some cases.
References
Lin YC, Wu YH, Scher RK. Nail changes and association of osteoarthritis in digital myxoid cyst. Dermatol Surg. 2008 Mar. 34(3):364-9. [Medline].

Salerni G, Alonso C. Images in clinical medicine. Digital mucous cyst. N Engl J Med. 2012 Apr 5. 366(14):1335. [Medline].

Kivanc-Altunay I, Kumbasar E, Gokdemir G, Koslu A, Tekkesin M, Basak T. Unusual localization of multiple myxoid (mucous) cysts of toes. Dermatol Online J. 2004 Jul 15. 10(1):23. [Medline].

Hur J, Kim YS, Yeo KY, Kim JS, Yu HJ. A case of herpetiform appearance of digital mucous cysts. Ann Dermatol. 2010 May. 22(2):194-5. [Medline]. [Full Text].

Hwang CY, Huang YL, Liu HN. Digital mucous cysts presenting as numerous translucent nodules in the right fifth finger. J Chin Med Assoc. 2011 Feb. 74(2):102-3. [Medline].

Drape JL, Idy-Peretti I, Goettmann S, et al. MR imaging of digital mucoid cysts. Radiology. 1996 Aug. 200(2):531-6. [Medline].

Daffner RH, Whitfield PW. Recurrent ganglion cyst: the value of preoperative ganglionography. AJR Am J Roentgenol. 1977 Aug. 129(2):345-6. [Medline].

Dodd LG, Layfield LJ. Fine-needle aspiration cytology of ganglion cysts. Diagn Cytopathol. 1996 Dec. 15(5):377-81. [Medline].

Esson GA, Holme SA. Treatment of 63 Subjects With Digital Mucous Cysts With Percutaneous Sclerotherapy Using Polidocanol. Dermatol Surg. 2016 Jan. 42 (1):59-62. [Medline].

Epstein E. A simple technique for managing digital mucous cysts. Arch Dermatol. 1979 Nov. 115(11):1315-6. [Medline].

Epstein E. Steroid injection of myxoid finger cysts. JAMA. 1965. 194:98-99.

Bardach HG. Managing digital mucoid cysts by cryosurgery with liquid nitrogen: preliminary report. J Dermatol Surg Oncol. 1983 Jun. 9(6):455-8. [Medline].

Audebert C. Treatment of mucoid cysts of fingers and toes by injection of sclerosant. Dermatol Clin. 1989 Jan. 7(1):179-81. [Medline].

Córdoba S, Romero A, Hernández-Nuñez A, Borbujo JM. Treatment of digital mucous cysts with percutaneous sclerotherapy using polidocanol. Dermatol Surg. 2008 Oct. 34(10):1387-8; discussion 1388. [Medline].

Huerter CJ, Wheeland RG, Bailin PL, Ratz JL. Treatment of digital myxoid cysts with carbon dioxide laser vaporization. J Dermatol Surg Oncol. 1987 Jul. 13(7):723-7. [Medline].

Kemmett D, Colver GB. Myxoid cysts treated by infra-red coagulation. Clin Exp Dermatol. 1994 Mar. 19(2):118-20. [Medline].

Jamnadas-Khoda B, Agarwal R, Harper R, Page RE. Use of Wolfe Graft for the Treatment of Mucous Cysts. J Hand Surg Eur Vol. 2009 Apr 24. [Medline].

Blume PA, Moore JC, Novicki DC. Digital mucoid cyst excision by using the bilobed flap technique and arthroplastic resection. J Foot Ankle Surg. 2005 Jan-Feb. 44(1):44-8. [Medline].

Imran D, Koukkou C, Bainbridge LC. The rhomboid flap: a simple technique to cover the skin defect produced by excision of a mucous cyst of a digit. J Bone Joint Surg Br. 2003 Aug. 85(6):860-2. [Medline].

Johnson SM, Treon K, Thomas S, Cox QG. A reliable surgical treatment for digital mucous cysts. J Hand Surg Eur Vol. 2013 Oct 25. [Medline].

de Berker D, Lawrence C. Ganglion of the distal interphalangeal joint (myxoid cyst): therapy by identification and repair of the leak of joint fluid. Arch Dermatol. 2001 May. 137(5):607-10. [Medline].
Medscape Reference © 2011 WebMD, LLC