Infantile Digital Fibromatosis Workup
Author: Monique Gupta Kumar, MD; Chief Editor: Dirk M Elston, MD  more...
Updated: Jul 18, 2016
What would you like to print?
Procedures
A skin biopsy can confirm the diagnosis of infantile digital fibromatosis.
Histologic Findings
Unique histologic features are diagnostic of infantile digital fibromatosis. Interlacing fascicles of uniform spindle-shaped myofibroblast cells and collagen bundles are seen in the dermis or subcutis. A characteristic feature is the presence of distinctive, perinuclear, eosinophilic cytoplasmic inclusion bodies. Masson trichrome stains these characteristic perinuclear inclusion bodies red. Immunohistochemical stains are positive for vimentin, cytokeratin, desmin, calponin, and alpha-smooth muscle actin.[5]
See the images below.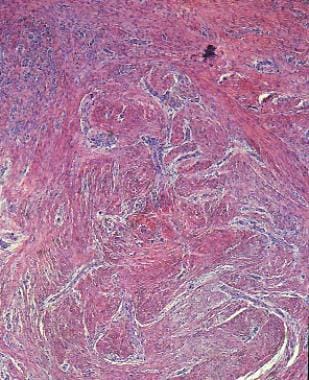 Dermal tumor with interlacing spindle-shaped cells and collagen bundles. Perinuclear eosinophilic inclusion bodies are not visible at this magnification.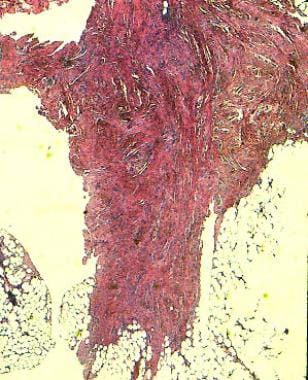 A dermal nodule extending into the subcutaneous fat.
References
Reye RD. Recrring Digital Fibrous tumors of childhood. Arch Pathol. 1965 Sep. 80:228-31. [Medline].

Laskin WB, Miettinen M, Fetsch JF. Infantile digital fibroma/fibromatosis: a clinicopathologic and immunohistochemical study of 69 tumors from 57 patients with long-term follow-up. Am J Surg Pathol. 2009 Jan. 33(1):1-13. [Medline].

Taylor HO, Gellis SE, Schmidt BA, Upton J, Rogers GF. Infantile digital fibromatosis. Ann Plast Surg. 2008 Oct. 61(4):472-6. [Medline].

Kaya A, Yuca SA, Karaman K, Erten R, Dogan M, Bektas MS, et al. Infantile digital fibromatosis (inclusion body fibromatosis) observed in a baby without finger involvement. Indian J Dermatol. 2013 Mar. 58(2):160. [Medline]. [Full Text].

Choi KC, Hashimoto K, Setoyama M, Kagetsu N, Tronnier M, Sturman S. Infantile digital fibromatosis. Immunohistochemical and immunoelectron microscopic studies. J Cutan Pathol. 1990 Aug. 17(4):225-32. [Medline].

Ishii N, Matsui K, Ichiyama S, et al. A case of infantile digital fibromatosis showing spontaneous regression. Br J Dermatol. 1989 Jul. 121(1):129-33. [Medline].

Kawaguchi M, Mitsuhashi Y, Hozumi Y, Kondo S. A case of infantile digital fibromatosis with spontaneous regression. J Dermatol. 1998 Aug. 25(8):523-6. [Medline].

Niamba P, Leaute-Labreze C, Boralevi F, et al. Further documentation of spontaneous regression of infantile digital fibromatosis. Pediatr Dermatol. 2007 May-Jun. 24(3):280-4. [Medline].

Azam SH, Nicholas JL. Recurring infantile digital fibromatosis: report of two cases. J Pediatr Surg. 1995 Jan. 30(1):89-90. [Medline].

Spingardi O, Zoccolan A, Venturino E. Infantile digital fibromatosis: our experience and long-term results. Chir Main. 2011 Feb. 30(1):62-5. [Medline].

Albertini JG, Welsch MJ, Conger LA, Libow LF, Elston DM. Infantile digital fibroma treated with mohs micrographic surgery. Dermatol Surg. 2002 Oct. 28(10):959-61. [Medline].

Oh CK, Son HS, Kwon YW, Jang HS, Kwon KS. Intralesional fluorouracil injection in infantile digital fibromatosis. Arch Dermatol. 2005 May. 141(5):549-50. [Medline].

Holmes WJ, Mishra A, McArthur P. Intra-lesional steroid for the management of symptomatic Infantile Digital Fibromatosis. J Plast Reconstr Aesthet Surg. 2011 May. 64(5):632-7. [Medline].
Medscape Reference © 2011 WebMD, LLC