Leiomyoma
Author: Kyle L Horner, MD, MS; Chief Editor: William D James, MD more...
Updated: Apr 21, 2014
What would you like to print?
Practice Essentials
Leiomyomas are benign soft tissue neoplasms that arise from smooth muscle. These lesions can develop wherever smooth muscle is present, but malignant transformation probably does not occur.
Signs and symptoms
The most common feature in patients with multiple piloleiomyomas (cutaneous leiomyomas) is pain, which can be spontaneous or induced by cold or tactile (eg, pressure) stimuli. The pain or tenderness also may be secondary to pressure on nerve fibers within the tumor; however, some authors believe it may be solely due to contraction of muscle fibers.[1] Symptoms are also reported to occur with menses or pregnancy. See the image below.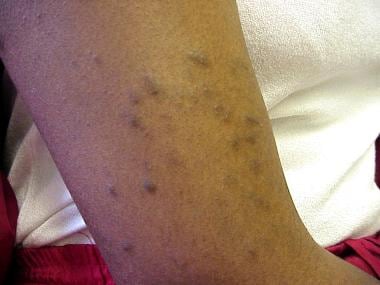 These multiple hyperpigmented nodules are piloleiomyomas on an upper extremity.
Many solitary piloleiomyomas are similarly symptomatic. However, genital leiomyomas are usually asymptomatic solitary lesions arising from the dartoic, vulvar, or mammillary muscles in the genital region or on the nipple.[2]
See Clinical Presentation for more detail.
Diagnosis
Features of individual piloleiomyomas include the following:
Smooth, firm papules or nodules

Usually smaller than 2 cm in diameter

Reddish brown in color

Usually tender to palpation

Usually found on a lower extremity

Fixed in the skin but can be easily moved over the deeper subcutaneous tissues
Multiple piloleiomyomas can occur on the face, trunk, or extremities. Various distribution patterns are reported, including bilaterally symmetric, grouped, dermatomal, and linear patterns.
Features of angioleiomyomas (vascular leiomyomas) include the following:
Most commonly present as solitary skin-colored nodules

Usually well-defined, fairly deep dermal nodules that are smaller than 4 cm

Often, pain to palpation

Occur predominantly on the lower extremities, less commonly on the head or trunk, and rarely on the hands or in the mouth

[3, 4, 5]
Leiomyomas of the vulva or scrotum may be larger than those already described above. Leiomyomas of the nipple and piloleiomyomas are generally similar in size.
Testing
Laboratory testing is generally not necessary for evaluation of leiomyomas unless there is abnormal vaginal bleeding or to rule out other conditions. The measurement of hemoglobin and/or hematocrit levels might be considered in patients with multiple leiomyomas, because erythrocytosis is reported in rare cases.
Imaging studies
Imaging studies are not routinely performed for leiomyomas; however, angioleiomyomas do have characteristic findings on ultrasonographic (including color Doppler) and magnetic resonance images. Uterine leiomyomas (also called fibroids) may be assessed by Doppler ultrasonography assessment before uterine artery embolization.[6]
Procedures
Tissue examination is necessary to establish the diagnosis. Therefore, a partial or excisional biopsy is indicated.
See Workup for more detail.
Management
All leiomyomas are tumors; therefore medical management has a limited role in the resolution or destruction of these lesions. However, pharmacologic intervention may alleviate associated pain.
Pharmacotherapy
The following medications are used in women with leiomyomas, primarily for analgesia:
Alpha-adrenergic blocking agents (eg, phenoxybenzamine)

Calcium channel blockers (eg, nifedipine)

Anticonvulsants (eg, gabapentin)
Surgical option
Surgical excision or ablation of leiomyomas may be helpful for some symptomatic women.
See Treatment and Medication for more detail.
Background
Leiomyomas are benign soft tissue neoplasms that arise from smooth muscle; they were first described by Virchow[7] in 1854. The hereditary form, which causes, multiple leiomyomas, was originally noted by Kloepfer et al[8] in 1958. They can develop wherever smooth muscle is present. Malignant transformation probably does not occur. A 2006 report[9] of a cutaneous leiomyosarcoma with myxoid alteration in a scar of a piloleiomyoma that had been excised 3 years previously probably does not represent a case of malignant transformation.
Also see Esophageal Leiomyoma; Leiomyoma, Iris; and Leiomyoma, Uterus (Fibroid).
Pathophysiology
Three fairly distinct types of cutaneous leiomyomas exist: piloleiomyomas, angioleiomyomas, and genital leiomyomas. This classification reflects the most logical origin of the smooth muscle tumor and corresponds to the histologic or anatomic site where the leiomyomas are found. Piloleiomyomas are believed to arise from the arrector pili muscle of the pilosebaceous unit, whereas angioleiomyomas originate from smooth muscle (ie, tunica media) within the walls of arteries and veins. Leiomyomas derived from the dartos muscle of the scrotum and the labia majora, as well as those derived from the erectile muscle of the nipple, are classified as genital leiomyomas. Tumors in each classification have distinct clinical and/or histologic characteristics.
The pathogenesis of leiomyomas remains obscure. Angioleiomyomas and genital leiomyomas usually occur as solitary lesions, whereas piloleiomyomas may be either solitary or multiple, at times numbering in the thousands. The arrector pili muscle, from which piloleiomyomas originate, attaches proximally to the hair follicle and distally to multiple attachment points within the papillary and reticular dermis, as well as to the basement membrane. Piloleiomyomas can plausibly emerge from each of these various points of insertion and occur as multiple tumors. Multiple lesions can be inherited as an autosomal-dominant trait with variable penetrance, or they can occur sporadically. Unfortunately, even less is known about the potential pathophysiologic or genetic features of other leiomyomas.
The pathogenesis of pain associated with these lesions is also a mystery. Some authors have suggested that pain could result from local pressure by the tumor on cutaneous nerves. However, the histologic findings do not show that prominent nerve fibers are associated with these tumors. Others have theorized that specific infiltrating cells may play a role; one study of 24 angioleiomyomas revealed that painful tumors had fewer mast cells than asymptomatic ones. Yet others have suggested that muscle contraction may be pivotal in the induction of pain.
The excitation of the arrector pili muscle occurs via the sympathetic nervous system. Norepinephrine, secreted by postganglionic nerve fibers, activates the alpha-receptors of the muscle. Muscle contraction ensues; this is triggered by the influx of ions, most specifically calcium. Understanding this basic physiologic process may be relevant to the medical treatment of symptomatic leiomyomas.
Leiomyomas may be categorized into the following 4 types:
Multiple piloleiomyomas

Solitary piloleiomyoma

Angioleiomyoma (solitary)

Genital leiomyoma (solitary)
Frequency
United States
Leiomyomas are uncommon. Genital leiomyomas tend to be the least common of the 3 types.
International
International frequency data does not differ from the US frequency data.
Mortality/Morbidity
Because cutaneous leiomyomas are benign tumors, they do not directly affect mortality. However, one case report[9] involves an angioleiomyoma that occurred in association with a leiomyosarcoma. The relevance of this association is unknown.
Associated morbidity may be due to spontaneous lesional pain, as well as pain evoked by cold and/or tactile hypersensitivity. Additionally, multiple piloleiomyomas have the potential to be cosmetically disfiguring.
Race
A racial predilection is not described, except in regard to oral angioleiomyomas, for which the white-to-black ratio has been reported[3] to be 3:1
Sex
The incidences of piloleiomyomas in men and women appear to be about equal. Women who have multiple cutaneous piloleiomyomas may also have uterine leiomyomas (also known as fibroids). If the latter are present, the patient most likely has a familial condition called familial leiomyomatosis cutis et uteri, or Reed syndrome. Reed syndrome is thought to be inherited as an autosomal-dominant trait with incomplete penetrance. As such, not all women in a family are affected, and those who are may have only cutaneous, only uterine, or both cutaneous and uterine leiomyomas.[10]
Angioleiomyomas are more common in women than in men, with a ratio of 2:1 overall, however the solid subtype occurs more commonly in females (3:1), the venous subtype occurs more commonly in males, and the least common of the three, the cavernous subtype, is four times more common in males.[1, 11]
Because genital leiomyomas are rare, data to determine whether a sexual predilection exists are inadequate.
Age
Cutaneous leiomyomas are more likely to occur in adults than in children. However, isolated reports of cutaneous leiomyomas in children exist, including one involving a nonspecified type of solitary cutaneous leiomyoma on the heel of a neonate at birth.
Multiple piloleiomyomas generally occur in those aged 10-30 years. When solitary, piloleiomyomas usually appear later. For example, in a series of 28 solitary cutaneous leiomyomas, the mean patient age at presentation was 53 years.

Angioleiomyomas most often occur in those aged 20-60 years, although some investigators report a narrower window of increased incidence in those aged 20-40 years. In a retrospective clinicopathologic analysis of 562 angioleiomyomas, the mean age of the patients was 47 years; their overall age range was 12-84 years.

Leiomyomas typified as genital leiomyomas are rare enough that an age predilection is not generally described.
References
Holst VA, Junkins-Hopkins JM, Elenitsas R. Cutaneous smooth muscle neoplasms: clinical features, histologic findings, and treatment options. J Am Acad Dermatol. 2002 Apr. 46(4):477-90; quiz, 491-4. [Medline].

Gokdemir G, Sakiz D, Koslu A. Multiple cutaneous leiomyomas of the nipple. J Eur Acad Dermatol Venereol. 2006 Apr. 20(4):468-9. [Medline].

Brooks JK, Nikitakis NG, Goodman NJ, Levy BA. Clinicopathologic characterization of oral angioleiomyomas. Oral Surg Oral Med Oral Pathol Oral Radiol Endod. 2002 Aug. 94(2):221-7. [Medline].

Nagata S, Nishimura H, Uchida M, Hayabuchi N, Zenmyou M, Fukahori S. Giant angioleiomyoma in extremity: report of two cases. Magn Reson Med Sci. 2006 Jul. 5(2):113-8. [Medline].

Yagi K, Hamada Y, Yasui N. A leiomyoma arising from the deep palmar arterial arch. J Hand Surg [Br]. Dec 2006. 31(6):680-2. [Medline].

Naguib NN, Nour-Eldin NE, Serag Eldin F, Mazloum YZ, Agameya AF, Abou Seif S, et al. Uterine Artery Embolization for Uterine Leiomyoma: Role of Uterine Artery Doppler in the Pre-Interventional, Interventional and Post-interventional Patient Workup. Ultrasound Obstet Gynecol. 2011 Dec 16. [Medline].

Virchow R. Ueber Makroglossie und pathologische Neubildung quergestreifter Muskelfasern. Virchows Arch (Pathol Anat). 1854. 7:126-38.

Kloepfer HW, Krafchuk J, Derbes V. Hereditary multiple leiomyoma of the skin. Am J Hum Genet. 1958 Mar. 10(1):48-52. [Medline].

Utikal J, Haus G, Poenitz N, Koenen W, Back W, Dippel E. Cutaneous leiomyosarcoma with myxoid alteration arising in a setting of multiple cutaneous smooth muscle neoplasms. J Cutan Pathol. 2006 Sep. 33 Suppl 2:20-3. [Medline].

Spies JB, Bradley LD, Guido R, Maxwell GL, Levine BA, Coyne K. Outcomes from leiomyoma therapies: comparison with normal controls. Obstet Gynecol. 2010 Sep. 116(3):641-52. [Medline].

Ramesh P, Annapureddy SR, Khan F, Sutaria PD. Angioleiomyoma: a clinical, pathological and radiological review. Int J Clin Pract. 2004 Jun. 58(6):587-91. [Medline].

Alam NA, Bevan S, Churchman M, Barclay E, Barker K, Jaeger EE, et al. Localization of a gene (MCUL1) for multiple cutaneous leiomyomata and uterine fibroids to chromosome 1q42.3-q43. Am J Hum Genet. 2001 May. 68(5):1264-9. [Medline].

Alam NA, Olpin S, Rowan A, Kelsell D, Leigh IM, Tomlinson IP, et al. Missense mutations in fumarate hydratase in multiple cutaneous and uterine leiomyomatosis and renal cell cancer. J Mol Diagn. 2005 Oct. 7(4):437-43. [Medline].

Alam NA, Olpin S, Leigh IM. Fumarate hydratase mutations and predisposition to cutaneous leiomyomas, uterine leiomyomas and renal cancer. Br J Dermatol. 2005 Jul. 153(1):11-7. [Medline].

Wei MH, Toure O, Glenn GM, Pithukpakorn M, Neckers L, Stolle C, et al. Novel mutations in FH and expansion of the spectrum of phenotypes expressed in families with hereditary leiomyomatosis and renal cell cancer. J Med Genet. 2006 Jan. 43(1):18-27. [Medline].

Badeloe S, van Geel M, van Steensel MA, Bastida J, Ferrando J, Steijlen PM, et al. Diffuse and segmental variants of cutaneous leiomyomatosis: novel mutations in the fumarate hydratase gene and review of the literature. Exp Dermatol. 2006 Sep. 15(9):735-41. [Medline].

Horton E, Dobin SM, Debiec-Rychter M, Donner LR. A clonal translocation (7;8)(p13;q11.2) in a leiomyoma of the vulva. Cancer Genet Cytogenet. 2006 Oct 1. 170(1):58-60. [Medline].

Woertler K. Soft tissue masses in the foot and ankle: characteristics on MR Imaging. Semin Musculoskelet Radiol. 2005 Sep. 9(3):227-42. [Medline].

Nakayama H, Enzan H, Miyazaki E, Kuroda N, Toi M. Lack of CD34 positive stromal cells within angiomyomas (vascular leiomyomas). J Clin Pathol. 2002 May. 55(5):395-6. [Medline].

Batchelor RJ, Lyon CC, Highet AS. Successful treatment of pain in two patients with cutaneous leiomyomata with the oral alpha-1 adrenoceptor antagonist, doxazosin. Br J Dermatol. 2004 Apr. 150(4):775-6. [Medline].

Alam M, Rabinowitz AD, Engler DE. Gabapentin treatment of multiple piloleiomyoma-related pain. J Am Acad Dermatol. 2002 Feb. 46(2 Suppl Case Reports):S27-9. [Medline].

Scheinfeld N. The role of gabapentin in treating diseases with cutaneous manifestations and pain. Int J Dermatol. 2003 Jun. 42(6):491-5. [Medline].

Sifaki MK, Krueger-Krasagakis S, Koutsopoulos A, Evangelou GI, Tosca AD. Botulinum toxin type A--treatment of a patient with multiple cutaneous piloleiomyomas. Dermatology. 2009. 218(1):44-7. [Medline].

Onder M, Adisen E. A new indication of botulinum toxin: leiomyoma-related pain. J Am Acad Dermatol. 2009 Feb. 60(2):325-8. [Medline].

Baird DD, Hill MC, Schectman JM, Hollis BW. Vitamin d and the risk of uterine fibroids. Epidemiology. 2013 May. 24(3):447-53. [Medline].

Gravvanis A, Kakagia D, Papadopoulos S, Tsoutsos D. Dermal skin template for the management of multiple cutaneous leiomyomas. J Cutan Med Surg. 2009 Mar-Apr. 13(2):102-5. [Medline].

Abraham Z, Cohen A, Haim S. Muscle relaxing agent in cutaneous leiomyoma. Dermatologica. 1983. 166(5):255-6. [Medline].

Archer CB, Greaves MW. Assessment of treatment for painful cutaneous leiomyomas [letter]. J Am Acad Dermatol. 1987 Jul. 17(1):141-2. [Medline].

Archer CB, Whittaker S, Greaves MW. Pharmacological modulation of cold-induced pain in cutaneous leiomyomata. Br J Dermatol. 1988 Feb. 118(2):255-60. [Medline].

Chuang GS, Martinez-Mir A, Geyer A, Engler DE, Glaser B, Cserhalmi-Friedman PB, et al. Germline fumarate hydratase mutations and evidence for a founder mutation underlying multiple cutaneous and uterine leiomyomata. J Am Acad Dermatol. 2005 Mar. 52(3 Pt 1):410-6. [Medline].

Fernandez-Pugnaire MA, Delgado-Florencio V. Familial multiple cutaneous leiomyomas. Dermatology. 1995. 191(4):295-8. [Medline].

Fitzpatrick JE, Mellette JR Jr, Hwang RJ, Golitz LE, Zaim MT, Clemons D. Cutaneous angiolipoleiomyoma. J Am Acad Dermatol. 1990 Dec. 23(6 Pt 1):1093-8. [Medline].

García Muret MP, Pujol RM, Alomar A, Calaf J, de Moragas JM. Familial leiomyomatosis cutis et uteri (Reed's syndrome). Arch Dermatol Res. 1988. 280 Suppl:S29-32. [Medline].

Geddy PM, Gray S, Reid WA. Mast cell density and PGP 9.5-immunostained nerves in angioleiomyoma: their relationship to painful symptoms. Histopathology. 1993 Apr. 22(4):.5-immunostained nerves in angioleiomyoma: their relationship to painful sympto. [Medline].

Laporte M, Achten G, Gheeraert P, Lowy M, Vokaer A. [Multiple leiomyoma treated with nifedipine: association with an astrocytoma]. Dermatologica. 1985. 171(6):486-90. [Medline].

Newman PL, Fletcher CD. Smooth muscle tumours of the external genitalia: clinicopathological analysis of a series [published erratum appears in Histopathology 1991 Aug;19(2):198]. Histopathology. 1991 Jun. 18(6):523-9. [Medline].

Raj S, Calonje E, Kraus M, Kavanagh G, Newman PL, Fletcher CD. Cutaneous pilar leiomyoma: clinicopathologic analysis of 53 lesions in 45 patients. Am J Dermatopathol. 1997 Feb. 19(1):2-9. [Medline].

Spencer JM, Amonette RA. Tumors with smooth muscle differentiation. Dermatol Surg. 1996 Sep. 22(9):761-8. [Medline].

Thompson JA Jr. Therapy for painful cutaneous leiomyomas. J Am Acad Dermatol. 1985 Nov. 13(5 Pt 2):865-7. [Medline].

Vellanki LS, Camisa C, Steck WD. Familial leiomyomata. Cutis. 1996 Jul. 58(1):80-2. [Medline].

Venencie PY, Bigel P, de la Charrière O, Lemonnier V, Thébaut-Gerbaud D, Saurat JH. [Multiple cutaneous leiomyomatosis. Treatment with phenoxybenzamine]. Ann Dermatol Venereol. 1982. 109(9):819-20. [Medline].

Venencie PY, Puissant A, Boffa GA, Sohier J, Duperrat B. Multiple cutaneous leiomyomata and erythrocytosis with demonstration of erythropoietic activity in the cutaneous leiomyomata. Br J Dermatol. 1982 Oct. 107(4):483-6. [Medline].
Medscape Reference © 2011 WebMD, LLC