Nevus Sebaceus Workup
Author: Anwar Al Hammadi, MD, FRCPC; Chief Editor: William D James, MD  more...
Updated: May 02, 2016
What would you like to print?
Histologic Findings
The epidermis shows papillomatous hyperplasia. In the dermis, the numbers of mature sebaceous glands are increased. Ectopic apocrine glands are often found in the deep dermis beneath sebaceous glands.
Frequently, small hair follicles and buds of basaloid cells that may represent malformed hair germs are present.
In childhood, the sebaceous glands in nevus sebaceus are underdeveloped, and the histologic findings may consist of only immature hair structures.
Note the images below: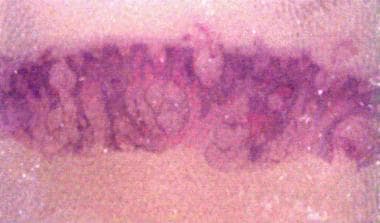 Mild papillomatosis of the epidermis with sebaceus gland lobules opening directly onto the epidermis.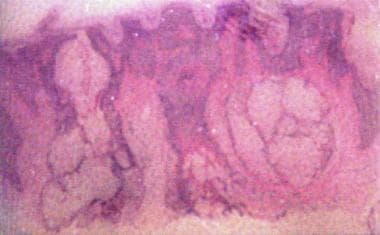 Mild papillomatosis at high power.
Staging
In the early stage, the sebaceous glands and hair follicles are hypoplastic. In the second stage, at puberty, hyperkeratosis and papillomatosis with numerous and hyperplastic sebaceous glands (diagnostic) are present.
References
Jaqueti G, Requena L, Sanchez Yus E. Trichoblastoma is the most common neoplasm developed in nevus sebaceus of Jadassohn: a clinicopathologic study of a series of 155 cases. Am J Dermatopathol. 2000 Apr. 22(2):108-18. [Medline].

Warnke PH, Russo PA, Schimmelpenning GW, et al. Linear intraoral lesions in the sebaceous nevus syndrome. J Am Acad Dermatol. 2005 Feb. 52(2 Suppl 1):62-4. [Medline].

Kavak A, Ozcelik D, Belenli O, Buyukbabani N, Saglam I, Lazova R. A unique location of naevus sebaceus: labia minora. J Eur Acad Dermatol Venereol. 2008 Sep. 22(9):1136-8. [Medline].

Baykal C, Buyukbabani N, Yazganoglu KD, Saglik E. [Tumors associated with nevus sebaceous]. J Dtsch Dermatol Ges. 2006 Jan. 4(1):28-31. [Medline].

Cribier B, Scrivener Y, Grosshans E. Tumors arising in nevus sebaceus: A study of 596 cases. J Am Acad Dermatol. 2000 Feb. 42(2 Pt 1):263-8. [Medline].

Correale D, Ringpfeil F, Rogers M. Large, papillomatous, pedunculated nevus sebaceus: a new phenotype. Pediatr Dermatol. 2008 May-Jun. 25(3):355-8. [Medline].

Rodins K, Baillie L. Hybrid follicular cyst (pilomatrical and infundibular) arising within a sebaceous nevus. Pediatr Dermatol. 2012 Mar-Apr. 29(2):213-6. [Medline].

Ivker R, Resnick SD, Skidmore RA. Hypophosphatemic vitamin D-resistant rickets, precocious puberty, and the epidermal nevus syndrome. Arch Dermatol. 1997 Dec. 133(12):1557-61. [Medline].

Fearfield LA, Bunker CB. Familial naevus sebaceous of Jadassohn. Br J Dermatol. 1998 Dec. 139(6):1119-20. [Medline].

Happle R, Konig A. Familial naevus sebaceus may be explained by paradominant transmission. Br J Dermatol. 1999 Aug. 141(2):377. [Medline].

Sahl WJ Jr. Familial nevus sebaceus of Jadassohn: occurrence in three generations. J Am Acad Dermatol. 1990 May. 22(5 Pt 1):853-4. [Medline].

Paller A, Mancini A, eds. Tumors of epidermal appendages. Hurwitz Clinical Pediatric Dermatology. 3rd ed. Philadelphia, Pa: Elsevier Saunders; 2006. 221-2.

Barkham MC, White N, Brundler MA, Richard B, Moss C. Should naevus sebaceus be excised prophylactically? A clinical audit. J Plast Reconstr Aesthet Surg. 2007. 60(11):1269-70. [Medline].

Idriss MH, Elston DM. Secondary neoplasms associated with nevus sebaceus of Jadassohn: a study of 707 cases. J Am Acad Dermatol. Feb2014. 70(2):332-7. [Medline].

Odom RB, James WD, Berger TG. Sebaceus nevi and tumors. Andrews' Diseases of the Skin. 9th ed. Philadelphia, Pa: WB Saunders; 2000. 845-46.
Medscape Reference © 2011 WebMD, LLC