Trichilemmal Cyst (Pilar Cyst) Clinical Presentation
Author: Anne Elizabeth Laumann, MBChB, MRCP(UK), FAAD; Chief Editor: William D James, MD more...
Updated: Apr 07, 2016
What would you like to print?
History
Trichilemmal cysts occur preferentially in areas with dense hair follicle concentrations; therefore, 90% occur on the scalp.[2] They may be seen infrequently on the face, neck, trunk, and extremities.[1, 2, 10]
Trichilemmal cysts are solitary in 30% and multiple in 70% of patients.[7]
Trichilemmal cysts may be red, swollen, and tender if they have ruptured or become infected.
A family history may be present because the condition can have an autosomal dominant pattern of inheritance.[4, 5] Proposed clinical criteria for recognizing autosomal dominant hereditary cases include the diagnosis of trichilemmal cyst in 2 or more first- or second-degree relatives, age of diagnosis younger than 45 years, and diagnosis of multiple or large (>5 cm) cysts or rare histologic features such as proliferating and ossifying cysts.[11]
A proliferating trichilemmal cysts presents as a slow-growing nodule.[5] They are more common in women, and occur at a mean age of 65 years.[2]
Rapid growth is unusual and may be a sign of infection or malignancy.[1] Other suspicious features include nonscalp location, size larger than 5 cm, and an infiltrative growth pattern.[2]
Physical
Trichilemmal cysts manifest as skin-colored, smooth, mobile, firm, and well-circumscribed nodules,[1, 5] as shown in the image below.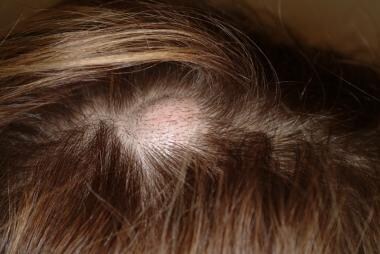 A firm, smooth swelling on the scalp.
Ninety percent of trichilemmal cysts occur on the head, and 70% occur as multiple lesions.[2, 7]
Unlike epidermoid cysts, no punctum is seen.[2] If they are inflamed, they may be tender, erythematous, or both. The contents occasionally extrude to form a soft, cutaneous horn.
The wall of a marsupialized cyst may fuse with the overlying epidermis to form a crypt. This may occasionally discharge its contents and then self-resolve.
Causes
If the cysts are hereditary, the inheritance pattern is autosomal dominant.[4, 5] Hereditary trichilemmal cysts link to the short arm of chromosome 3.
References
Thomas VD, Snavely NR, Lee KK, Swanson NA. Benign Epithelial Tumors, Hamartomas, and Hyperplasias. Goldsmith LA, Katz SI, Gilchrest BA, Paller AS, Leffell DJ, Wolff K, eds. Fitzpatrick's Dermatology in General Medicine. 8th ed. New York, NY: McGraw-Hill; 2012. 1334.

James WD, Berger TG, Elston DM. Andrews' Diseases of the Skin: Clinical Dermatology. 12th ed. Philadelphia, Pa: Saunders Elsevier; 2015. 673.

Al-Khateeb TH, Al-Masri NM, Al-Zoubi F. Cutaneous cysts of the head and neck. J Oral Maxillofac Surg. Jan 2009. 67(1):52-7. [Medline].

Leppard BJ, Sanderson KV, Wells RS. Hereditary trichilemmal cysts. Hereditary pilar cysts. Clin Exp Dermatol. 1977 Mar. 2(1):23-32. [Medline].

Stone MS. Cysts. Bolognia JL, Jorizzo JL, Schaffer JV, eds. Dermatology. 3rd ed. St. Louis, MO: Saunders Elsevier; 2012. 1820-21.

Weiss J, Heine M, Grimmel M, Jung EG. Malignant proliferating trichilemmal cyst. J Am Acad Dermatol. May 1995. 32(5 Pt 2):870-3. [Medline].

Kirkham N. Tumors and Cysts of the Epidermis. Elder DE, Elenitsas R, Johnson BL, Murphy GF, Xu X, eds. Lever's Histopathology of the Skin. 10th ed. Philadelphia, PA: Lippincott Williams & Wilkins; 2009. 801-3.

Ivan D, Bengana C, Lazar AJ, Diwan AH, Prieto VG. Merkel cell tumor in a trichilemmal cyst: collision or association?. Am J Dermatopathol. 2007 Apr. 29(2):180-3. [Medline].

Su W, Kheir SM, Berberian B, Cockerell CJ. Merkel cell carcinoma in situ arising in a trichilemmal cyst: a case report and literature review. Am J Dermatopathol. 2008 Oct. 30(5):458-61. [Medline].

Melikoglu C, Eren F, Keklik B, Aslan C, Sutcu M, Zeynep Tarini E. Trichilemmal cyst of the third fingertip: a case report. Hand Surg. 2014. 19(1):131-3. [Medline].

Seidenari S, Pellacani G, Nasti S, Tomasi A, Pastorino L, Ghiorzo P, et al. Hereditary trichilemmal cysts: a proposal for the assessment of diagnostic clinical criteria. Clin Genet. 2012 Oct 15. [Epub ahead of print]:[Medline].

Abreu Velez AM, Brown VM, Howard MS. An inflamed trichilemmal (pilar) cyst: Not so simple?. N Am J Med Sci. 2011 Sep. 3(9):431-4. [Medline].

Cotton DW, Kirkham N, Young BJ. Immunoperoxidase anti-keratin staining of epidermal and pilar cysts. Br J Dermatol. 1984 Jul. 111(1):63-8. [Medline].

Hanau D, Grosshans E. Trichilemmal cyst with intrinsic parietal sebaceous and apocrine structures. Clin Exp Dermatol. 1980 Sep. 5(3):351-5. [Medline].

Pusiol T, Morichetti D, Zorzi MG, Piscioli F. Ossifying trichilemmal cyst. Am J Dermpathol. Dec 2011. 33(8):867-8. [Medline].

Mommers XA, Henault B, Aubriot MH, Trost O, Malka G, Zwetyenga N. Kystes trichilemmaux ossifiants multiples du cuir chevelu : un cas familial [Multiple ossifying trichilemmal cysts of the scalp: a familial case]. Rev Stomatol Chir Maxillofac. 2012 Feb. 113(1):53-6. [Medline].

Mehrabi D, Leonhardt JM, Brodell RT. Removal of keratinous and pilar cysts with the punch incision technique: analysis of surgical outcomes. Dermatol Surg. 2002 Aug. 28(8):673-7. [Medline].

Ibrahim AE, Barikian A, Janom H, Kaddoura I. Numerous recurrent trichilemmal cysts of the scalp: differential diagnosis and surgical management. J Craniofac Surg. Mar 2012. 23(2):e164-8. [Medline].

Satyaprakash AK, Sheehan DJ, Sangueza OP. Proliferating trichilemmal tumors: a review of the literature. Dermatol Surg. 2007 Sep. 33(9):1102-8. [Medline].
Medscape Reference © 2011 WebMD, LLC