Steatocystoma Multiplex Workup
Author: Dean Scott Morrell, MD; Chief Editor: William D James, MD  more...
Updated: Jun 06, 2016
What would you like to print?
Histologic Findings
Cysts are located in the mid dermis. The cyst lining is a crenulated or wavy, homogeneous, eosinophilic horny layer collapsed around thin cystic spaces. The spaces hold varying amounts of keratin, vellus hairs, and sebum esters, the latter of which often are removed by tissue processing. Walls are formed from several layers of epithelial cells, with embedded flattened lobules of sebaceous glands among the epithelial cells. Invaginations resembling hair follicles can also be found emptying into the cyst. Cyst units may be attached to the overlying normal epidermis by a thin strand of undifferentiated epithelial cells. All reported cases of steatocystoma multiplex exhibit an eosinophilic cuticle and lack of a granular layer. In contrast, eruptive vellus hair cysts are lined by mature squamous cells with a granular layer and are not associated with sebaceous glands.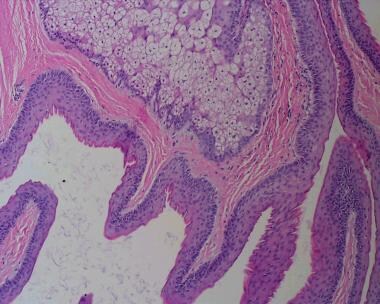 Note the crenulated eosinophilic lining of the cyst wall (10X magnification).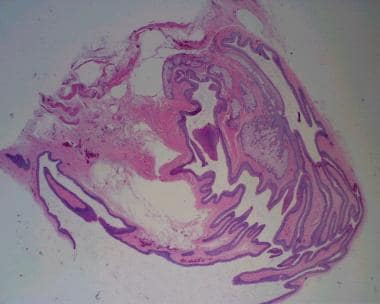 Note the sebaceous glands within the cyst wall (2X scanning view).
References
Jamieson WA. Case of numerous cutaneous cysts scattered over the body. Edin Med J. 1873. 19:223-5.

Cho S, Chang SE, Choi JH, Sung KJ, Moon KC, Koh JK. Clinical and histologic features of 64 cases of steatocystoma multiplex. J Dermatol. 2002 Mar. 29(3):152-6. [Medline].

Oh SW, Kim MY, Lee JS, Kim SC. Keratin 17 mutation in pachyonychia congenita type 2 patient with early onset steatocystoma multiplex and Hutchinson-like tooth deformity. J Dermatol. 2006 Mar. 33(3):161-4. [Medline].

Yamada A, Saga K, Jimbow K. Acquired multiple pilosebaceous cysts on the face having the histopathological features of steatocystoma multiplex and eruptive vellus hair cysts. Int J Dermatol. 2005 Oct. 44(10):861-3. [Medline].

Papakonstantinou E, Franke I, Gollnick H. Facial steatocystoma multiplex combined with eruptive vellus hair cysts: a hybrid?. J Eur Acad Dermatol Venereol. 2014 Jul 30. [Medline].

Tomková H, Fujimoto W, Arata J. Expression of keratins (K10 and K17) in steatocystoma multiplex, eruptive vellus hair cysts, and epidermoid and trichilemmal cysts. Am J Dermatopathol. 1997 Jun. 19(3):250-3. [Medline].

Park YM, Cho SH, Kang H. Congenital linear steatocystoma multiplex of the nose. Pediatr Dermatol. 2000 Mar-Apr. 17(2):136-8. [Medline].

Riedel C, Brinkmeier T, Kutzne H, Plewig G, Frosch PJ. Late onset of a facial variant of steatocystoma multiplex - calretinin as a specific marker of the follicular companion cell layer. J Dtsch Dermatol Ges. 2008 Jun. 6(6):480-2. [Medline].

Mortazavi H, Taheri A, Mansoori P, Kani ZA. Localized forms of steatocystoma multiplex: Case report and review of the literature. Dermatology Online Journal. 2005. 11:22. [Full Text].

Lee D, Chun JS, Hong SK, Seo JK, Choi JH, Koh JK, et al. Steatocystoma multiplex confined to the scalp with concurrent alopecia. Ann Dermatol. 2011 Oct. 23:S258-60. [Medline]. [Full Text].

Rollins T, Levin RM, Heymann WR. Acral steatocystoma multiplex. J Am Acad Dermatol. 2000 Aug. 43(2 Pt 2):396-9. [Medline].

Duzova AN, Senturk GB. Suggestion for the treatment of steatocystoma multiplex located exclusively on the face. Int J Dermatol. 2004 Jan. 43(1):60-2. [Medline].

Schmook T, Burg G, Hafner J. Surgical pearl: mini-incisions for the extraction of steatocystoma multiplex. J Am Acad Dermatol. 2001 Jun. 44(6):1041-2. [Medline].

Kaya TI, Ikizoglu G, Kokturk A, Tursen U. A simple surgical technique for the treatment of steatocystoma multiplex. Int J Dermatol. 2001 Dec. 40(12):785-8. [Medline].

Lee SJ, Choe YS, Park BC, Lee WJ, Kim do W. The vein hook successfully used for eradication of steatocystoma multiplex. Dermatologic Surgery. 2008. 33:82-84.

Choudhary S, Koley S, Salodkar A. A modified surgical technique for steatocystoma multiplex. J Cutan Aesthet Surg. 2010 Jan. 3(1):25-8. [Medline]. [Full Text].

Rossi R, Cappugi P, Battini M, Mavilia L, Campolmi P. CO2 laser therapy in a case of steatocystoma multiplex with prominent nodules on the face and neck. Int J Dermatol. 2003 Apr. 42(4):302-4. [Medline].

Krahenbuhl A, Eichmann A, Pfaltz M. CO2 laser therapy for steatocystoma multiplex. Dermatologica. 1991. 183(4):294-6. [Medline].

Bakkour W, Madan V. Carbon dioxide laser perforation and extirpation of steatocystoma multiplex. Dermatol Surg. 2014 Jun. 40(6):658-62. [Medline].
Medscape Reference © 2011 WebMD, LLC