Syringoma Clinical Presentation
Author: Christopher R Shea, MD; Chief Editor: Dirk M Elston, MD more...
Updated: Jun 06, 2016
What would you like to print?
History
Syringomas are usually asymptomatic. However, rare cases have been associated with pruritus, especially in the setting of perspiration or when localized to the vulva.[3] Uncommonly, the patient may have a family history of similar lesions. Rarely, syringomas may be associated with the Brooke-Spiegler syndrome, an autosomal dominant disease characterized by the development of multiple cylindromas, trichoepitheliomas, and occasional spiradenomas.[4] Other associations include Nicolau-Balus syndrome, characterized by milia and atrophoderma vermiculatum,[5] and Costello syndrome, characterized by various other cutaneous manifestations such as hyperkeratosis, hyperpigmentation, papillomas, and deep palmoplantar creases, as well as craniofacial, musculoskeletal, and neurologic abnormalities.[6] In rare cases, syringoma can be associated with steatocystoma multiplex.[3] The incidence of syringoma appears notably increased in association with Down syndrome.[7, 8, 9]
Physical
Appearance
Syringomas are skin-colored or yellowish, generally small, dermal papules (see image below).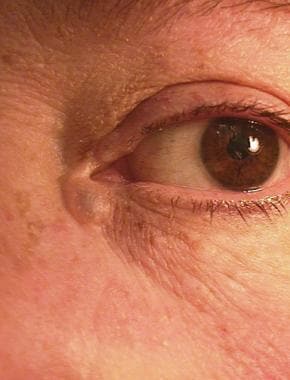 The multiple, small, yellow papules in the lower lid and upper part of the cheek correspond to syringomas. The blue cyst in the inner canthus is an eccrine hidrocystoma. Courtesy of Mark S. Brown, MD, University of South Alabama Medical Center.
Sometimes, the lesions may appear translucent or cystic. The surface of syringomas can be rounded or flat. Syringomas are usually smaller than 3 mm in diameter. However, rare cases of giant syringoma have been reported.[10] Eruptive syringomas typically appear as hyperpigmented papules on the chest, penile shaft, or vulva.
Distribution
Syringomas are usually multiple, sometimes arranged in clusters, and symmetrically distributed. Most commonly, syringomas are limited to the upper parts of the cheeks and lower eyelids.
Other characteristic sites for syringomas include the axilla, chest, abdomen, penis, and vulva. Case reports have described syringomas limited to the dorsa of the hands.[11] In the variant of eruptive syringoma, multiple lesions appear simultaneously, typically on the chest and lower abdomen. The eruptive variant may involve the penis[12] and intertriginous areas.[13] Rarely, syringomas appear as unilateral, linear, nevoid lesions.[14]
Differential diagnoses and related conditions
In rare instances, scalp syringomas are associated with scarring alopecia.[15]
Clinically, syringomas on the face must be distinguished from trichoepitheliomas and basal cell carcinomas.
Lesions on the eyelids may be confused with xanthelasmas.
Eruptive syringomas on the trunk can resemble disseminated granuloma annulare.
Microcystic adnexal carcinoma can masquerade as syringoma.[16] Plaque-type lesions have been described and may be mistaken for microcystic adnexal carcinoma.[17]
Lesions of Fox-Fordyce disease (multiple pruritic follicular papules) should be differentiated from syringomas.[18]
Causes
Syringomas are usually sporadic, but more than 10 cases of familial syringomas have been reported in the English literature. In the familial setting, syringomas tend to occur in preadolescence or adolescence, most commonly affect the face, and are usually inherited as an autosomal dominant trait.[3]
Eruptive syringomas (see image below) are more common in African Americans and Asians than in other ethnic groups.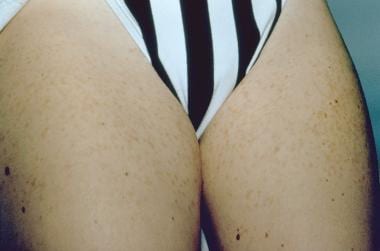 Eruptive syringomas.
Syringoma can be associated with Down syndrome, in which case it is usually located in the periorbital region. However, rare cases of eruptive syringomas associated with Down syndrome have also been reported.[7, 8, 9]
Clear-cell syringoma may be associated with diabetes mellitus.[19]
Medscape Reference © 2011 WebMD, LLC