Overview
Background
Trichofolliculoma represents an uncommon hamartoma of hair follicle tissue, typically occurring on the face of adults. [1]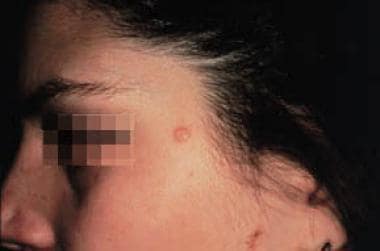 Clinical appearance of trichofolliculoma.
The prognosis is excellent, and therapy is usually directed toward cosmetic improvement.
Pathophysiology
Although the precise etiology of trichofolliculoma is uncertain, these tumors are not associated with systemic disease or other skin disorders. Trichofolliculomas are believed to represent abortive differentiation of pluripotent skin cells toward hair follicles.
Epidemiology
Frequency
Trichofolliculoma represents an uncommon clinical entity.
Race
In reported cases, trichofolliculomas demonstrate no definitive racial predilection.
Sex
No definitive sexual predilection is observed in reported cases, although sporadic reports indicate a probable male preponderance. [2]
Age
From published reports, trichofolliculoma appears to primarily be a tumor of adults; however, at least 1 case of congenital trichofolliculoma has been reported. [3]
What would you like to print?