Acrochordon Workup
Author: Robert A Schwartz, MD, MPH; Chief Editor: Dirk M Elston, MD  more...
Updated: Jun 10, 2016
What would you like to print?
Imaging Studies
A congenital perineal skin tag manifested as a perineal tumor during a second-trimester ultrasound scan at 23 weeks' gestation.[36] It was an innocuous finding.
Histologic Findings
Acrochordons are characterized by acanthotic, flattened, or frondlike epithelium. A papillarylike dermis is composed of loosely arranged collagen fibers and dilated capillaries and lymphatic vessels (see the images below). Appendages are generally absent. Acrochordons were thought to be marked by decreased numbers of elastic fibers, though one study of elastic tissue in FEPs showed no deficiency of this tissue.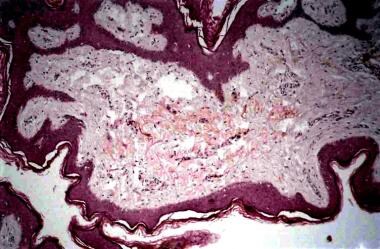 A hyperplastic epidermis showing papillomatosis, hyperkeratosis, and acanthosis overlying loosely arranged collagen fibers and many capillaries.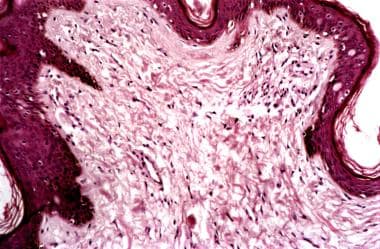 A higher-power view demonstrating to better advantage loosely arranged collagen fibers and many capillaries.
Acrochordons (skin tags) are often considered clinically insignificant cutaneous redundancies that should be removed without histopathologic analysis.[37] However, one may rarely find another neoplasm within an acrochordon. A squamous cell carcinoma that had features resembling a keratoacanthoma was recently described.[30]
References
Kawasaki H, Sawamura D, Nakazawa H, Hattori N, Goto M, Sato-Matsumura KC, et al. Detection of 1733insC mutations in an Asian family with Birt-Hogg-Dube syndrome. Br J Dermatol. 2005 Jan. 152(1):142-5. [Medline].

Toro JR, Glenn G, Duray P, et al. Birt-Hogg-Dube syndrome: a novel marker of kidney neoplasia. Arch Dermatol. 1999 Oct. 135(10):1195-202. [Medline].

Haimowitz JE, Halpern AC, Heymann WR. Multiple, hereditary dome-shaped papules and acrochordons. Birt-Hogg-Dube syndrome. Arch Dermatol. 1997 Sep. 133(9):1163, 1166. [Medline].

Eley KA, Pleat JM, Wall SA. Reconstruction of a congenital nasal deformity using skin tags as a chondrocutaneous composite graft. J Craniofac Surg. 2009 Mar. 20(2):573-5. [Medline].

Adams BB, Mutasim DF. Elastic tissue in fibroepithelial polyps. Am J Dermatopathol. 1999 Oct. 21(5):446-8. [Medline].

Tamega Ade A, Aranha AM, Guiotoku MM, Miot LD, Miot HA. [Association between skin tags and insulin resistance]. An Bras Dermatol. 2010 Feb. 85(1):25-31. [Medline].

Sari R, Akman A, Alpsoy E, Balci MK. The metabolic profile in patients with skin tags. Clin Exp Med. 2009 Dec 24. [Medline].

Emir L, Ak H, Karabulut A, Ozer E, Erol D. A huge unusual mass on the penile skin: acrochordon. Int Urol Nephrol. 2004. 36(4):563-5. [Medline].

Peña KB, Parada DD. Lymphedematous fibroepithelial polyp of the glans penis non-associated with condom catheter use. APMIS. 2008 Mar. 116(3):215-8. [Medline].

Kassinove A, Raam R. Acrochordon of the labia. J Emerg Med. 2013 May. 44(5):e361-2. [Medline].

Singh N, Thappa DM, Jaisankar TJ, Habeebullah S. Pattern of non-venereal dermatoses of female external genitalia in South India. Dermatol Online J. 2008 Jan 15. 14(1):1. [Medline].

Carey RI, Bird VG. Endoscopic management of 10 separate fibroepithelial polyps arising in a single ureter. Urology. 2006 Feb. 67(2):413-5. [Medline].

Gorpelioglu C, Erdal E, Ardicoglu Y, Adam B, Sarifakioglu E. Serum leptin, atherogenic lipids and glucose levels in patients with skin tags. Indian J Dermatol. 2009. 54:20-22.

Boza JC, Trindade EN, Peruzzo J, Sachett L, Rech L, Cestari TF. Skin manifestations of obesity: a comparative study. J Eur Acad Dermatol Venereol. 2011 Sep 20. [Medline].

Akp?nar F, Derv?s E. Association between acrochordons and the components of metabolic syndrome. Eur J Dermatol. 2011 Nov 7. [Medline].

Hui ES, Yip BH, Tsang KW, Lai FT, Kung K, Wong SY. Association between multiple skin tags and metabolic syndrome: A multicentre cross-sectional study in primary care. Diabetes Metab. 2016 Apr. 42 (2):126-9. [Medline].

Senel E, Salmanoglu M, Solmazgül E, Berçik Inal B. Acrochordons as a cutaneous sign of impaired carbohydrate metabolism, hyperlipidemia, liver enzyme abnormalities and hypertension: a case-control study. J Eur Acad Dermatol Venereol. 2011 Dec 21. [Medline].

Wali V, Wali VV. Assessment of Various Biochemical Parameters and BMI in Patients with Skin Tags. J Clin Diagn Res. 2016 Jan. 10 (1):BC09-11. [Medline].

Garg S, Baveja S. Giant Acrochordon of Labia Majora: An Uncommon Manifestation of a Common Disease. J Cutan Aesthet Surg. 2015 Apr-Jun. 8 (2):119-20. [Medline].

Ozkol HU, Bulut G, Gumus S, Calka O. Ulcerated giant labial acrochordon in a child. Indian Dermatol Online J. 2015 Jan-Feb. 6 (1):60-1. [Medline].

Alkhalili E, Prapasiri S, Russell J. Giant acrochordon of the axilla. BMJ Case Rep. 2015 Jul 3. 2015:[Medline].

Dianzani C, Calvieri S, Pierangeli A, Imperi M, Bucci M, Degener AM. The detection of human papillomavirus DNA in skin tags. Br J Dermatol. 1998 Apr. 138(4):649-51. [Medline].

Levine N. Brown patches, skin tags on axilla. Are this patient's velvety plaques related to his obesity and diabetes?. Geriatrics. 1996 Oct. 51(10):27. [Medline].

Thappa DM. Skin tags as markers of diabetes mellitus: an epidemiological study in India. J Dermatol. 1995 Oct. 22(10):729-31. [Medline].

Goyal A, Raina S, Kaushal SS, Mahajan V, Sharma NL. Pattern of cutaneous manifestations in diabetes mellitus. Indian J Dermatol. 2010. 55(1):39-41. [Medline]. [Full Text].

Mathur SK, Bhargava P. Insulin resistance and skin tags. Dermatology. 1997. 195(2):184. [Medline].

Cathro HP, Patterson JW, Wick MR. Cutaneous pseudosarcomatous polyp: a recently described lesion. Ann Diagn Pathol. 2008 Dec. 12(6):440-4. [Medline].

Baldo A, De Natale F, Parisi A, Lo Presti M. Un singolare fibroma pendulo. Chronica Dermatologica (Roma). 1995. 5:719-23.

Granados S, Cohen L. Metastatic melanoma presenting as an infarcted acrochordon. J Cutan Pathol. 2003. 30:61.

Schwartz RA, Tarlow MM, Lambert WC. Keratoacanthoma-like squamous cell carcinoma within the fibroepithelial polyp. Dermatol Surg. 2004 Feb. 30(2 Pt 2):349-50. [Medline].

Chiritescu E, Maloney ME. Acrochordons as a presenting sign of nevoid basal cell carcinoma syndrome. J Am Acad Dermatol. 2001 May. 44(5):789-94. [Medline].

Feito-Rodriguez M, Sendagorta-Cudos E, Moratinos-Martinez M, Gonzalez-Beato MJ, de Lucas-Laguna R, Pizarro A. Dermatoscopic characteristics of acrochordon-like basal cell carcinomas in Gorlin-Goltz syndrome. J Am Acad Dermatol. 2009 Feb 21. [Medline].

Agir H, Sen C, Cek D. Squamous cell carcinoma arising from a fibroepithelial polyp. Ann Plast Surg. 2005 Dec. 55(6):687-8. [Medline].

Dudani S, Malik A, Mani NS. Nevus Lipomatosis Cutaneous Superficialis - A clinicopathologic study of the solitary type. Med J Armed Forces India. 2016 Jan. 72 (1):67-70. [Medline].

McClain CM, Cole MB, Robbins JB, Kantrow SM. Mycosis fungoides involving an acrochordon: a case report. J Cutan Pathol. 2012 Dec. 39(12):1131-4. [Medline].

Bord A, Valsky DV, Yagel S. Prenatal sonographic diagnosis of congenital perineal skin tag: case report and review of the literature. Prenat Diagn. 2006 Nov. 26(11):1065-7. [Medline].

Eads TJ, Chuang TY, Fabre VC, Farmer ER, Hood AF. The utility of submitting fibroepithelial polyps for histological examination. Arch Dermatol. 1996 Dec. 132(12):1459-62. [Medline].

Görgülü T, Torun M, Güler R, Olgun A, Kargi E. Fast and Painless Skin Tag Excision with Ethyl Chloride. Aesthetic Plast Surg. 2015 Aug. 39 (4):644-5. [Medline].

Monfrecola G, Riccio G, Viola L, Procaccini EM. A simple cryo-technique for the treatment of cutaneous soft fibromas. J Dermatol Surg Oncol. 1994 Feb. 20(2):151-2. [Medline].

Wang LT, Wu CC, Hsiao CW, Feng CC, Jao SW. A modified ferguson hemorrhoidectomy for circumferential prolapsed hemorrhoids with skin tags. Dis Colon Rectum. 2008 Apr. 51(4):456-61. [Medline].

Oran M, Erfan G, Mete R, Yanik ME, Yildirim O, Aydin M, et al. Association of colon adenomas and skin tags: coincidence or coexistence?. Eur Rev Med Pharmacol Sci. 2014. 18(7):1073-7. [Medline].

Rasi A, Faghihi A, Rahmanzadeh Y, Hassannejad H. A comparison study of lipid profile levels between skin tags affected people and normal population in Tehran, Iran. Adv Biomed Res. 2014. 3:109. [Medline]. [Full Text].

Paredes BE, Mentzel T. Atypical Lipomatous Tumor/"Well-Differentiated Liposarcoma" of the Skin Clinically Presenting as a Skin Tag: Clinicopathologic, Immunohistochemical, and Molecular Analysis of 2 Cases. Am J Dermatopathol. 2011 Feb 24. [Medline].
Medscape Reference © 2011 WebMD, LLC