Dilated Pore of Winer Workup
Author: Alyssa Y Kim, MD; Chief Editor: Dirk M Elston, MD  more...
Updated: Feb 08, 2016
What would you like to print?
Procedures
Dermoscopic findings
Dermoscopic examination shows a pinkish nodule with peripheral vessels in a regular pattern. The individual vessels at the periphery of the lesion extend towards the center. The size of the vessels decreases with every progressive branching. The center of the lesion reveals a dilated ostium filled with terminal hairs.[8]
Biopsy
Histologic examination of a biopsy specimen from the lesion is the only way to make a definitive diagnosis.
Histologic Findings
A dilated follicular infundibulum extends deep into the dermis and, at times, into the subcutaneous tissue. The cavity is lined by the epidermis, which is atrophic near the follicular ostium. The epidermis is hypertrophic and proliferative in the deeper portion of the invagination where the numerous rete ridges project into the surrounding stroma. The cavity is filled with laminated keratin. Vellus hair follicles and small sebaceous lobules may be attached to the lower portion of the infundibulum.[9] Gonzalez-Guerra et al reported in 2008 that cutaneous adnexal tumors of the hair follicle can be identified using immunohistochemistry studies for calretinin, with differentiation towards cells of the outer root sheath.[10]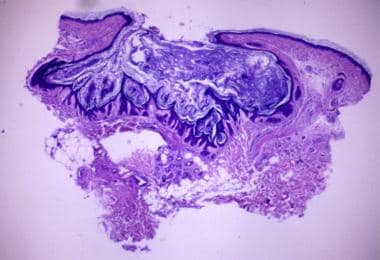 Hematoxylin and eosin stain. Original magnification X40. Courtesy of Lawrence Machtinger, MD.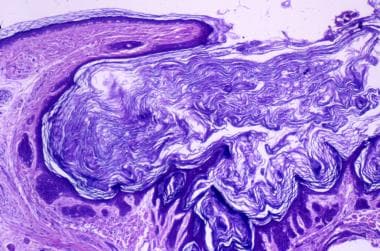 Image shows an epidermal lining that is atrophic near the ostium but progressively hypertrophic and proliferative, with numerous rete ridges, in the deeper part of the cavity (hematoxylin and eosin, original magnification X100).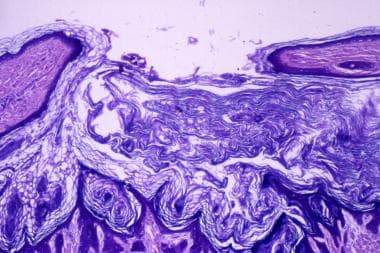 The cavity is filled with laminated keratin (hematoxylin and eosin, original magnification X100).
References
Winer LH. The dilated pore, a tricho-epithelioma. J Invest Dermatol. 1954 Sep. 23(3):181-8. [Medline].

Steffen C. Winer's dilated pore: the infundibuloma. Am J Dermatopathol. 2001 Jun. 23(3):246-53. [Medline].

Morikawa T, Takizawa H, Ohnishi T, Watanabe S. Dilated pore: a case report and an immunohistochemical study of cytokeratin expression. J Dermatol. 2003 Jul. 30(7):556-8. [Medline].

Jakobiec FA, Bhat P, Sutula F. Winer's dilated pore of the eyelid. Ophthal Plast Reconstr Surg. 2009 Sep-Oct. 25(5):411-3. [Medline].

Ayoub OM, Timms MS, Mene A. Winer's dilated pore, rare presentation in the external ear canal. Auris Nasus Larynx. 2001 Nov. 28(4):349-52. [Medline].

Walsh SN, Cruz DJ, Hurt MA. Hair cortex comedo: a series of 34 cases. Am J Dermatopathol. 2010 Dec. 32(8):749-54. [Medline].

Lee JY, Hirsch E. Pilar sheath acanthoma. Arch Dermatol. 1987 May. 123(5):569-70. [Medline].

Moreira A, Menezes N, Guedes R, Tente D, Baptista A, Varela P. Dermoscopy of a dilated pore of Winer. Eur J Dermatol. 2010 Mar-Apr. 20(2):229. [Medline].

Klovekorn G, Klovekorn W, Plewig G, Pinkus H. [Giant pore and hair-shaft acanthoma. Clinical and histologic diagnosis]. Hautarzt. 1983 May. 34(5):209-16. [Medline].

Gonzalez-Guerra E, Requena L, Kutzner H. [Immunohistochemical study of calretinin in normal hair follicles and tumors with follicular differentiation]. Actas Dermosifiliogr. 2008 Jul-Aug. 99(6):456-63. [Medline].

Carlson-Sweet KL, Weigand DA, MacFarlane DF. Trichoid basal cell carcinoma found in a dilated pore on the nose. Dermatol Surg. 2000 Sep. 26(9):874-6. [Medline].

Burns T, Breathnach S, Cox N. Root's Textbook of Dermatology. 7th ed. Malden, Mass: Blackwell Science Ltd; 2004. 37.3.

Champion RH, Burton JL, Burns DA, Breathnach S. Rook/Wilkinson/Ebling Textbook of Dermatology. 6th ed. Oxford, England: Blackwell Science; 1998. 1696.

Elder D, Elenitsas R, Johnson Jr B. Lever's Histopathology of the Skin. 9th ed. Philadelphia, Pa: Lippincott Williams Wilkins; 2005. 871-872.

Farmer ER, Hood AF. Pathology of the Skin. 2nd ed. New York, NY: McGraw-Hill; 2000. 1026-7.
Medscape Reference © 2011 WebMD, LLC