Cutaneous Melanoacanthoma Clinical Presentation
Author: Robert A Schwartz, MD, MPH; Chief Editor: Dirk M Elston, MD more...
Updated: Jun 10, 2016
What would you like to print?
History
Cutaneous melanoacanthomas are painless and slow growing. The slow but persistent growth and related cosmetic problems with melanoacanthomas may prompt an affected individual to consult a physician.
Patients are generally asymptomatic; however, trauma or manipulation of the melanoacanthoma may lead to bleeding or inflammation. Patients may live with cutaneous melanoacanthoma for decades before they seek treatment.
Oral melanoacanthoma is rare, first noted with the sudden appearance and rapid growth of a brown-black macule.[15] Gingival melanoacanthomas may be evident as solitary or multiple.[16] Oral melanoacanthoma may be bilateral.[17] It may rarely appear on the gingiva.[18]
Physical
Melanoacanthomas are most often solitary. Multiple melanoacanthomas have been described. In one case, a 40-year-old man had multiple, minute, discrete or confluent shiny papules limited to his left upper eyelid.[19] They may rarely appear as multiple, asymptomatic, slowly growing, raised pigmented nodules and tumors scattered all over the body.[20] An ulcerating tumor has been described in one of the lesions.
Cutaneous melanoacanthomas are found mainly on the trunk or head, often on the lip or eyelid. They have also been observed on the penile shaft[13] and in the genital regions as a large, solitary, slowly enlarging, hyperpigmented verrucous tumor with a cerebriform surface.[21]
Cutaneous melanoacanthomas may be hyperpigmented or verrucous and round or oval. The lesion may be a papule, plaque, cutaneous horn, or nodule. Lesional diameters range from a few millimeters to 10 cm. Note the image below.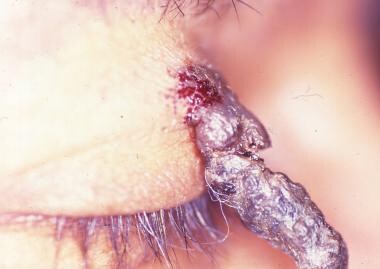 Large cutaneous melanoacanthoma in a 45-year-old man that obstructs his vision.
The authors have observed a darkly pigmented cutaneous horn that extended from the left upper eyelid to below the lower eyelid in a 45-year-old man; the lesion had histologic findings consistent with melanoacanthoma (see image below).
Melanoacanthomas can occur on the oral mucosa,[22] but oral lesions are distinct from cutaneous melanoacanthomas.[8, 23] Dermatoscopic features have been described.[24]
Causes
The cause of melanoacanthoma is unknown, but most instances appear to represent a benign neoplasm. Irritation or trauma to the skin may cause some cutaneous melanoacanthomas, especially on the lips. Trauma and irritation of the oral mucosa are believed to cause oral melanoacanthoma.
References
Mishima Y, Pinkus H. Benign mixed tumor of melanocytes and malpighian cells. Melanoacanthoma: Its relationship to Bloch's benign non-nevoid melanoepithelioma. Arch Dermatol. 1960 Apr. 81:539-50. [Medline].

Bloch B. Uber benigne, nicht naevoide Melanoepitheliome der Haut nebst Bemerkungen uber das Wesen und die Genese der Dendritenzellen. Arch Dermatol Syph (Berlin). 1927. 153:20-40.

Fornatora ML, Reich RF, Haber S, Solomon F, Freedman PD. Oral melanoacanthoma: a report of 10 cases, review of the literature, and immunohistochemical analysis for HMB-45 reactivity. Am J Dermatopathol. 2003 Feb. 25(1):12-5. [Medline].

Flaitz CM. Oral melanoacanthoma of the attached gingiva. Am J Dent. 2000 Jun. 13(3):162. [Medline].

Frey VM, Lambert WC, Seldin RD, Schneider LC, Mesa ML. Intraoral melanoacanthoma. J Surg Oncol. 1984 Oct. 27(2):93-6. [Medline].

Matsuoka LY, Glasser S, Barsky S. Melanoacanthoma of the lip. Arch Dermatol. 1979 Sep. 115(9):1116-7. [Medline].

Sexton FM, Maize JC. Melanotic macules and melanoacanthomas of the lip. A comparative study with census of the basal melanocyte population. Am J Dermatopathol. 1987 Oct. 9(5):438-44. [Medline].

Carlos-Bregni R, Contreras E, Netto AC, et al. Oral melanoacanthoma and oral melanotic macule: a report of 8 cases, review of the literature, and immunohistochemical analysis. Med Oral Patol Oral Cir Bucal. 2007 Sep 1. 12(5):E374-9. [Medline].

Matsuoka LY, Barsky S, Glasser S. Melanoacanthoma of the lip. Arch Dermatol. 1982 May. 118(5):290. [Medline].

Prince C, Mehregan AH, Hashimoto K, Plotnick H. Large melanoacanthomas: a report of five cases. J Cutan Pathol. 1984 Aug. 11(4):309-17. [Medline].

Simon P, Requena L, Sanchez Yus E. How rare is melanoacanthoma?. Arch Dermatol. 1991 Apr. 127(4):583-4. [Medline].

Roh NK, Hahn HJ, Lee YW, Choe YB, Ahn KJ. Clinical and Histopathological Investigation of Seborrheic Keratosis. Ann Dermatol. 2016 Apr. 28 (2):152-8. [Medline].

Vion B, Merot Y. Melanoacanthoma of the penis shaft. Report of a case. Dermatologica. 1989. 179(2):87-9. [Medline].

Kihiczak GG, Centurion SA, Schwartz RA, Lambert WC. Giant cutaneous melanoacanthoma. Int J Dermatol. 2004 Dec. 43(12):936-7. [Medline].

Lakshminarayanan V, Ranganathan K. Oral melanoacanthoma: a case report and review of the literature. J Med Case Reports. 2009 Jan 13. 3:11. [Medline]. [Full Text].

Brooks JK, Sindler AJ, Papadimitriou JC, Francis LA, Scheper MA. Multifocal melanoacanthoma of the gingiva and hard palate. J Periodontol. 2009 Mar. 80(3):527-32. [Medline].

Geetha T, Rani GG, Krishnaram AS. Bilateral oral melanoacanthoma in an Indian boy. Indian J Dermatol Venereol Leprol. 2011 Mar-Apr. 77(2):210-2. [Medline].

Tapia JL, Quezada D, Gaitan L, Hernandez JC, Paez C, Aguirre A. Gingival melanoacanthoma: case report and discussion of its clinical relevance. Quintessence Int. 2011 Mar. 42(3):253-8. [Medline].

Spott DA, Heaton CL, Wood MG. Melanoacanthoma of the eyelid. Arch Dermatol. 1972 Jun. 105(6):898-9. [Medline].

Jain S, Barman KD, Garg VK, Sharma S, Dewan S, Mahajan N. Multifocal cutaneous melanoacanthoma with ulceration: a case report with review of literature. Indian J Dermatol Venereol Leprol. 2011 Nov-Dec. 77(6):699-702. [Medline].

Vasani RJ, Khatu SS. Melanoacanthoma: Uncommon presentation of an uncommon condition. Indian Dermatol Online J. 2013 Apr. 4(2):119-21. [Medline]. [Full Text].

Babu SP, Agila S, Sivaranjani P, Kashyap V. An unusual clinical presentation of gingival melanoacanthoma. J Indian Soc Periodontol. 2013 Sep. 17(5):657-60. [Medline]. [Full Text].

Marocchio LS, Júnior DS, de Sousa SC, Fabre RF, Raitz R. Multifocal diffuse oral melanoacanthoma: a case report. J Oral Sci. 2009 Sep. 51(3):463-6. [Medline].

Chung E, Marghoob AA, Carrera C, Marchetti MA. Clinical and Dermoscopic Features of Cutaneous Melanoacanthoma. JAMA Dermatol. 2015 Jun 17. [Medline].

Lee JY, Lin MH. Pigmented malignant hidroacanthoma simplex mimicking irritated seborrheic keratosis. J Cutan Pathol. 2006 Oct. 33(10):705-8. [Medline].

El-Khalawany M. Acquired melanocytic nevi in Egyptian patients: a clinicopathological study. Acta Dermatovenerol Alp Pannonica Adriat. 2014 Mar. 23(1):5-11. [Medline].

Botelho LF, Michalany NS, Enokihara MM, Hirata SH. Dysplastic nevus associated with seborrheic keratosis. An Bras Dermatol. 2014 Jan-Feb. 89(1):160-2. [Medline]. [Full Text].

Oliveira A, Arzberger E, Massone C, Carrera C, Zalaudek I. Verrucous melanoma simulating melanoacanthoma: Dermoscopic, reflectance confocal microscopic and high-definition optical coherence tomography presentation of a rare melanoma variant. Australas J Dermatol. 2016 Feb. 57 (1):72-3. [Medline].

Schlappner OL, Rowden G, Philips TM, Rahim Z. Melanoacanthoma. Ultrastructural and immunological studies. J Cutan Pathol. 1978 Jun. 5(3):127-41. [Medline].

Lambert MW, Lambert WC, Schwartz RA, et al. Colonization of nonmelanocytic cutaneous lesions by dendritic melanocytic cells: a simulant of acral-lentiginous (palmar-plantar-subungual-mucosal) melanoma. J Surg Oncol. 1985 Jan. 28(1):12-8. [Medline].

Lambert WC, Lambert MW, Mesa ML, et al. Melanoacanthoma and related disorders. Simulants of acral-lentiginous (P-P-S-M) melanoma. Int J Dermatol. 1987 Oct. 26(8):508-10. [Medline].

Andrews BT, Trask DK. Oral melanoacanthoma: a case report, a review of the literature, and a new treatment option. Ann Otol Rhinol Laryngol. 2005 Sep. 114(9):677-80. [Medline].
Medscape Reference © 2011 WebMD, LLC