Cicatricial Pemphigoid
Author: Anatoli Freiman, MD, FRCPC, DABD; Chief Editor: Dirk M Elston, MD more...
Updated: Aug 17, 2015
What would you like to print?
Background
Cicatricial pemphigoid (CP) refers to a group of rare chronic autoimmune blistering diseases that predominately affects the mucous membranes, including the conjunctiva, and occasionally the skin. Patients with cutaneous involvement present with tense blisters and erosions, often on the head and the neck or at sites of trauma. Scarring of the mucous membranes is common, hence the designation cicatricial, which can lead to decreased vision, blindness, and supraglottic stenosis with hoarseness or airway obstruction. The first international consensus on mucous membrane pemphigoid was published in 2002.[1]
See the illustration below depicting ocular cicatricial pemphigold disease.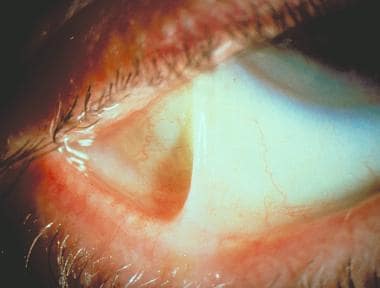 Ocular manifestations of cicatricial pemphigoid include symblepharon, demonstrated in this photograph by the tethering of the lower lid to the cornea.
The classification of cicatricial pemphigoid patients has been difficult because some patients with other autoimmune blistering diseases, including bullous pemphigoid (BP) and epidermolysis bullosa acquisita (EBA), may have mucosal involvement. Also, clinical heterogeneity exists in the clinical manifestations of this disease, with some patients presenting with ocular involvement and others with oropharyngeal involvement. The heterogeneity in clinical manifestations does not appear to be linked to the heterogeneity of the target antigens alone.
Pathophysiology
As in other autoimmune diseases, environmental factors combined with genetic susceptibility lead to development of autoantibodies. By direct immunofluorescence (DIF) study, antibodies bound in a linear band at the epidermal-dermal junction have been found in patients with cicatricial pemphigoid, as depicted below. By immunoelectron microscopy, these antibodies are found in the lamina lucida. In some patients, autoantibodies extend to the lamina densa. When detectable, circulating autoantibodies are present in a low titer. See the image below.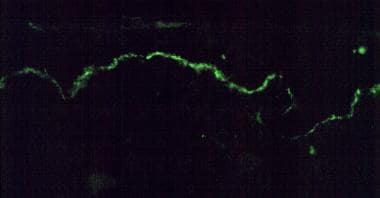 By direct immunofluorescence, a linear band of immunoreactants at the epidermal-dermal junction is demonstrated by using a fluorescein-tagged antibody specific for human immunoglobulin G.
Different epithelial membrane zone components have been recognized by antibodies in patients with cicatricial pemphigoid, including bullous pemphigoid antigen 1 and 2 (BPAG1 and BPAG2), laminin 5, laminin 6, type VII collagen, b4 integrin subunit, and antigens with unknown identities (a 45-kd protein, uncein, a 168-kd epithelial protein, and a 120-kd epithelial protein). While circulating autoantibodies in a given patient tend to target a single antigen, sera of patients with same clinical features may target different autoantigens.
Epidemiology
Frequency
United States
Precise data on the incidence of cicatricial pemphigoid are not known; however, cicatricial pemphigoid is uncommon. Among white patients in the United States, cicatricial pemphigoid is associated with human leukocyte antigen DQB1*0301 (HLA-DQB1*0301).
International
Studies estimated an incidence of 1.16 cases per million population per year in France and an incidence of 0.87 cases per million population per year in Germany.
Race
No racial predilection is known.
Sex
Most studies have demonstrated a female-to-male ratio of approximately 2:1
Age
Most patients with cicatricial pemphigoid are elderly, with a mean age of 62-66 years.
References
Chan LS, Ahmed AR, Anhalt GJ, Bernauer W, Cooper KD, Elder MJ, et al. The first international consensus on mucous membrane pemphigoid: definition, diagnostic criteria, pathogenic factors, medical treatment, and prognostic indicators. Arch Dermatol. 2002 Mar. 138(3):370-9. [Medline].

Bernard P, Prost C, Durepaire N, Basset-Seguin N, Didierjean L, Saurat JH. The major cicatricial pemphigoid antigen is a 180-kD protein that shows immunologic cross-reactivities with the bullous pemphigoid antigen. J Invest Dermatol. 1992 Aug. 99(2):174-9. [Medline].

Lazarova Z, Yancey K. Cicatricial pemphigoid: immunopathogenesis and treatment. Derm Ther. 2002. 15:382-88.

Tsubota K, Satake Y, Kaido M, Shinozaki N, Shimmura S, Bissen-Miyajima H, et al. Treatment of severe ocular-surface disorders with corneal epithelial stem-cell transplantation. N Engl J Med. 1999 Jun 3. 340(22):1697-703. [Medline].

Daniel E, Thorne JE. Recent advances in mucous membrane pemphigoid. Curr Opin Ophthalmol. 2008 Jul. 19(4):292-7. [Medline].

Rashid KA, Gürcan HM, Ahmed AR. Antigen specificity in subsets of mucous membrane pemphigoid. J Invest Dermatol. 2006 Dec. 126(12):2631-6. [Medline].

Sacher C, Hunzelmann N. Cicatricial pemphigoid (mucous membrane pemphigoid): current and emerging therapeutic approaches. Am J Clin Dermatol. 2005. 6(2):93-103. [Medline].

Saw VP, Dart JK. Ocular mucous membrane pemphigoid: diagnosis and management strategies. Ocul Surf. 2008 Jul. 6(3):128-42. [Medline].
Medscape Reference © 2011 WebMD, LLC