Overview
Background
Pemphigoid gestationis (PG) is a rare autoimmune bullous dermatosis of pregnancy (see the image below). The disease was originally named herpes gestationis on the basis of the morphological herpetiform feature of the blisters, but this term is a misnomer because pemphigoid gestationis is not related to or associated with any active or prior herpes virus infection.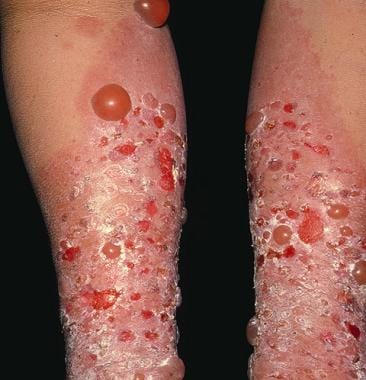 Tense bullae are present on the arms of this otherwise healthy 32-year-old primigravida woman.
See Diagnosing Dermatoses in Pregnant Patients: 8 Cases to Test Your Skills, a Critical Images slideshow, for help identifying several types of cutaneous eruptions associated with pregnancy.
Pathophysiology
Pemphigoid gestationis is a pregnancy-associated autoimmune disease. Most patients develop antibodies against 2 hemidesmosomal proteins, BP180 (BPAG2, collagen XVII) and less frequently BP230. Historically known as herpes gestationis factor, these circulating antibodies belong to the heat-stable immunoglobulin G1 subclass. The binding of immunoglobulin G to the basement membrane triggers an immune response, leading to the formation of subepidermal vesicles and blisters. In 1999, Chimanovitch et al [1] demonstrated that pemphigoid gestationis sera recognize 5 distinct epitopes within BP180 NC16A, 4 of which have been reported as major antigenic sites targeted by bullous pemphigoid antibodies.
The trigger for the development of autoantibodies in persons with pemphigoid gestationis remains elusive. Cross-reactivity between placental tissue and skin has been proposed to play a role. Pemphigoid gestationis has a strong association with HLA-DR3 (61-80%) and HLA-DR4 (52%), or both (43-50%), and virtually all patients with a history of pemphigoid gestationis have demonstrable anti-HLA antibodies. The placenta is known to be the main source of disparate (paternal) antibodies and can thus present an immunologic target during gestation.
Epidemiology
Frequency
United States
In the United States, pemphigoid gestationis has an estimated prevalence of 1 case in 50,000-60,000 pregnancies.
International
Findings from European studies suggest that pemphigoid gestationis has an overall incidence of 0.5 cases per million people per year. In 1999, Jenkins et al [2] described the largest cohort of 87 patients in the United Kingdom with a total of 278 pregnancies, of which 142 were complicated by pemphigoid gestationis.
Race
Pemphigoid gestationis is less common among blacks than whites, which might reflect its association with specific HLA haplotypes.
Sex
This condition only affects females.
Age
Pemphigoid gestationis occurs in women of childbearing age.
What would you like to print?