Pemphigus Foliaceus Workup
Author: Robert A Schwartz, MD, MPH; Chief Editor: Dirk M Elston, MD more...
Updated: Jun 13, 2016
What would you like to print?
Laboratory Studies
Immunofluorescence using both direct techniques and indirect techniques is the most reliable method to diagnosis pemphigus.[37] Because of the rare occurrence of pemphiguslike antibodies, pemphigus cannot be diagnosed by indirect immunofluorescence (IIF) alone and must be confirmed by direct immunofluorescence (DIF). With the use of 2 appropriate substrates (ie, monkey esophagus [or human skin] and guinea pig esophagus and standardized conjugates), in IIF, PV and pemphigus foliaceus patterns are different; PV stains throughout the epidermis, and pemphigus foliaceus stains only in the upper epidermis, whereas, with DIF, the patterns are similar. With a DIF study, cell surface immune deposits are often present throughout the entire epidermis in both pemphigus foliaceus and PV. Using DIF on telogen hair outer root sheath may be beneficial for diagnosis and follow-up, irrespective of the presence of scalp lesions.[38]
Immunologic examination with DIF testing shows IgG in the intercellular space, mainly in the upper parts of the epidermis; an IIF study documents the presence of circulating pemphigus antibodies, especially with a guinea pig esophagus used as a substrate. One IIF study suggested that using both a monkey esophagus and the human skin increases the sensitivity and aids in distinguishing pemphigus foliaceus from PV. In PH, IgG deposits are evident in the upper epidermis, with circulating IgG to the epidermal cell surface. The subcorneal pustular dermatosis type of IgA pemphigus foliaceus has IgA deposition on the upper epidermal cell surfaces and circulating IgA antibodies to the epidermal cell surfaces. Desmogleins 1 and 3 are the major cell surface target molecules in patients with PH. In the unusual instance when PV becomes pemphigus foliaceus, or vice versa, the clinical alteration is associated with a shift in the antidesmoglein autoantibody profile.
Other methods, such as ELISA[39] and immunoblot assays,[40] can be used, but they require highly purified antigens to give similar results. The sensitivity for PV and pemphigus foliaceus antibodies is more than 98% in at least the renowned laboratory of Jarzabek-Chorzelska and associates,[37] with their many decades of experience. Histologic examination is useful, but it is not the preferred method for diagnosing pemphigus foliaceus because it cannot replace a highly reliable DIF method.
Another less experienced laboratory found ELISA to be superior to an IIF study for serodiagnosis of pemphigus foliaceus at various stages of disease activity.[41]
Pemphigus foliaceus arising during the administration of D-penicillamine was described in an elderly patient in whom withdrawal of D-penicillamine resulted in improvement of the skin lesions and ELISA scores for anti–desmoglein 1 antibodies revealed a rapid decline.[42]
Histologic Findings
Pemphigus foliaceus begins as acantholysis of the upper epidermis, often resulting in a subcorneal cleft. It usually enlarges and detaches without bullae formation, though a bulla may form showing acantholysis at both the roof and the floor. More established lesions may have acanthosis and mild-to-moderate papillomatosis. Hyperkeratosis and parakeratosis may also be evident, with dyskeratotic cells within the granular layer. These features may be particularly pronounced in long-standing PE. A mild dermal lymphocytic infiltrate occurs, often with the presence of eosinophils. Eosinophilic spongiosis may also be noted, especially in PH.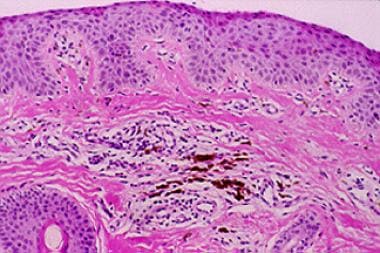 Histologic view shows the typical pattern of a detached stratum corneum without bullae formation. Pigmentary incontinence is prominent in the dermis, reflecting the patient's 9-year history of recurrent superficial bullae.
References
Nikolski PV. Materiali K.uchenigu o pemphigus foliaceus [doctoral thesis]. Kiev. 1896.

Chorzelski T, Jablonska S, Blaszczyk M. Immunopathological investigations in the Senear-Usher syndrome (coexistence of pemphigus and lupus erythematosus). Br J Dermatol. 1968 Apr. 80(4):211-7. [Medline].

Jablonska S, Chorzelski TP, Beutner EH, Chorzelska J. Herpetiform pemphigus, a variable pattern of pemphigus. Int J Dermatol. 1975 Jun. 14(5):353-9. [Medline].

Aoki V, Rivitti EA, Diaz LA. Update on fogo selvagem, an endemic form of pemphigus foliaceus. J Dermatol. 2015 Jan. 42(1):18-26. [Medline].

Abreu-Velez AM, Hashimoto T, Bollag WB, et al. A unique form of endemic pemphigus in northern Colombia. J Am Acad Dermatol. 2003 Oct. 49(4):599-608. [Medline].

Abreu-Velez AM, Beutner EH, Montoya F, Bollag WB, Hashimoto T. Analyses of autoantigens in a new form of endemic pemphigus foliaceus in Colombia. J Am Acad Dermatol. 2003 Oct. 49(4):609-14. [Medline].

Chorzelski TP, Hashimoto T, Amagai M, et al. Paraneoplastic pemphigus with cutaneous and serological features of pemphigus foliaceus. Br J Dermatol. 1999 Aug. 141(2):357-9. [Medline].

Grando SA, Holubar K, Schwartz RA. Jean-Claude Bystryn 1938-2010. An obituary. Exp Dermatol. 2011 Mar. 20(3):293-6. [Medline].

Ishii K, Amagai M, Komai A, et al. Desmoglein 1 and desmoglein 3 are the target autoantigens in herpetiform pemphigus. Arch Dermatol. 1999 Aug. 135(8):943-7. [Medline].

Kubo A, Amagai M, Hashimoto T, et al. Herpetiform pemphigus showing reactivity with pemphigus vulgaris antigen (desmoglein 3). Br J Dermatol. 1997 Jul. 137(1):109-13. [Medline].

Masmoudi A, Baricault S, Chikrouhou H, et al. [Tunisian pemphigus foliaceus with antidesmoglein 3 antibody]. Ann Dermatol Venereol. 2008 Jan. 135(1):69-70. [Medline].

Wu H, Wang ZH, Yan A, et al. Protection against pemphigus foliaceus by desmoglein 3 in neonates. N Engl J Med. 2000 Jul 6. 343(1):31-5. [Medline].

Grando SA. Cholinergic control of epidermal cohesion. Exp Dermatol. 2006 Apr. 15(4):265-82. [Medline].

Kikuchi K, Inokuma D, Moriuchi R, Koguchi-Yoshioka H, Yasui C, Shimizu S. Exacerbation of Pemphigus Foliaceus After Electron-beam Radiation. Acta Derm Venereol. 2014 Mar 13. [Medline].

Inadomi T. A case of pemphigus foliaceus aggravated in an irradiated area by radiotherapy against breast cancer. Indian J Dermatol. 2015 Jan-Feb. 60(1):93-4. [Medline]. [Full Text].

Liebman TN, Lieberman MR, Burris K. Pemphigus foliaceus exacerbated by radiation, in association with myasthenia gravis. Dermatol Online J. 2016 Mar 16. 22 (3):360-4. [Medline].

Brochado MJ, Nascimento DF, Campos W, Deghaide NH, Donadi EA, Roselino AM. Differential HLA class I and class II associations in pemphigus foliaceus and pemphigus vulgaris patients from a prevalent Southeastern Brazilian region. J Autoimmun. 2016 May 10. [Medline].

Ruocco V, Ruocco E. Pemphigus and environmental factors. Giornale Dermatol Venereol. 2003. 138:299-309.

Ruocco V. Attualita' sul pemfigo indotto. 2003.

Pigozzi B, Peserico A, Schiesari L, Alaibac M. Pemphigus foliaceus evolving into pemphigus vulgaris: a probable example of 'intermolecular epitope spreading' confirmed by enzyme-linked immunosorbent assay study. J Eur Acad Dermatol Venereol. 2008 Feb. 22(2):242-4. [Medline].

Dalla-Costa R, Pincerati MR, Beltrame MH, Malheiros D, Petzl-Erler ML. Polymorphisms In the 2q33 and 3q21 Chromosome Regions Including T Cell Coreceptor and Ligand Genes May Influence Susceptibility to Pemphigus Foliaceus. Hum Immunol. 2010 Apr 27. [Medline].

Shelly S, Agmon-Levin N, Altman A, Shoenfeld Y. Thymoma and autoimmunity. Cell Mol Immunol. 2011 Feb 14. [Medline].

Toumi A, Saleh MA, Yamagami J, Abida O, Kallel M, Masmoudi A, et al. Autoimmune reactivity against precursor form of desmoglein 1 in healthy Tunisians in the area of endemic pemphigus foliaceus. J Dermatol Sci. 2013 Feb 19. [Medline].

Bastuji-Garin S, Souissi R, Blum L, et al. Comparative epidemiology of pemphigus in Tunisia and France: unusual incidence of pemphigus foliaceus in young Tunisian women. J Invest Dermatol. 1995 Feb. 104(2):302-5. [Medline].

Warren SJ, Lin MS, Giudice GJ, et al. The prevalence of antibodies against desmoglein 1 in endemic pemphigus foliaceus in Brazil. Cooperative Group on Fogo Selvagem Research. N Engl J Med. 2000 Jul 6. 343(1):23-30. [Medline].

Fariba G, Ayatollahi A, Hejazi S. Pemphigus foliaceus. Indian Pediatr. 2012 Mar 8. 49(3):240-1. [Medline].

Metry DW, Hebert AA, Jordon RE. Nonendemic pemphigus foliaceus in children. J Am Acad Dermatol. 2002 Mar. 46(3):419-22. [Medline].

Daoud YJ, Foster CS, Ahmed R. Eyelid skin involvement in pemphigus foliaceus. Ocul Immunol Inflamm. 2005 Sep-Oct. 13(5):389-94. [Medline].

Uzun S, Durdu M. The specificity and sensitivity of Nikolskiy sign in the diagnosis of pemphigus. J Am Acad Dermatol. 2006 Mar. 54(3):411-5. [Medline].

Grekin SJ, Fox MC, Gudjonsson JE, Fullen DR. Psoriasiform pemphigus foliaceus: a report of two cases. J Cutan Pathol. 2012 Jan 10. [Medline].

Brenner S, Ruocco V. D-penicillamine-induced pemphigus foliaceus with autoantibodies to desmoglein-1. J Am Acad Dermatol. 1998 Jul. 39(1):137-8. [Medline].

Olszewska M, Misiewiz J, Kolakowska-Starzyk H. Penicillamine-induced pemphigus herpetiformis (foliaceus). Dermatol Klin (Wroclaw). 2001. 3 (Suppl 1):101.

Lin R, Ladd DJ Jr, Powell DJ, Way BV. Localized pemphigus foliaceus induced by topical imiquimod treatment. Arch Dermatol. 2004 Jul. 140(7):889-90. [Medline].

Fujita H, Iguchi M, Watanabe R, Asahina A. Pemphigus foliaceus induced by bucillamine. Eur J Dermatol. 2007 Jan-Feb. 17(1):98-9. [Medline].

Bizikova P, Linder KE, Olivry T. Fipronil-amitraz-S-methoprene-triggered pemphigus foliaceus in 21 dogs: clinical, histological and immunological characteristics. Vet Dermatol. 2014 Apr. 25(2):103-e30. [Medline].

Kraigher O, Wohl Y, Gat A, Brenner S. A mixed immunoblistering disorder exhibiting features of bullous pemphigoid and pemphigus foliaceus associated with Spirulina algae intake. Int J Dermatol. 2008 Jan. 47(1):61-3. [Medline].

Jarzabek-Chorzelska M, Jablonska S, Kolacinska-Strasz Z, Sulej I. Immunopathological diagnosis of pemphigus foliaceus. Dermatology. 2002. 205(4):413-5; author reply 415-6; discussion 416. [Medline].

Kumaresan M, Rai R, Sandhya V. Immunofluorescence of the outer root sheath: an aid to diagnosis in pemphigus. Clin Exp Dermatol. 2010 Dec 24. [Medline].

Harman KE, Gratian MJ, Seed PT, Bhogal BS, Challacombe SJ, Black MM. Diagnosis of pemphigus by ELISA: a critical evaluation of two ELISAs for the detection of antibodies to the major pemphigus antigens, desmoglein 1 and 3. Clin Exp Dermatol. 2000 May. 25(3):236-40. [Medline].

Martel P, Gilbert D, Labeille B, Kanitakis J, Joly P. A case of paraneoplastic pemphigus with antidesmoglein 1 antibodies as determined by immunoblotting. Br J Dermatol. 2000 Apr. 142(4):812-3. [Medline].

Narbutt J, Sysa-Jedrzejowska A, Torzecka JD. The usefulness of enzyme-linked immunosorbent assay for serodiagnosis of pemphigus vulgaris and pemphigus foliaceus at various stages of diseaseactivity. Przegl Dermatol. 2002. 89:447-452.

Nagao K, Tanikawa A, Yamamoto N, Amagai M. Decline of anti-desmoglein 1 IgG ELISA scores by withdrawal of D-penicillamine in drug-induced pemphigus foliaceus. Clin Exp Dermatol. 2005 Jan. 30(1):43-5. [Medline].

Martin LK, Werth V, Villanueva E, Segall J, Murrell DF. Interventions for pemphigus vulgaris and pemphigus foliaceus. Cochrane Database Syst Rev. 2009 Jan 21. CD006263. [Medline].

Grando SA. New approaches to the treatment of pemphigus. J Investig Dermatol Symp Proc. 2004 Jan. 9(1):84-91. [Medline].

Murrell DF, Dick S, Ahmed AR, et al. Consensus statement on definitions of disease, end points, and therapeutic response for pemphigus. J Am Acad Dermatol. 2008 Jun. 58(6):1043-6. [Medline].

Dumas V, Roujeau JC, Wolkenstein P, Revuz J, Cosnes A. The treatment of mild pemphigus vulgaris and pemphigus foliaceus with a topical corticosteroid. Br J Dermatol. 1999 Jun. 140(6):1127-9. [Medline].

Gupta R. Prolonged remission of pemphigus induced by dexamethasone-cyclophosphamide pulse therapy. Indian J Dermatol Venereol Leprol. 2007 Mar-Apr. 73(2):121-2. [Medline].

Katz KH, Marks JG Jr, Helm KF. Pemphigus foliaceus successfully treated with mycophenolate mofetil as a steroid-sparing agent. J Am Acad Dermatol. 2000 Mar. 42(3):514-5. [Medline].

Chaffins ML, Collison D, Fivenson DP. Treatment of pemphigus and linear IgA dermatosis with nicotinamide and tetracycline: a review of 13 cases. J Am Acad Dermatol. 1993 Jun. 28(6):998-1000. [Medline].

Herr AL, Hatami A, Kokta V, Dalle JH, Champagne MA, Duval M. Successful anti-CD20 antibody treatment of pemphigus foliaceus after unrelated cord blood transplantation. Bone Marrow Transplant. 2005 Feb. 35(4):427-8. [Medline].

Amagai M, Ikeda S, Shimizu H, et al. A randomized double-blind trial of intravenous immunoglobulin for pemphigus. J Am Acad Dermatol. 2009 Apr. 60(4):595-603. [Medline].

Toth GG, Jonkman MF. Successful treatment of recalcitrant penicillamine-induced pemphigus foliaceus by low-dose intravenous immunoglobulins. Br J Dermatol. 1999 Sep. 141(3):583-5. [Medline].

Gee SN, Velez NF, Sepehr A, Burgin S. Two distinct viral infections complicating pemphigus foliaceus. Dermatol Online J. 2012 Jan 15. 18(1):3. [Medline].

Martin LK, Werth VP, Villaneuva EV, Murrell DF. A systematic review of randomized controlled trials for pemphigus vulgaris and pemphigus foliaceus. J Am Acad Dermatol. 2011 Feb 24. [Medline].

Daniel BS, Murrell DF. The actual management of pemphigus. G Ital Dermatol Venereol. 2010 Oct. 145(5):689-702. [Medline].

Marzano AV, Fanoni D, Venegoni L, Berti E, Caputo R. Treatment of refractory pemphigus with the anti-CD20 monoclonal antibody (rituximab). Dermatology. 2007. 214(4):310-8. [Medline].

Alter M, Wittmann M, Volker B, Kapp A, Werfel T, Gutzmer R. [Successful treatment of pemphigus foliaceus with rituximab : Report of 3 cases.]. Hautarzt. 2009 Jan 18. [Medline].

Lolis M, Toosi S, Czernik A, Bystryn JC. Effect of intravenous immunoglobulin with or without cytotoxic drugs on pemphigus intercellular antibodies. J Am Acad Dermatol. 2011 Mar. 64(3):484-9. [Medline].

Iskandarli M, Gerceker Turk B, Ertam I, Yaman B, Ozturk G. Successful treatment of Wilson disease-associated IgA pemphigus with IVIG. J Eur Acad Dermatol Venereol. 2015 Mar 12. [Medline].

Doukaki S, Platamone A, Alaimo R, Bongiorno MR. Mycophenolate mofetil and enteric-coated mycophenolate sodium in the treatment of pemphigus vulgaris and pemphigus foliaceus. J Dermatolog Treat. 2014 Feb 13. [Medline].

de Sena Nogueira Maehara L, Huizinga J, Jonkman MF. Rituximab therapy in pemphigus foliaceus: report of 12 cases and review of recent literature. Br J Dermatol. 2014 Dec 13. [Medline].
Medscape Reference © 2011 WebMD, LLC