Becker Melanosis Workup
Author: Jason K Rivers, MD, FRCPC; Chief Editor: Dirk M Elston, MD more...
Updated: Jun 03, 2016
What would you like to print?
Procedures
Skin biopsy provides histologic diagnosis of Becker nevus and helps distinguish it from other clinical entities.
Histologic Findings
The epidermis demonstrates mild acanthosis and hyperkeratosis with regular elongation of rete ridges, as shown in the image below.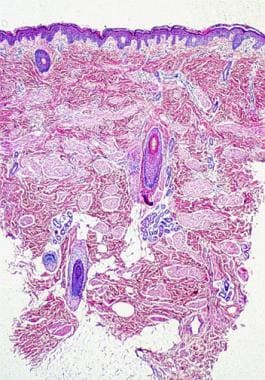 Becker nevus demonstrating smooth muscle bundles in the dermis. Courtesy of Jason K. Rivers, MD.
The basal layer demonstrates hyperpigmentation resulting from increased melanin. Although often normal in number, an increase in the number of basal melanocytes occasionally can be detected.
Ultrastructurally, melanosomes are increased in keratinocytes, and giant melanosomes may be found in both keratinocytes and melanocytes.
Melanophages are present in the superficial dermis. Clinical hypertrichosis correlates with an increased number of morphologically normal follicular units. Almost every case demonstrates at least a slight increase in dermal smooth muscles.
Patches associated with smooth muscle hamartoma demonstrate more pronounced smooth muscle bundles irregularly dispersed within the dermis and unrelated to either hair follicles or vascular channels.
Medscape Reference © 2011 WebMD, LLC