Hypomelanosis of Ito Clinical Presentation
Author: Manuel Valdebran, MD; Chief Editor: Dirk M Elston, MD more...
Updated: Apr 18, 2016
What would you like to print?
History
Patients with hypomelanosis of Ito usually seek care from a dermatologist, pediatrician, or neurologist by the time they are aged 2 years.
The hypopigmentation is not preceded by vesicular or verrucous lesions seen usually in incontinentia pigmenti.
A family history of hypomelanosis of Ito is rare.
The patient or parents should be asked about the following:
Seizures

Mental retardation

Developmental delay

Deafness

Visual problems

Headache

Tooth or mouth problems
The most common reported associations are congenital abnormalities, mental retardation, and seizures.[6] Cerebral malformations may occur, and visual impairment may be cortical in nature.[7, 8] Glomerulocystic kidney disease has also been reported.[9]
Physical
Small 0.5-1-cm hypopigmented or white macules coalesce to form reticulated patches along the lines of Blaschko. The macules cover more than 2 dermatomes and are often on both sides of the body. The patches are not symmetric. A Wood lamp enhances the pattern, especially in white patients. See the images below.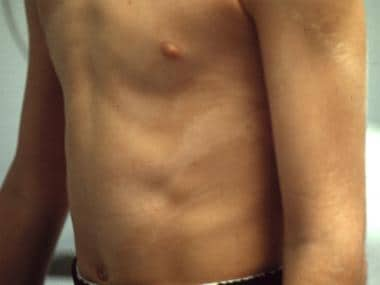 Hypomelanosis of Ito on the arm.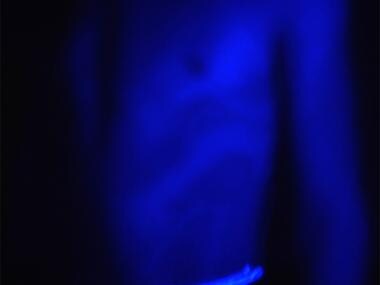 Hypomelanosis of Ito highlighted with a Wood lamp.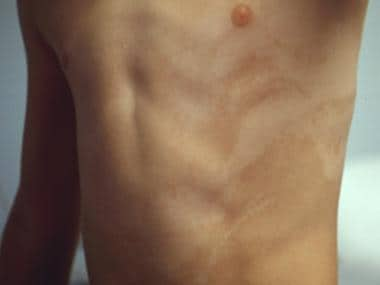 Hypomelanosis of Ito on the torso.
Careful full body examination is needed to detect dysmorphism, such as the following:
Cleft palate

Hemihypertrophy

Limb, hand, and/or foot abnormalities

Nail abnormalities

Hypotonia

Teeth abnormalities

Hair anomalies

Face and/or skull anomalies
Neurologic examination is essential to evaluate neural tumors, seizures, and psychomotor delay.
Causes
Chromosomal mosaicism and sporadic mutations are the causes of hypomelanosis of Ito.
References
Pavone V, Signorelli SS, Praticò AD, Corsello G, Savasta S, Falsaperla R, et al. Total Hemi-overgrowth in Pigmentary Mosaicism of the (Hypomelanosis of) Ito Type: Eight Case Reports. Am J Med Genet. 2016 Mar. 95:e2705. [Medline].

Küster W, König A. Hypomelanosis of Ito: no entity, but a cutaneous sign of mosaicism. Am J Med Genet. 1999 Aug. 85:346-50. [Medline].

Molho-Pessach V, Schaffer JV. Blaschko lines and other patterns of cutaneous mosaicism. Clin Dermatol. 2011 Mar-Apr. 29:205-225. [Medline].

Ponti G, Pellacani G, Tomasi A, Percesepe A, Guarneri C, Guerra A, et al. Hypomelanosis of Ito with a trisomy 2 mosaicism: a case report. J Med Case Rep. 2014 Oct. 9:333. [Medline].

Girard C, Guillot B, Rivier F, Dalla Vale F, Bessis D. Trisomy 20 mosaicism revealed by pigmentary mosaicism of the Ito-type. Ann Dermatol Venereol. 2005 Feb. 132:151-3. [Medline].

Assogba K, Ferlazzo E, Striano P, Calarese T, Villeneuve N, Ivanov I, et al. Heterogeneous seizure manifestations in Hypomelanosis of Ito: report of four new cases and review of the literature. Neurol Sci. 2010 Feb. 31(1):9-16. [Medline].

Scott A, Micallef C, Hale SL, Watts P. Cortical visual impairment in hypomelanosis of Ito. J Pediatr Ophthalmol Strabismus. 2008 Jul-Aug. 45(4):240-1. [Medline].

Iype M, Iype T, Geetha S, Retnakumar J. Hypomelanosis of Ito with cerebral malformation. Indian J Pediatr. 2007 Nov. 74(11):1044-5. [Medline].

Vergine G, Mencarelli F, Diomedi-Camassei F, et al. Glomerulocystic kidney disease in hypomelanosis of Ito. Pediatr Nephrol. 2008 Jul. 23(7):1183-7. [Medline].

Calonje E, Brenn T, Lazar AJ, McKee PH. Disorders of Pigmentation. Elsevier/Saunders. McKee's Pathology of the Skin: With Clinical Correlations. 4th ed. Philadelphia, Pa: Elsevier Saunders; 2011. 912.

Online Mendelian Inheritance in Man (OMIM). HYPOMELANOSIS OF ITO; HMI. Available at http://omim.org/entry/300337. Accessed: August 11, 2014.
Medscape Reference © 2011 WebMD, LLC