Hypomelanosis of Ito
Author: Manuel Valdebran, MD; Chief Editor: Dirk M Elston, MD more...
Updated: Apr 18, 2016
What would you like to print?
Background
Hypomelanosis of Ito is a pigmentary mosaicism characterized by hypopigmentation in the forms of streaks and whorls running along the lines of Blaschko. This condition is seen as an isolated cutaneous finding or associated with musculoskeletal and neurological conditions. Ophthalmic, hair, and dental abnormalities have also been described.[1, 2] See the image below.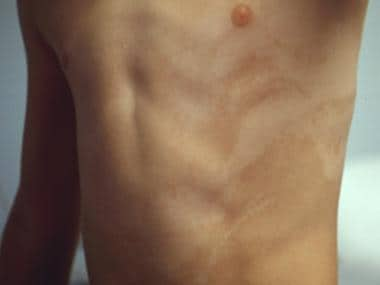 Hypomelanosis of Ito on the torso.
Pathophysiology
The affected areas seen in hypomelanosis of Ito result from a clone of skin cells with reduced capacity to produce pigment. Structural or numerical chromosomal aberrations present in these clones of cells have been linked with this entity. Around 90% of these chromosomal aberrations are present in the locations of genes involved in pigmentation.[3] Associations of different numerical chromosomal disorders can be found in the literature, such as trisomy of chromosome 2, 13,14, 18, or 20 mosaicisms.[4, 5]
Extracutaneous manifestations might be due to the presence of different genetic defects.
Epidemiology
Frequency
Hypomelanosis of Ito is rare.
Race
No clear racial predilection is reported for hypomelanosis of Ito.
Sex
Hypomelanosis of Ito is 1.5-2.5 times more common in women than in men.
Age
Hypomelanosis of Ito is present at birth, and patients usually undergo examination in their first or second years of life. Approximately 75% of patients with hypomelanosis of Ito seek care by the time they are aged 2 years. One fourth of patients seek care after they are aged 2 years, before they are aged 5 years. Skin lesions may become pigmented over time and blend well with normally pigmented skin.
Prognosis
The prognosis is determined by the associated abnormalities. The prognosis is excellent for the cutaneous findings. Death is rare. Morbidity depends on severity of the associated abnormality such as seizures.
Patient Education
Genetic counseling may be recommended. However, the risk of hypomelanosis of Ito transmission is considered low, except when X-linked mutations are present in female patients.
References
Pavone V, Signorelli SS, Praticò AD, Corsello G, Savasta S, Falsaperla R, et al. Total Hemi-overgrowth in Pigmentary Mosaicism of the (Hypomelanosis of) Ito Type: Eight Case Reports. Am J Med Genet. 2016 Mar. 95:e2705. [Medline].

Küster W, König A. Hypomelanosis of Ito: no entity, but a cutaneous sign of mosaicism. Am J Med Genet. 1999 Aug. 85:346-50. [Medline].

Molho-Pessach V, Schaffer JV. Blaschko lines and other patterns of cutaneous mosaicism. Clin Dermatol. 2011 Mar-Apr. 29:205-225. [Medline].

Ponti G, Pellacani G, Tomasi A, Percesepe A, Guarneri C, Guerra A, et al. Hypomelanosis of Ito with a trisomy 2 mosaicism: a case report. J Med Case Rep. 2014 Oct. 9:333. [Medline].

Girard C, Guillot B, Rivier F, Dalla Vale F, Bessis D. Trisomy 20 mosaicism revealed by pigmentary mosaicism of the Ito-type. Ann Dermatol Venereol. 2005 Feb. 132:151-3. [Medline].

Assogba K, Ferlazzo E, Striano P, Calarese T, Villeneuve N, Ivanov I, et al. Heterogeneous seizure manifestations in Hypomelanosis of Ito: report of four new cases and review of the literature. Neurol Sci. 2010 Feb. 31(1):9-16. [Medline].

Scott A, Micallef C, Hale SL, Watts P. Cortical visual impairment in hypomelanosis of Ito. J Pediatr Ophthalmol Strabismus. 2008 Jul-Aug. 45(4):240-1. [Medline].

Iype M, Iype T, Geetha S, Retnakumar J. Hypomelanosis of Ito with cerebral malformation. Indian J Pediatr. 2007 Nov. 74(11):1044-5. [Medline].

Vergine G, Mencarelli F, Diomedi-Camassei F, et al. Glomerulocystic kidney disease in hypomelanosis of Ito. Pediatr Nephrol. 2008 Jul. 23(7):1183-7. [Medline].

Calonje E, Brenn T, Lazar AJ, McKee PH. Disorders of Pigmentation. Elsevier/Saunders. McKee's Pathology of the Skin: With Clinical Correlations. 4th ed. Philadelphia, Pa: Elsevier Saunders; 2011. 912.

Online Mendelian Inheritance in Man (OMIM). HYPOMELANOSIS OF ITO; HMI. Available at http://omim.org/entry/300337. Accessed: August 11, 2014.
Medscape Reference © 2011 WebMD, LLC