Lentigo
Author: Robert A Schwartz, MD, MPH; Chief Editor: William D James, MD more...
Updated: Jun 06, 2016
What would you like to print?
Background
A lentigo is a small, sharply circumscribed, pigmented macule surrounded by normal-appearing skin. Histologic findings may include hyperplasia of the epidermis and increased pigmentation of the basal layer. A variable number of melanocytes are present; these melanocytes may be increased in number, but they do not form nests. Lentigines may evolve slowly over years, or they may be eruptive and appear rather suddenly. Pigmentation may be homogeneous or variegated, with a color ranging from brown to black.
Multiple clinical and etiologic varieties exist. The distinction of a lentigo from other melanocytic lesions (eg, melanocytic nevi, melanoma) and its role as a marker for ultraviolet damage and systemic syndromes is of major significance.
A case-controlled study in France comparing 145 adults with multiple solar lentigines on the upper back and 145 matched control subjects found that multiple solar lentigines on the upper back and shoulders of adults may serve as clinical markers of past severe sunburn and may be used to identify a population at higher risk of developing cutaneous melanoma.[1]
The concept of "unstable solar lentigos" evident as irregularly pigmented macules on the background of chronic sun damage has been considered alongside the idea that they may have malignant potential.[2]
Note the images below.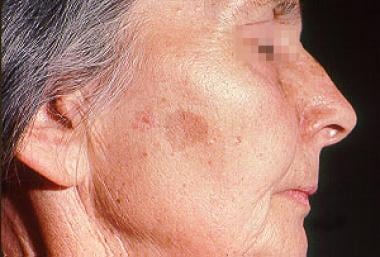 Woman with solar lentigo.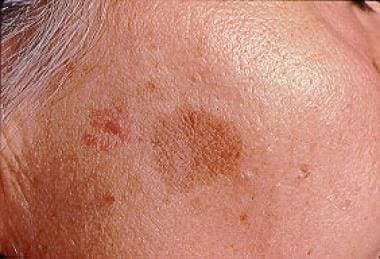 Close-up view of a woman with solar lentigo.
Pathophysiology
Depending on the type of lentigo present, a solitary lesion or multiple lesions that can occur anywhere on the body. Some lentigines have associated systemic manifestations that accompany the skin lesions, such as the LEOPARD syndrome.
A Japanese microarray analysis evaluation of solar lentigo in 16 adults demonstrated up-regulation of genes related to inflammation, fatty-acid metabolism, and melanocytes and down-regulation of cornified envelope-related genes.[3] The researchers suggested solar lentigo may be induced by the mutagenic effect of repeated past UV light exposures, leading to characteristic enhancement of melanin production.
Little is known about the genetic basis of human solar lentigines, which were analyzed for potential FGFR3 and PIK3CA mutations. FGFR3 mutations were detected in 5 (17%) of 30 solar lentigines, and PIK3CA mutations were detected in 2 (7%) of 28 solar lentigines, suggesting that FGFR3 and PIK3CA mutations are involved in their pathogenesis and further substantiating previous speculations that UV exposure may be a causative factor for FGFR3 and PIK3CA mutations in human skin.[4] Lentigines, which develop earlier and are more pronounced in Japanese than in German women, have been found to correlate with variants in the SLC45A2 gene.[5] Extensive lentigo simplex, linear epidermolytic nevus, and epidermolytic nevus comedonicus were linked with a somatic mutation in KRT10.[6]
The LEOPARD syndrome may be associated with a mutation in the PTPN11 gene at Thr468Met.[7]
Epidemiology
Frequency
United States
In America, solar lentigines are observed in as many as 90% of whites older than 60 years and in 20% of whites younger than 35 years. Psoralen plus UVA (PUVA) lentigines are noted in almost one half of individuals with psoriasis who receive PUVA therapy for at least 5 years. They may also be evident in resolving psoriatic plaques in individuals, including children, who did not receive UV therapy.[8]
Lentigo simplex is the most common form of lentigo, but its frequency has yet to be determined. Alper and Holmes[9] noted multiple lentigines in 91 (18.5%) of 492 black newborns and 1 (0.04%) of 2682 white newborns; however, histologic confirmation of these lesions was lacking.
International
Lentigines are observed worldwide. The incidence depends on the type of lesion.
Seborrheic keratosis and lentigo solaris were found to be increased on the driver side of the face in an evaluation of truck drivers in Turkey assessing the effects of UV light.[10]
Race
Solar lentigines are more abundant in fair-skinned whites than in dark-skinned individuals, in whom the disease is distinctly uncommon because they have a greater amount of natural pigment that provides some degree of photoprotection. Lentigines, prominent skin signs of aging, develop earlier and are more pronounced in Japanese than in German women.[5]
Inherited patterned lentiginosis can occur in blacks, particularly those with mixed American Indian heritage and those with relatives with red hair.[11]
Ephelides, PUVA lentigines, tanning-bed lentigines, vulvar lentigines, ink-spot lentigines,[12] oral and labial melanotic macules, and Laugier-Hunziker syndrome are also more common in people with light skin than in those with dark skin. Ink-spot lentigo occurs in patients of Celtic ancestry.
Acral lentigines are more common in dark-skinned individuals, but they may also be present in light-skinned individuals.
Sex
PUVA lentigines are more common in men than in women. Tanning-bed lentigines and oral and labial melanotic macules are more common in women than in men.
Age
Lentigines can appear in both children and adults; however, children are more likely to have genetically associated lesions such as those of Peutz-Jeghers syndrome.
Adults are more likely to acquire lesions due to chronic exposures, which cause solar lentigo for example.
Prognosis
Lentigines are benign by nature.
In patients in whom lentigines are associated with systemic abnormalities or complications, the prognosis may depend on the severity of the associated conditions.
Treatments with cryosurgery, lasers, and/or topical creams have been successful (see Medical Care).
Patient Education
Patients should be advised about the risks of sun exposure and the use of tanning beds.
References
Derancourt C, Bourdon-Lanoy E, Grob JJ, Guillaume JC, Bernard P, Bastuji-Garin S. Multiple large solar lentigos on the upper back as clinical markers of past severe sunburn: a case-control study. Dermatology. 2007. 214(1):25-31. [Medline].

Byrom L, Barksdale S, Weedon D, Muir J. Unstable solar lentigo: A defined separate entity. Australas J Dermatol. 2016 Feb 2. [Medline].

Aoki H, Moro O, Tagami H, Kishimoto J. Gene expression profiling analysis of solar lentigo in relation to immunohistochemical characteristics. Br J Dermatol. 2007 Jun. 156(6):1214-23. [Medline].

Hafner C, Stoehr R, van Oers JM, et al. FGFR3 and PIK3CA mutations are involved in the molecular pathogenesis of solar lentigo. Br J Dermatol. 2009 Mar. 160(3):546-51. [Medline].

Vierkötter A, Krämer U, Sugiri D, Morita A, Yamamoto A, Kaneko N, et al. Development of lentigines in German and Japanese women correlates with variants in the SLC45A2 gene. J Invest Dermatol. 2012 Mar. 132(3 Pt 1):733-6. [Medline].

Samuelov L, Sarig O, Gat A, Halachmi S, Shalev S, Sprecher E. Extensive lentigo simplex, linear epidermolytic naevus and epidermolytic naevus comedonicus caused by a somatic mutation in KRT10. Br J Dermatol. 2014 Dec 15. [Medline].

Hansen LK, Risby K, Bygum A, Gerdes AM. [LEOPARD syndrome]. Ugeskr Laeger. 2009 Jan 19. 171(4):247. [Medline].

LaRosa CL, Foulke GT, Feigenbaum DF, Cordoro KM, Zaenglein AL. Lentigines in resolving psoriatic plaques: rarely reported sequelae in pediatric cases. Pediatr Dermatol. 2015 May. 32 (3):e114-7. [Medline].

Alper JC, Holmes LB. The incidence and significance of birthmarks in a cohort of 4,641 newborns. Pediatr Dermatol. 1983 Jul. 1(1):58-68. [Medline].

Kavak A, Parlak AH, Yesildal N, Aydogan I, Anul H. Preliminary study among truck drivers in Turkey: effects of ultraviolet light on some skin entities. J Dermatol. 2008 Mar. 35(3):146-50. [Medline].

O'Neill JF, James WD. Inherited patterned lentiginosis in blacks. Arch Dermatol. 1989 Sep. 125(9):1231-5. [Medline].

Bolognia JL. Reticulated black solar lentigo ('ink spot' lentigo). Arch Dermatol. 1992 Jul. 128(7):934-40. [Medline].

Campbell T, Felsten L, Moore J. Disappearance of lentigines in a patient receiving imatinib treatment for familial gastrointestinal stromal tumor syndrome. Arch Dermatol. 2009 Nov. 145(11):1313-6. [Medline].

Pollefliet C, Corstjens H, González S, Hellemans L, Declercq L, Yarosh D. Morphological characterization of solar lentigines by in vivo reflectance confocal microscopy: a longitudinal approach. Int J Cosmet Sci. 2013 Apr. 35(2):149-55. [Medline].

Roth DE, Hodge SJ, Callen JP. Possible ultraviolet A-induced lentigines: a side effect of chronic tanning salon usage. J Am Acad Dermatol. 1989 May. 20(5 Pt 2):950-4. [Medline].

Salisbury JR, Williams H, du Vivier AW. Tanning-bed lentigines: ultrastructural and histopathologic features. J Am Acad Dermatol. 1989 Oct. 21(4 Pt 1):689-93. [Medline].

Williams HC, Salisbury J, Brett J, du Vivier A. Sunbed lentigines. Br Med J (Clin Res Ed). 1988 Apr 16. 296(6629):1097. [Medline]. [Full Text].

Lin IS, Wang JN, Chao SC, Wu JM, Lin SJ. PTPN11 mutations in LEOPARD syndrome: report of four cases in Taiwan. J Formos Med Assoc. 2009 Oct. 108(10):803-7. [Medline].

Horvath A, Stratakis CA. Carney complex and lentiginosis. Pigment Cell Melanoma Res. 2009 Oct. 22(5):580-7. [Medline].

Vaidya DC, Schwartz RA, Janniger CK. Nevus spilus. Cutis. 2007 Dec. 80(6):465-8. [Medline].

Hickey JR, Robson A, Barker JN, Smith CH. Does topical tacrolimus induce lentigines in children with atopic dermatitis? A report of three cases. Br J Dermatol. 2005 Jan. 152(1):152-4. [Medline].

Basarab T, Millard TP, McGregor JM, Barker JN. Atypical pigmented lesions following extensive PUVA therapy. Clin Exp Dermatol. 2000 Mar. 25(2):135-7. [Medline].

Miller RA. Psoralens and UV-A-induced stellate hyperpigmented freckling. Arch Dermatol. 1982 Aug. 118(8):619-20. [Medline].

Rhodes AR, Harrist TJ, Momtaz-T K. The PUVA-induced pigmented macule: a lentiginous proliferation of large, sometimes cytologically atypical, melanocytes. J Am Acad Dermatol. 1983 Jul. 9(1):47-58. [Medline].

Peter RU, Gottlober P, Nadeshina N, Krahn G, Plewig G, Kind P. Radiation lentigo. A distinct cutaneous lesion after accidental radiation exposure. Arch Dermatol. 1997 Feb. 133(2):209-11. [Medline].

Tanaka M, Sawada M, Kobayashi K. Key points in dermoscopic differentiation between lentigo maligna and solar lentigo. J Dermatol. 2011 Jan. 38(1):53-8. [Medline].

Lallas A, Argenziano G, Moscarella E, Longo C, Simonetti V, Zalaudek I. Diagnosis and management of facial pigmented macules. Clin Dermatol. 2014 Jan-Feb. 32(1):94-100. [Medline].

Fraga GR, Amin SM. Large cell acanthoma: a variant of solar lentigo with cellular hypertrophy. J Cutan Pathol. 2014 Sep. 41(9):733-9. [Medline].

Zaballos P, Rodero J, Pastor L, Vives JM, Puig S, Malvehy J. Dermoscopy of lichenoid regressing solar lentigines. Arch Dermatol. 2008 Feb. 144(2):284. [Medline].

Shin J, Park JY, Kim SJ, Kang HY. Characteristics of keratinocytes in facial solar lentigo with flattened rete ridges: comparison with melasma. Clin Exp Dermatol. 2015 Feb 22. [Medline].

Unver N, Freyschmidt-Paul P, Horster S, et al. Alterations in the epidermal-dermal melanin axis and factor XIIIa melanophages in senile lentigo and ageing skin. Br J Dermatol. 2006 Jul. 155(1):119-28. [Medline].

Raziee M, Balighi K, Shabanzadeh-Dehkordi H, Robati RM. Efficacy and safety of cryotherapy vs. trichloroacetic acid in the treatment of solar lentigo. J Eur Acad Dermatol Venereol. 2008 Mar. 22(3):316-9. [Medline].

Hexsel D, Hexsel C, Porto MD, Siega C. Triple combination as adjuvant to cryotherapy in the treatment of solar lentigines: investigator-blinded, randomized clinical trial. J Eur Acad Dermatol Venereol. 2014 Mar 31. [Medline].

Pierard-Franchimont C, Henry F, Quatresooz P, Vroome V, Pierard GE. Analytic quantification of the bleaching effect of a 4-hydroxyanisole-tretinoin combination on actinic lentigines. J Drugs Dermatol. 2008 Sep. 7(9):873-8. [Medline].

Gillbro JM, Olsson MJ. The melanogenesis and mechanisms of skin-lightening agents - existing and new approaches. Int J Cosmet Sci. 2011 Jun. 33(3):210-21. [Medline].

Yamada T, Hasegawa S, Inoue Y, Kunita M, Ohsumi K, Sakaida T, et al. Inhibitory effect of Phalaenopsis orchid extract on WNT1-induced immature melanocyte precursor differentiation in a novel in vitro solar lentigo model. Biosci Biotechnol Biochem. 2016 Mar 4. 1-6. [Medline].

Sezer E, Erbil H, Kurumlu Z, Tastan HB, Etikan I. A comparative study of focal medium-depth chemical peel versus cryosurgery for the treatment of solar lentigo. Eur J Dermatol. 2007 Jan-Feb. 17(1):26-9. [Medline].

Leroy D, Dompmartin A, Dubreuil A, Louvet S. Cryotherapy of PUVA lentigines. Br J Dermatol. 1996 Dec. 135(6):988-90. [Medline].

Ortonne JP, Pandya AG, Lui H, Hexsel D. Treatment of solar lentigines. J Am Acad Dermatol. 2006 May. 54(5 Suppl 2):S262-71. [Medline].

Bukvic Mokos Z, Lipozencic J, Pasic A, Fattorini I. Laser therapy for solar lentigines: review of the literature and case report. Acta Dermatovenerol Croat. 2006. 14(2):81-5. [Medline].

Todd MM, Rallis TM, Gerwels JW, Hata TR. A comparison of 3 lasers and liquid nitrogen in the treatment of solar lentigines: a randomized, controlled, comparative trial. Arch Dermatol. 2000 Jul. 136(7):841-6. [Medline].

Chan HH, Fung WK, Ying SY, Kono T. An in vivo trial comparing the use of different types of 532 nm Nd:YAG lasers in the treatment of facial lentigines in Oriental patients. Dermatol Surg. 2000 Aug. 26(8):743-9. [Medline].

Lee Y, Choi EH, Lee SW. Low-fluence Q-switched 1,064-nm neodymium-doped yttrium aluminum garnet laser for the treatment of facial partial unilateral lentiginosis in Koreans. Dermatol Surg. 2012 Jan. 38(1):31-7. [Medline].

Vachiramon V, Panmanee W, Techapichetvanich T, Chanprapaph K. Comparison of Q-switched Nd: YAG laser and fractional carbon dioxide laser for the treatment of solar lentigines in Asians. Lasers Surg Med. 2016 Apr. 48 (4):354-9. [Medline].

Campolmi P, Bonan P, Cannarozzo G, et al. Intense pulsed light in the treatment of non-aesthetic facial and neck vascular lesions: report of 85 cases. J Eur Acad Dermatol Venereol. 2011 Jan. 25(1):68-73. [Medline].
Medscape Reference © 2011 WebMD, LLC