Melasma
Author: Willis Hughes Lyford, ENS; Chief Editor: William D James, MD  more...
Updated: Jul 14, 2016
What would you like to print?
Background
Melasma is an acquired hypermelanosis of sun-exposed areas. Melasma presents as symmetrically distributed hyperpigmented macules, which can be confluent or punctate. Areas that receive excessive sun exposure, including the cheeks, the upper lip, the chin, and the forehead, are the most common locations; however, melasma can occasionally occur in other sun-exposed locations. Note the images below.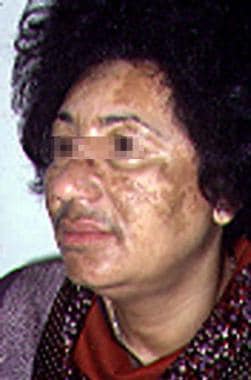 Confluent hyperpigmented macules in a malar distribution.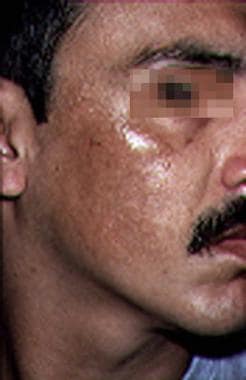 Melasma in a man.
Chloasma is a synonymous term sometimes used to describe the occurrence of melasma during pregnancy. Chloasma is derived from the Greek word chloazein, meaning "to be green." Melas, also Greek, means "black." Because the pigmentation is never green in appearance, melasma is the preferred term.
See Diagnosing Dermatoses in Pregnant Patients: 8 Cases to Test Your Skills, a Critical Images slideshow, for help identifying several types of cutaneous eruptions associated with pregnancy.
Pathophysiology
The pathophysiology of melasma is uncertain. A direct relationship with female hormonal activity appears to be present, because melasma occurs more frequently in females than in males and commonly develops or worsens during pregnancy and with the use of oral contraceptive pills. Indeed, one half of melasma cases present initially during pregnancy. Additionally, the expression of estrogen receptors appears to be up-regulated in melasma lesions.[1] Whether hormone levels play a role in male melasma development is still a topic of debate. Other factors implicated in the pathogenesis of melasma are photosensitizing medications, mild ovarian or thyroid dysfunction, and certain cosmetics.
The most important factor in the development of melasma is exposure to sunlight. Ultraviolet (UV) radiation is known to induce increased production of alpha-melanocyte–stimulating hormone and corticotropin, as well as interleukin 1 and endothelin 1, all of which contribute to increased melanin production by intraepidermal melanocytes. Fibroblasts located in the dermal layer of the skin may also contribute to the development of melasma; overexpression of the tyrosine kinase receptor c-kit and certain stem cell factors have been identified in melasma lesions, and these are believed to increase melanogenesis.[2] Without the strict avoidance of sunlight, potentially successful treatments for melasma are doomed to fail.
Epidemiology
US frequency
Melasma is very common, affecting over 5 million people in the United States.[3] Prevalence rates range from 8.8% among females of Latino descent living in the southern United States to up to 40% in some females of southeast Asian populations.[4, 5]
Race
Persons of any race can be affected by melasma. However, melasma is much more common in constitutionally darker skin types than in lighter skin types, and it may be more common in light brown skin types, especially Latinos and Asians, from areas of the world with intense sun exposure.
Sex
Melasma is much more common in women than in men. Women are affected in 90% of cases. When men are affected, the clinical and histologic picture is identical.
Age
Melasma is rare before puberty and most commonly occurs in women during their reproductive years. Melasma is present in 15-50% of pregnant patients.
Prognosis
Melasma has no associated mortality or morbidity. There have been no reported cases of malignant transformation, and it has not been associated with an increased risk of melanoma or other malignancies. In fact, patients with melasma are considered to be at decreased risk for melanoma. This is likely secondary to lower rates of skin malignancies in patients with a dark complexion.
Dermal pigment may take longer to resolve than epidermal pigment because no effective therapy is capable of removing dermal pigment. However, treatment should not be withheld simply because of a preponderance of dermal pigment. The source of the dermal pigment is the epidermis, and, if epidermal melanogenesis can be inhibited for long periods, the dermal pigment will not replenish and will slowly resolve.
Resistant cases or recurrences of melasma occur often and are certain if strict avoidance of sunlight is not rigidly heeded.
Patient Education
Strict sun avoidance is essential for resolution and to prevent recurrence of melasma. Patients with melasma should apply bleaching creams to areas of darkening only. Resolution with strict sun avoidance and topical bleaching creams can take months; caution patients to expect slow but gradual lightening.
References
Jang YH, Lee JY, Kang HY, Lee ES, Kim YC. Oestrogen and progesterone receptor expression in melasma: an immunohistochemical analysis. J Eur Acad Dermatol Venereol. 2010 Nov. 24(11):1312-6. [Medline].

Kang HY, Hwang JS, Lee JY, Ahn JH, Kim JY, Lee ES, et al. The dermal stem cell factor and c-kit are overexpressed in melasma. Br J Dermatol. 2006 Jun. 154(6):1094-9. [Medline].

Grimes PE. Melasma. Etiologic and therapeutic considerations. Arch Dermatol. 1995 Dec. 131(12):1453-7. [Medline].

Werlinger KD, Guevara IL, González CM, et al. Prevalence of self-diagnosed melasma among premenopausal Latino women in Dallas and Fort Worth, Tex. Arch Dermatol. 2007 Mar. 143(3):424-5. [Medline].

Sivayathorn A. Melasma in Orientals. Clin Drug Invest. 1995. 10(suppl 2) 34-4:

Pandya AG, Hynan LS, Bhore R, et al. Reliability assessment and validation of the Melasma Area and Severity Index (MASI) and a new modified MASI scoring method. J Am Acad Dermatol. 2011 Jan. 64(1):78-83, 83.e1-2. [Medline].

Ortonne JP, Arellano I, Berneburg M, et al. A global survey of the role of ultraviolet radiation and hormonal influences in the development of melasma. J Eur Acad Dermatol Venereol. 2009 Nov. 23(11):1254-62. [Medline].

Hughes BR. Melasma occurring in twin sisters. J Am Acad Dermatol. 1987 Nov. 17(5 Pt 1):841. [Medline].

Resnik S. Melasma induced by oral contraceptive drugs. JAMA. 1967 Feb 27. 199(9):601-5. [Medline].

Adalatkhah H, Sadeghi-bazargani H, Amini-sani N, Zeynizadeh S. Melasma and its association with different types of nevi in women: a case-control study. BMC Dermatol. 2008 Aug 5. 8:3. [Medline]. [Full Text].

Aloi F, Solaroli C, Giovannini E. Actinic lichen planus simulating melasma. Dermatology. 1997. 195(1):69-70. [Medline].

Tabata H, Yamakage A, Yamazaki S. Bandlike melasma mimicking linear morphea ("en coup de sabre" type). Cutis. 1998 Apr. 61(4):225-6. [Medline].

Lawrence N, Cox SE, Brody HJ. Treatment of melasma with Jessner's solution versus glycolic acid: a comparison of clinical efficacy and evaluation of the predictive ability of Wood's light examination. J Am Acad Dermatol. 1997 Apr. 36(4):589-93. [Medline].

Sofen B, Prado G, Emer J. Melasma and Post Inflammatory Hyperpigmentation: Management Update and Expert Opinion. Skin Therapy Lett. 2016 Jan. 21 (1):1-7. [Medline].

Taylor CR, Anderson RR. Ineffective treatment of refractory melasma and postinflammatory hyperpigmentation by Q-switched ruby laser. J Dermatol Surg Oncol. 1994 Sep. 20(9):592-7. [Medline].

Lakhdar H, Zouhair K, Khadir K, Essari A, Richard A, Seité S, et al. Evaluation of the effectiveness of a broad-spectrum sunscreen in the prevention of chloasma in pregnant women. J Eur Acad Dermatol Venereol. 2007 Jul. 21(6):738-42. [Medline].

Kanwar AJ, Dhar S, Kaur S. Treatment of melasma with potent topical corticosteroids. Dermatology. 1994. 188(2):170. [Medline].

Westerhof W, Kooyers TJ. Hydroquinone and its analogues in dermatology - a potential health risk. J Cosmet Dermatol. 2005 Jun. 4(2):55-9. [Medline].

Nordlund JJ, Grimes PE, Ortonne JP. The safety of hydroquinone. J Eur Acad Dermatol Venereol. 2006 Aug. 20(7):781-7. [Medline].

Burke H, Carmichael AJ. Reversible melasma associated with tretinoin. Br J Dermatol. 1996 Nov. 135(5):862. [Medline].

Kimbrough-Green CK, Griffiths CE, Finkel LJ, et al. Topical retinoic acid (tretinoin) for melasma in black patients. A vehicle-controlled clinical trial. Arch Dermatol. 1994 Jun. 130(6):727-33. [Medline].

Chan R, Park KC, Lee MH, et al. A randomized controlled trial of the efficacy and safety of a fixed triple combination (fluocinolone acetonide 0.01%, hydroquinone 4%, tretinoin 0.05%) compared with hydroquinone 4% cream in Asian patients with moderate to severe melasma. Br J Dermatol. 2008 Sep. 159(3):697-703. [Medline].

Grimes PE, Bhawan J, Guevara IL, et al. Continuous therapy followed by a maintenance therapy regimen with a triple combination cream for melasma. J Am Acad Dermatol. 2010 Jun. 62(6):962-7. [Medline].

Dogra S, Kanwar AJ, Parsad D. Adapalene in the treatment of melasma: a preliminary report. J Dermatol. 2002 Aug. 29(8):539-40. [Medline].

Baliña LM, Graupe K. The treatment of melasma. 20% azelaic acid versus 4% hydroquinone cream. Int J Dermatol. 1991 Dec. 30(12):893-5. [Medline].

Breathnach AS. Melanin hyperpigmentation of skin: melasma, topical treatment with azelaic acid, and other therapies. Cutis. 1996 Jan. 57(1 Suppl):36-45. [Medline].

Garcia A, Fulton JE Jr. The combination of glycolic acid and hydroquinone or kojic acid for the treatment of melasma and related conditions. Dermatol Surg. 1996 May. 22(5):443-7. [Medline].

Wolf R, Wolf D, Tamir A, Politi Y. Melasma: a mask of stress. Br J Dermatol. 1991 Aug. 125(2):192-3. [Medline].

Wu S, Shi H, Wu H, Yan S, Guo J, Sun Y, et al. Treatment of melasma with oral administration of tranexamic acid. Aesthetic Plast Surg. 2012 Aug. 36(4):964-70. [Medline].

Tan AW, Sen P, Chua SH, Goh BK. Oral tranexamic acid lightens refractory melasma. Australas J Dermatol. 2016 May 13. [Medline].

Lee HC, Thng TG, Goh CL. Oral tranexamic acid (TA) in the treatment of melasma: A retrospective analysis. J Am Acad Dermatol. 2016 May 17. [Medline].

Kodali S, Guevara IL, Carrigan CR, et al. A prospective, randomized, split-face, controlled trial of salicylic acid peels in the treatment of melasma in Latin American women. J Am Acad Dermatol. 2010 Dec. 63(6):1030-5. [Medline].

Kopera D, Hohenleutner U. Ruby laser treatment of melasma and postinflammatory hyperpigmentation. Dermatol Surg. 1995 Nov. 21(11):994. [Medline].

Manaloto RM, Alster T. Erbium:YAG laser resurfacing for refractory melasma. Dermatol Surg. 1999 Feb. 25(2):121-3. [Medline].

Rokhsar CK, Fitzpatrick RE. The treatment of melasma with fractional photothermolysis: a pilot study. Dermatol Surg. 2005 Dec. 31(12):1645-50. [Medline].

Kroon MW, Wind BS, Beek JF, et al. Nonablative 1550-nm fractional laser therapy versus triple topical therapy for the treatment of melasma: a randomized controlled pilot study. J Am Acad Dermatol. 2011 Mar. 64(3):516-23. [Medline].
Medscape Reference © 2011 WebMD, LLC