Vitiligo Clinical Presentation
Author: Vlada Groysman, MD; Chief Editor: Dirk M Elston, MD more...
Updated: Jun 19, 2015
What would you like to print?
History
The most common form of vitiligo is an amelanotic macule or patch surrounded by healthy skin. The macules are chalk or milk-white in color, and lesions are well demarcated.
The lesions are not readily apparent in lightly pigmented individuals; however, they are easily distinguishable with a Wood lamp examination.
Physical
Vitiligo manifests as acquired white or hypopigmented macules or patches. The lesions are usually well demarcated, and they are round, oval, or linear in shape. The borders may be convex.[1] Lesions enlarge centrifugally over time at an unpredictable rate. Lesions range from millimeters to centimeters in size. Initial lesions occur most frequently on the hands, forearms, feet, and face, favoring a perioral and periocular distribution.
Vitiligo lesions may be localized or generalized, with the latter being more common than the former. Localized vitiligo is restricted to one general area with a segmental or quasidermatomal distribution. Generalized vitiligo implies more than one general area of involvement. In this situation, the macules are usually found on both sides of the trunk, either symmetrically or asymmetrically arrayed.
The most common sites of vitiligo involvement are the face, neck, and scalp. Many of the most common sites of occurrence are areas subjected to repeated trauma, including the following:
Bony prominences

Extensor forearm

Ventral wrists

Dorsal hands

Digital phalanges
Involvement of the mucous membranes is frequently observed in the setting of generalized vitiligo. Vitiligo often occurs around body orifices such as the lips, genitals, gingiva, areolas, and nipples.
Body hair (leukotrichia) in vitiliginous macules may be depigmented. Vitiligo of the scalp usually appears as a localized patch of white or gray hair, but total depigmentation of all scalp hair may occur. Scalp involvement is the most frequent, followed by involvement of the eyebrows, pubic hair, and axillary hair, respectively. Leukotrichia may indicate a poor prognosis in regard to repigmentation. Spontaneous repigmentation of depigmented hair in vitiligo does not occur.
Clinical Variants
Trichrome vitiligo has an intermediate zone of hypochromia located between the achromic center and the peripheral unaffected skin. The natural evolution of the hypopigmented areas is progression to full depigmentation. This results in 3 shades of color—brown, tan, and white—in the same patient, as in the image below.
Trichrome vitiligo.
Marginal inflammatory vitiligo results in a red, raised border, which is present from the onset of vitiligo (in rare cases) or which may appear several months or years after the initial onset. A mild pruritus may be present, as in the image below.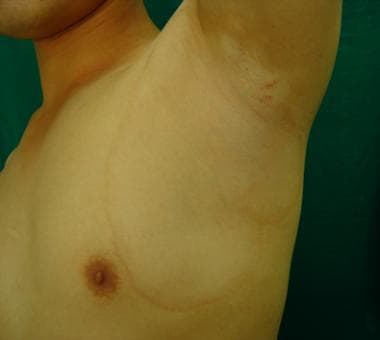 Marginal inflammatory vitiligo.
Quadrichrome vitiligo is another variant of vitiligo, which reflects the presence of a fourth color (ie, dark brown) at sites of perifollicular repigmentation. A case of pentachrome vitiligo with 5 shades of color has also been described.[2]
Blue vitiligo results in blue coloration of vitiligo macules. This type has been observed in a patient with postinflammatory hyperpigmentation who then developed vitiligo.
Koebner phenomenon is defined as the development of vitiligo in sites of specific trauma, such as a cut, burn, or abrasion. Minimum injury is required for Koebner phenomenon to occur.
Clinical Classifications of Vitiligo
The classification system is important because of the special significance assigned by some authorities to each type of vitiligo. The most widely used classification of vitiligo is localized, generalized, and universal types and is based on the distribution, as follows:
Localized vitiligo
See the list below:
Focal: This type is characterized by one or more macules in one area, most commonly in the distribution of the trigeminal nerve.

Segmental: This type manifests as one or more macules in a dermatomal or quasidermatomal pattern. It occurs most commonly in children. More than half the patients with segmental vitiligo have patches of white hair or poliosis. This type of vitiligo is not associated with thyroid or other autoimmune disorders.

Mucosal: Mucous membranes alone are affected.
Generalized vitiligo
See the list below:
Acrofacial: Depigmentation occurs on the distal fingers and periorificial areas.

Vulgaris: This is characterized by scattered patches that are widely distributed.

Mixed: Acrofacial and vulgaris vitiligo occur in combination, or segmental and acrofacial vitiligo and/or vulgaris involvement are noted in combination.
Universal vitiligo
This is complete or nearly complete depigmentation. It is often associated with multiple endocrinopathy syndrome.
Classification of Vitiligo by Progression, Prognosis, and Treatment
When progression, prognosis, and treatment are considered, vitiligo can be classified into 2 major clinical types: segmental and nonsegmental, as demonstrated in the images below.
Segmental
This usually has an onset early in life and rapidly spreads in the affected area. The course of segmental vitiligo can arrest, and depigmented patches can persist unchanged for the life of the patient.
Nonsegmental
This type includes all types of vitiligo, except segmental vitiligo.[20] See the images below.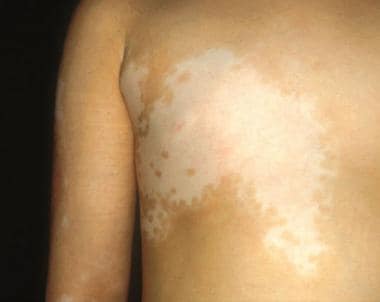 Segmental vitiligo.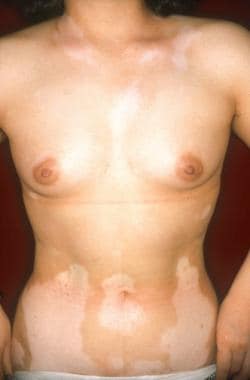 Nonsegmental vitiligo.
A single-center study of 213 patients aged 17 years or younger with segmental or nonsegmental vitiligo found that nonsegmental vitiligo was more strongly linked than segmental vitiligo to markers of autoimmunity or inflammation such as halo naevi and thyroid antibodies; patients with nonsegmental vitiligo were also more likely to have a family history of vitiligo or autoimmunity.[21]
Causes
Theories regarding destruction of melanocytes include autoimmune mechanisms, cytotoxic mechanisms, intrinsic melanocyte defects, oxidant-antioxidant mechanisms, and neural mechanisms, as follows:
Autoimmune and cytotoxic hypotheses: Aberration of immune surveillance results in melanocyte dysfunction or destruction.

Neural hypothesis: A neurochemical mediator destroys melanocytes or inhibits melanin production.

Oxidant-antioxidant mechanisms: An intermediate or metabolic product of melanin synthesis causes melanocyte destruction.

Intrinsic defect of melanocytes: Melanocytes have an inherent abnormality that impedes their growth and differentiation in conditions that support normal melanocytes.
Because none of these theories alone is entirely satisfactory, some have suggested a composite hypothesis.
References
Ortonne J. Vitiligo and other disorders of Hypopigmentation. Bolognia J, Jorizzo J, Rapini R, eds. Dermatology. 2nd. Spain: Elsevier; 2008. Vol 1: 65.

Kovacs SO. Vitiligo. J Am Acad Dermatol. 1998 May. 38(5 Pt 1):647-66; quiz 667-8. [Medline].

McKee P, Calonje E, Granter S, eds. Disorders of Pigmentation. Pathology of the Skin with Clinical Correlations. 3rd ed. China: Elsevier Mosby; 2005. Vol 2: 993-7.

Moellmann G, Klein-Angerer S, Scollay DA, Nordlund JJ, Lerner AB. Extracellular granular material and degeneration of keratinocytes in the normally pigmented epidermis of patients with vitiligo. J Invest Dermatol. 1982 Nov. 79(5):321-30. [Medline].

Matz H, Tur E. Vitiligo. Curr Probl Dermatol. 2007. 35:78-102. [Medline].

Lotti T, Gori A, Zanieri F, Colucci R, Moretti S. Vitiligo: new and emerging treatments. Dermatol Ther. 2008 Mar-Apr. 21(2):110-7. [Medline].

van Geel N, Ongenae K, Naeyaert JM. Surgical techniques for vitiligo: a review. Dermatology. 2001. 202(2):162-6. [Medline].

Rusfianti M, Wirohadidjodjo YW. Dermatosurgical techniques for repigmentation of vitiligo. Int J Dermatol. 2006 Apr. 45(4):411-7. [Medline].

Le Poole IC, Luiten RM. Autoimmune etiology of generalized vitiligo. Curr Dir Autoimmun. 2008. 10:227-43. [Medline].

Toussaint S, Kamino H. Noninfectous papular and squamous diseases. Elder D, Elenitas R, Jaworsky D, Johnson B Jr. Lever's Histopathology of the Skin. Philadelphia, Pa: Lippincot-Raven; 1997. 154-5.

Schallreuter KU, Wood JM, Pittelkow MR, et al. Regulation of melanin biosynthesis in the human epidermis by tetrahydrobiopterin. Science. 1994 Mar 11. 263(5152):1444-6. [Medline].

Ongenae K, Van Geel N, Naeyaert JM. Evidence for an autoimmune pathogenesis of vitiligo. Pigment Cell Res. 2003 Apr. 16(2):90-100. [Medline].

Zhang BX, Lin M, Qi XY, Zhang RX, Wei ZD, Zhu J, et al. Characterization of circulating CD8+T cells expressing skin homing and cytotoxic molecules in active non-segmental vitiligo. Eur J Dermatol. 2013 Jun 19. [Medline].

van den Wijngaard RM, Aten J, Scheepmaker A, et al. Expression and modulation of apoptosis regulatory molecules in human melanocytes: significance in vitiligo. Br J Dermatol. 2000 Sep. 143(3):573-81. [Medline].

Sravani PV, Babu NK, Gopal KV, Rao GR, Rao AR, Moorthy B. Determination of oxidative stress in vitiligo by measuring superoxide dismutase and catalase levels in vitiliginous and non-vitiliginous skin. Indian J Dermatol Venereol Leprol. 2009 May-Jun. 75(3):268-71. [Medline].

Spritz RA. The genetics of generalized vitiligo. Curr Dir Autoimmun. 2008. 10:244-57. [Medline].

Halder R, Taliaferro S. Vitiligo. Wolff K, Goldsmith L, Katz S, Gilchrest B, Paller A, Lefell D, eds. Fitzpatrick's Dermatology in General Medicine. 7th ed. New York, NY: McGraw-Hill; 2008. Vol 1: 72.

Birlea SA, Gowan K, Fain PR, Spritz RA. Genome-Wide Association Study of Generalized Vitiligo in an Isolated European Founder Population Identifies SMOC2, in Close Proximity to IDDM8. J Invest Dermatol. 2009 Nov 5. [Medline].

Jin Y, Birlea SA, Fain PR, et al. Genome-Wide Analysis Identifies a Quantitative Trait Locus in the MHC Class II Region Associated with Generalized Vitiligo Age of Onset. J Invest Dermatol. 2011 Jun. 131(6):1308-12. [Medline].

Hann S-K. Clinical variants of vitiligo. Lotti T, Hercogova J, eds. Vitiligo: Problems and Solutions. New York, NY: Marcel Dekker; 2004. 159-73.

Ezzedine K, Diallo A, Leaute-Labreze C, et al. Multivariate analysis of factors associated with early-onset segmental and nonsegmental vitiligo: a prospective observational study of 213 patients. Br J Dermatol. 2011 Jul. 165(1):44-9. [Medline].

Yang Y, Lin X, Fu W, Luo X, Kang K. An approach to the correlation between vitiligo and autoimmune thyroiditis in Chinese children. Clin Exp Dermatol. 2009 Oct 23. [Medline].

Rashtak S, Pittelkow MR. Skin involvement in systemic autoimmune diseases. Curr Dir Autoimmun. 2008. 10:344-58. [Medline].

Pajvani U, Ahmad N, Wiley A, et al. The relationship between family medical history and childhood vitiligo. J Am Acad Dermatol. 2006 Aug. 55(2):238-44. [Medline].

Aydogan K, Turan OF, Onart S, Karadogan SK, Tunali S. Audiological abnormalities in patients with vitiligo. Clin Exp Dermatol. 2006 Jan. 31(1):110-3. [Medline].

Ardiç FN, Aktan S, Kara CO, Sanli B. High-frequency hearing and reflex latency in patients with pigment disorder. Am J Otolaryngol. 1998 Nov-Dec. 19(6):365-9. [Medline].

Gul U, Kilic A, Tulunay O, Kaygusuz G. Vitiligo associated with malignant melanoma and lupus erythematosus. J Dermatol. 2007 Feb. 34(2):142-5. [Medline].

Ohguchi R, Kato H, Furuhashi T, Nakamura M, Nishida E, Watanabe S, et al. Risk factors and treatment responses in patients with vitiligo in Japan-A retrospective large-scale study. Kaohsiung J Med Sci. 2015 May. 31 (5):260-4. [Medline].

Schallreuter KU, Bahadoran P, Picardo M, et al. Vitiligo pathogenesis: autoimmune disease, genetic defect, excessive reactive oxygen species, calcium imbalance, or what else?. Exp Dermatol. 2008 Feb. 17(2):139-40; discussion 141-60. [Medline].

Elgoweini M, Nour El Din N. Response of vitiligo to narrowband ultraviolet B and oral antioxidants. J Clin Pharmacol. 2009 Jul. 49(7):852-5. [Medline].

Menchini G, Lotti T, Tsoureli-Nikita E. UV-B narrowband micro phototherapy. Lotti T, Hercogova J, eds. Vitiligo: Problems and Solutions. New York, NY: Marcel Dekker; 2004. 323-34.

Passeron T, Ostovari N, Zakaria W, et al. Topical tacrolimus and the 308-nm excimer laser: a synergistic combination for the treatment of vitiligo. Arch Dermatol. 2004 Sep. 140(9):1065-9. [Medline].

Lotti T, Prignano F, Buggiani G. New and experimental treatments of vitiligo and other hypomelanoses. Dermatol Clin. 2007 Jul. 25(3):393-400, ix. [Medline].

Bae JM, Yoo HJ, Kim H, Lee JH, Kim GM. Combination therapy with 308-nm excimer laser, topical tacrolimus, and short-term systemic corticosteroids for segmental vitiligo: A retrospective study of 159 patients. J Am Acad Dermatol. 2015 May 6. [Medline].

Do JE, Shin JY, Kim DY, Hann SK, Oh SH. The effect of 308 nm excimer laser on segmental vitiligo: a retrospective study of 80 patients with segmental vitiligo. Photodermatol Photoimmunol Photomed. 2011 Jun. 27(3):147-51. [Medline].

Esfandiarpour I, Ekhlasi A, Farajzadeh S, Shamsadini S. The efficacy of pimecrolimus 1% cream plus narrow-band ultraviolet B in the treatment of vitiligo: a double-blind, placebo-controlled clinical trial. J Dermatolog Treat. 2009. 20(1):14-8. [Medline].

Njoo MD, Westerhof W. Therapeutic guidelines for vitiligo. Lotti T, Hercogova J, eds. Vitiligo: Problems and Solutions. New York, NY: Marcel Dekker; 2004. 235-52.

Farajzadeh S, Daraei Z, Esfandiarpour I, Hosseini SH. The efficacy of pimecrolimus 1% cream combined with microdermabrasion in the treatment of nonsegmental childhood vitiligo: a randomized placebo-controlled study. Pediatr Dermatol. 2009 May-Jun. 26(3):286-91. [Medline].

Birlea SA, Costin GE, Norris DA. Cellular and molecular mechanisms involved in the action of vitamin D analogs targeting vitiligo depigmentation. Curr Drug Targets. 2008 Apr. 9(4):345-59. [Medline].

Saraceno R, Nistico SP, Capriotti E, Chimenti S. Monochromatic excimer light 308 nm in monotherapy and combined with topical khellin 4% in the treatment of vitiligo: a controlled study. Dermatol Ther. 2009 Jul-Aug. 22(4):391-4. [Medline].

Grau C, Silverberg NB. Vitiligo patients seeking depigmentation therapy: a case report and guidelines for psychological screening. Cutis. 2013 May. 91(5):248-52. [Medline].

Chimento SM, Newland M, Ricotti C, Nistico S, Romanelli P. A pilot study to determine the safety and efficacy of monochromatic excimer light in the treatment of vitiligo. J Drugs Dermatol. 2008 Mar. 7(3):258-63. [Medline].

Falabella R. Surgical approaches for stable vitiligo. Dermatol Surg. 2005 Oct. 31(10):1277-84. [Medline].

van Geel N, Wallaeys E, Goh BK, De Mil M, Lambert J. Long-term results of noncultured epidermal cellular grafting in vitiligo, halo naevi, piebaldism and naevus depigmentosus. Br J Dermatol. 2010 Dec. 163(6):1186-93. [Medline].

Gou D, Currimbhoy S, Pandya AG. Suction blister grafting for vitiligo: efficacy and clinical predictive factors. Dermatol Surg. 2015 May. 41 (5):633-9. [Medline].

McGovern TW, Bolognia J, Leffell DJ. Flip-top pigment transplantation: a novel transplantation procedure for the treatment of depigmentation. Arch Dermatol. 1999 Nov. 135(11):1305-7. [Medline].

Fongers A, Wolkerstorfer A, Nieuweboer-Krobotova L, Krawczyk P, Toth GG, van der Veen JP. Long-term results of 2-mm punch grafting in patients with vitiligo vulgaris and segmental vitiligo: effect of disease activity. Br J Dermatol. 2009 Nov. 161(5):1105-11. [Medline].
Medscape Reference © 2011 WebMD, LLC