Drug-Induced Pigmentation
Author: David F Butler, MD; Chief Editor: Dirk M Elston, MD more...
Updated: Mar 08, 2016
What would you like to print?
Background
Adverse cutaneous reactions to medications are a common reason for consultations with dermatologists. Drug-induced skin disorders may manifest in a variety of ways. Drugs may cause exanthems, urticaria, hypersensitivity syndromes, pustular eruptions, erythema multiforme, toxic epidermal necrolysis, cutaneous necrosis, and abnormal pigmentation of the skin and mucosa. Although pigmentary changes caused by drugs usually result in a limited degree of morbidity, these changes may be very disturbing to the patient.
The image below depicts a patient with amiodarone pigmentation.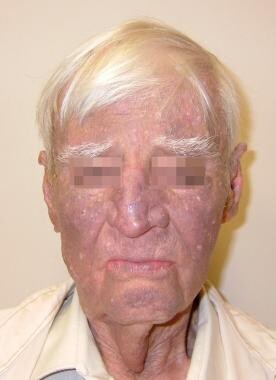 Amiodarone pigmentation.
Drug-induced pigmentary abnormalities may be classified into 3 groups, which are (1) hyperpigmentation/melanosis, (2) hypopigmentation/leukoderma, and (3) dyspigmentation or occurrence of unusual skin color.
A related article is Fixed Drug Eruptions. Additionally, the Medscape Adverse Drug Event Reporting Resource Center may be of interest.
Pathophysiology
Multiple pathologic mechanisms are responsible for drug-induced pigmentation disorders. Compared with the immunological etiology underlying many drug allergies, most cases of pharmacologic pigmentation are not immunologically mediated.
The pathogenesis underlying drug-related dyspigmentation can also be categorized into 3 mechanisms, which are (1) drug or drug metabolite deposition in the dermis and epidermis, (2) enhanced melanin production with or without an increase in the number of active melanocytes, and (3) drug-induced postinflammatory changes to skin. Similarly, chemical hypopigmentation is also thought to occur through a variety of pathologic mechanisms, including a reduced number of skin melanocytes, enzymatic blockade of melanogenesis, and inhibition of melanosome transfer.
Epidemiology
Frequency
United States
The rate of drug-induced dyspigmentation varies depending on the drug and cumulative dose. Some drugs, such as amiodarone, have been reported to have a rate of blue-gray dyspigmentation as high as 24% when the cumulative dose is greater than 200 mg.
International
Drug-induced skin pigmentation is estimated to account for 10-20% of all cases of acquired dyspigmentation worldwide.
Race
Drug-induced pigmentary changes can occur in persons of any race, but hypomelanosis is seen more frequently and appears more dramatically in patients with darker-pigmented skin. Additionally, people with darker skin often exhibit more intense hyperpigmentation than individuals with fair skin.[1]
Sex
No differences are reported in the prevalence of drug-related pigmentation among males versus females.
Age
Drug-related dyspigmentation is seen in persons of all ages.
References
Halder RM, Nandedkar MA, Neal KW. Pigmentary disorders in ethnic skin. Dermatol Clin. 2003 Oct. 21(4):617-28, vii. [Medline].

Koranda FC. Antimalarials. J Am Acad Dermatol. 1981 Jun. 4(6):650-5. [Medline].

Bronner AK, Hood AF. Cutaneous complications of chemotherapeutic agents. J Am Acad Dermatol. 1983 Nov. 9(5):645-63. [Medline].

Fernandez-Obregon AC, Hogan KP, Bibro MK. Flagellate pigmentation from intrapleural bleomycin. A light microscopy and electron microscopy study. J Am Acad Dermatol. 1985 Sep. 13(3):464-8. [Medline].

Haas N, Vogt R, Sterry W. [Shiitake dermatitis: flagellate dermatitis after eating mushrooms]. Hautarzt. 2001 Feb. 52(2):132-5. [Medline].

Hrushesky WJ. Unusual pigmentary changes associated with 5-fluorouracil therapy. Cutis. 1980 Aug. 26(2):181-82. [Medline].

Ghosh, S. K., D. Bandyopadhyay, L. Ghoshal, and S. Basu. Letter: Docetaxel-induced supravenous serpentine dermatitis. Dermatology Online Journal. 2011 Nov 15. 17:(11):16.

Geddes ER, Cohen PR. Antineoplastic agent-associated serpentine supravenous hyperpigmentation: superficial venous system hyperpigmentation following intravenous chemotherapy. South Med J. 2010 Mar. 103(3):231-5. [Medline].

Schallier D, Decoster L, de Greve J. Pemetrexed-induced hyperpigmentation of the skin. Anticancer Res. 2011 May. 31(5):1753-5. [Medline].

Segaert S, Van Cutsem E. Clinical signs, pathophysiology and management of skin toxicity during therapy with epidermal growth factor receptor inhibitors. Ann Oncol. 2005. 16:1425-33.

Heidary N, Naik H, Burgin S. Chemotherapeutic agents and the skin: An update. J Am Acad Dermatol. 2008 Apr. 58(4):545-70.

Bleehen SS, Gould DJ, Harrington CI, Durrant TE, Slater DN, Underwood JC. Occupational argyria; light and electron microscopic studies and X-ray microanalysis. Br J Dermatol. 1981 Jan. 104(1):19-26. [Medline].

Tanita Y, Kato T, Hanada K, Tagami H. Blue macules of localized argyria caused by implanted acupuncture needles. Electron microscopy and roentgenographic microanalysis of deposited metal. Arch Dermatol. 1985 Dec. 121(12):1550-2. [Medline].

White MI. Localized argyria caused by silver earrings. Br J Dermatol. 1997 Jun. 136(6):980. [Medline].

Cremer B, Czarnetzki BM. [Skin discolorations under gold jewelry]. Dtsch Med Wochenschr. 1992 Apr 3. 117(14):558. [Medline].

Eisen D, Hakim MD. Minocycline-induced pigmentation. Incidence, prevention and management. Drug Saf. 1998 Jun. 18(6):431-40. [Medline].

McGrae JD Jr, Zelickson AS. Skin pigmentation secondary to minocycline therapy. Arch Dermatol. 1980 Nov. 116(11):1262-5. [Medline].

Pepine M, Flowers FP, Ramos-Caro FA. Extensive cutaneous hyperpigmentation caused by minocycline. J Am Acad Dermatol. 1993 Feb. 28(2 Pt 2):292-5. [Medline].

Simons JJ, Morales A. Minocycline and generalized cutaneous pigmentation. J Am Acad Dermatol. 1980 Sep. 3(3):244-7. [Medline].

Fraunfelder FT, Randall JA. Minocycline-induced scleral pigmentation. Ophthalmology. 1997 Jun. 104(6):936-8. [Medline].

Green D, Friedman KJ. Treatment of minocycline-induced cutaneous pigmentation with the Q-switched Alexandrite laser and a review of the literature. J Am Acad Dermatol. 2001 Feb. 44(2 Suppl):342-7. [Medline].

Alster TS, Gupta SN. Minocycline-induced hyperpigmentation treated with a 755-nm Q-switched alexandrite laser. Dermatol Surg. 2004 Sep;. 30(9):1201-4.

Greve B, Schonermark MP, Raulin C. Minocycline-induced hyperpigmentation: Treatment with the Q-switched nd:YAG laser. Lasers Surg Med. 1998. 22(4):223-7.

Wilde JL, English JC,3rd, Finley EM. Minocycline-induced hyperpigmentation. treatment with the neodymium:YAG laser. Arch Dermatol. 1997 Nov. 133(11):1344-6.

Wood B, Munro CS, Bilsland D. Treatment of minocycline-induced pigmentation with the neodymium-yag laser. Br J Dermatol. 1998 Sep;139(3):562.

Kounis NG, Frangides C, Papadaki PJ, Zavras GM, Goudevenos J. Dose-dependent appearance and disappearance of amiodarone-induced skin pigmentation. Clin Cardiol. 1996 Jul. 19(7):592-4. [Medline].

Trimble JW, Mendelson DS, Fetter BF, Ingram P, Gallagher JJ, Shelburne JD. Cutaneous pigmentation secondary to amiodarone therapy. Arch Dermatol. 1983 Nov. 119(11):914-8. [Medline].

Ward HA, Russo GG, Shrum J. Cutaneous manifestations of antiretroviral therapy. J Am Acad Dermatol. 2002 Feb. 46(2):284-93. [Medline].

Shirasaka T, Tadokoro T, Yamamoto Y, Fukutake K, Kato Y, Odawara T, et al. Investigation of emtricitabine-associated skin pigmentation and safety in HIV-1-infected Japanese patients. J Infect Chemother. 2011 Oct. 17(5):602-8. [Medline].

Job CK, Yoder L, Jacobson RR, Hastings RC. Skin pigmentation from clofazimine therapy in leprosy patients: a reappraisal. J Am Acad Dermatol. 1990 Aug. 23(2 Pt 1):236-41. [Medline].

MacMorran WS, Krahn LE. Adverse cutaneous reactions to psychotropic drugs. Psychosomatics. 1997 Sep-Oct. 38(5):413-22. [Medline].

Wolf ME, Richer S, Berk MA, Mosnaim AD. Cutaneous and ocular changes associated with the use of chlorpromazine. Int J Clin Pharmacol Ther Toxicol. 1993 Aug. 31(8):365-7. [Medline].

Bloom D, Krishnan B, Thavundayil JX, Lal S. Resolution of chlorpromazine-induced cutaneous pigmentation following substitution with levomepromazine or other neuroleptics. Acta Psychiatr Scand. 1993 Mar. 87(3):223-4. [Medline].

Lal S, Bloom D, Silver B, Desjardins B, Krishnan B, Thavundayil J, et al. Replacement of chlorpromazine with other neuroleptics: effect on abnormal skin pigmentation and ocular changes. J Psychiatry Neurosci. 1993 Jul. 18(4):173-7. [Medline].

Ming ME, Bhawan J, Stefanato CM, McCalmont TH, Cohen LM. Imipramine-induced hyperpigmentation: four cases and a review of the literature. J Am Acad Dermatol. 1999 Feb. 40(2 Pt 1):159-66. [Medline].

Narurkar V, Smoller BR, Hu CH, Bauer EA. Desipramine-induced blue-gray photosensitive pigmentation. Arch Dermatol. 1993 Apr. 129(4):474-6. [Medline].

Sicari MC, Lebwohl M, Baral J, Wexler P, Gordon RE, Phelps RG. Photoinduced dermal pigmentation in patients taking tricyclic antidepressants: histology, electron microscopy, and energy dispersive spectroscopy. J Am Acad Dermatol. 1999 Feb. 40(2 Pt 2):290-3. [Medline].

Atkin DH, Fitzpatrick RE. Laser treatment of imipramine-induced hyperpigmentation. J Am Acad Dermatol. 2000 Jul. 43(1 Pt 1):77-80. [Medline].

Garin Shkolnik T, Feuerman H, Didkovsky E, Kaplan I, Bergman R, Pavlovsky L, et al. Blue-gray mucocutaneous discoloration: a new adverse effect of ezogabine. JAMA Dermatol. 2014 Sep 1. 150(9):984-9. [Medline].

Baker H. Adverse cutaneous reaction to oral contraceptives. Br J Dermatol. 1969 Dec. 81(12):946-9. [Medline].

Blomberg M, Zachariae CO, Grønhøj F. Hyperpigmentation of the face following adalimumab treatment. Acta Derm Venereol. 2009. 89(5):546-7. [Medline].

Kramer KE, Lopez A, Stefanato CM, Phillips TJ. Exogenous ochronosis. J Am Acad Dermatol. 2000 May. 42(5 Pt 2):869-71. [Medline].

Chien KH, Lu DW, Chen JT. Extensive facial skin pigmentation after latanoprost treatment. Cutan Ocul Toxicol. 2009. 28(4):185-7. [Medline].

Sharpe ED, Reynolds AC, Skuta GL, Jenkins JN, Stewart WC. The clinical impact and incidence of periocular pigmentation associated with either latanoprost or bimatoprost therapy. Curr Eye Res. 2007 Dec. 32(12):1037-43. [Medline].

Li CC, Malik SM, Blaeser BF, Dehni WJ, Kabani SP, Boyle N, et al. Mucosal Pigmentation Caused by Imatinib: Report of Three Cases. Head Neck Pathol. 2011 Dec 31. [Medline].

Aleem A. Hypopigmentation of the skin due to imatinib mesylate in patients with chronic myeloid leukemia. Hematol Oncol Stem Cell Ther. 2009;2(2):358-61.

Alexandrescu DT, Dasanu CA, Farzanmehr H, Kauffman L. Persistent cutaneous hyperpigmentation after tyrosine kinase inhibition with imatinib for GIST. Dermatol Online J. 2008 Jul 15;14(7):7.:

Hemesath TJ, Price ER, Takemoto C, Badalian T, Fisher DE. MAP kinase links the transcription factor microphthalmia to c-kit signalling in melanocytes. Nature. 1998 Jan 15;391(6664):298-301.

Arya V, Grzybowski J, Schwartz RA. Carotenemia. Cutis. 2003 Jun. 71(6):441-2, 448. [Medline].

Friedman SJ, Butler DF, Pittelkow MR. Perilesional linear atrophy and hypopigmentation after intralesional corticosteroid therapy. Report of two cases and review of the literature. J Am Acad Dermatol. 1988 Sep. 19(3):537-41. [Medline].

Vine K, Meulener M, Shieh S, Silverberg NB. Vitiliginous lesions induced by amyl nitrite exposure. Cutis. 2013 Mar. 91(3):129-36. [Medline].

McKee PH, Calonje E, Granter SR. Cutaneous adverse reactions to drugs and effects of physical agents. Pathology of the Skin with Clinical Correlations. 3rd ed. London, England: Elsevier; 2005. Vol 1: 638-42.

Trout CR, Levine N, Chang MW. Disorders of hyperpigmentation. Bolognia JL, Jorizzo JL, Rapini RP, eds. Dermatology. St. Louis, Mo: Mosby; 2003. Vol 2: 975-1006.
Medscape Reference © 2011 WebMD, LLC