Alopecia Mucinosa
Author: Gervaise L Gerstner, MD; Chief Editor: Dirk M Elston, MD more...
Updated: Oct 08, 2015
What would you like to print?
Background
Alopecia mucinosa, often referred to as follicular mucinosis, was first reported by Pinkus in 1957.[1] The dermatologic eruptions consist of follicular papules and/or indurated plaques that demonstrate distinct histologic changes in the hair follicles that lead to hair loss. The accumulation of mucinous material in the damaged hair follicles and sebaceous glands creates an inflammatory condition and subsequent degenerative process. The face, the neck, and the scalp are the most frequently affected sites, although lesions may appear on any part of the body.
Pathophysiology
Alopecia mucinosa is a disease process defined histopathologically by mucin deposition in hair follicles and sebaceous glands, which undergo epithelial reticular degeneration. The exact pathogenesis is unknown, although the role of circulating immune complexes and cell-mediated immunity has been considered. The 3 clinical variants of the disease consist of a primary acute disorder of young persons, a primary chronic disorder of older persons, and a secondary disorder associated with benign or malignant disease.
The primary disorder of young persons consists of focal cutaneous lesions with limited progression. Lesions are typically limited to the head, the neck, and the shoulders (see the image below). Most lesions spontaneously resolve between 2 months and 2 years. Pediatric cases comprise most of this type of alopecia mucinosa, with the remainder of patients being younger than 40 years. Neonatal follicular mucinosis has also been reported.[2]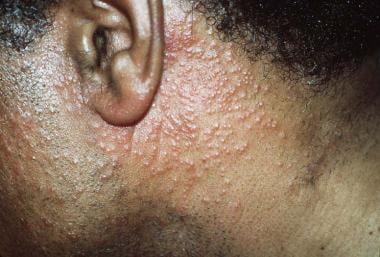 Courtesy of Dirk M. Elston, MD.
Primary chronic alopecia mucinosa of older persons affects people older than 40 years. Lesions have a widespread distribution, and they may persist or recur indefinitely. No associated disorders are identified.
The secondary alopecia mucinosa may be associated with either benign disease or malignant disease. These patients are usually aged 40-70 years, and the lesions are widespread and numerous. Alopecia mucinosa can occur secondary to benign disease including the inflammatory conditions lupus erythematosus, lichen simplex chronicus, and angiolymphoid hyperplasia. Secondary alopecia mucinosa is also associated with malignant disease, including mycosis fungoides, Kaposi sarcoma, and Hodgkin disease; mycosis fungoides is by far the most common association.[3, 4, 5, 6]
In most patients who exhibit both alopecia mucinosa and mycosis fungoides, these conditions appear to develop concomitantly; however, the concern exists that individuals exhibiting only alopecia mucinosa may also be at risk for subsequent development of lymphoma.
Drug-induced alopecia mucinosa has been associated with the use of adalimumab[7] and imatinib.[8]
Epidemiology
Frequency
Alopecia mucinosa is a rare condition. The precise data on its frequency are not available.
Race
No racial predilection is reported.
Sex
Although both sexes are affected by alopecia mucinosa, the disorder is more frequent in males than in females. Alopecia mucinosa in pregnancy is reported only once in the literature.[9]
Age
The three subsets of alopecia mucinosa breakdown by age, as follows:
Primary localized disease affects patients younger than 40 years and primarily occurs in the pediatric population.

[10]

Primary generalized disease affects people older than 40 years.

Secondary disease with either a benign or a malignant association usually affects people in the fifth through eighth decades of life.
Medscape Reference © 2011 WebMD, LLC