Overview
Background
Miliaria is a common disorder of the eccrine sweat glands that often occurs in conditions of increased heat and humidity. Miliaria is thought to be caused by blockage of the sweat ducts, which results in the leakage of eccrine sweat into the epidermis or dermis. [1, 2] Note the image below.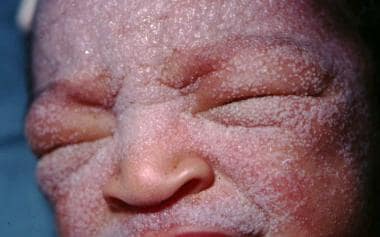 Miliaria crystallina in an infant. Note that the lesions are confluent. Courtesy of K.E. Greer, MD.
See 13 Common-to-Rare Infant Skin Conditions, a Critical Images slideshow, to help identify rashes, birthmarks, and other skin conditions encountered in infants.
The 3 types of miliaria are classified according to the level at which obstruction of the sweat duct occurs. In miliaria crystallina, ductal obstruction is most superficial, occurring in the stratum corneum. Clinically, this form of the disease produces tiny, fragile, clear vesicles. In miliaria rubra, obstruction occurs deeper within the epidermis and results in extremely pruritic erythematous papules. In miliaria profunda, ductal obstruction occurs at the dermal-epidermal junction. Sweat leaks into the papillary dermis and produces subtle asymptomatic flesh-colored papules. When pustules develop in lesions of miliaria rubra, the term miliaria pustulosa is used. Note the images below.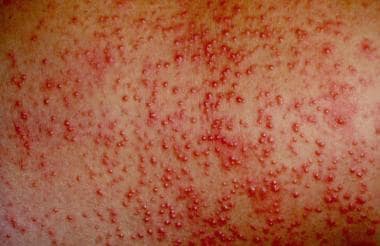 Miliaria pustulosa. Courtesy of K.E. Greer, MD.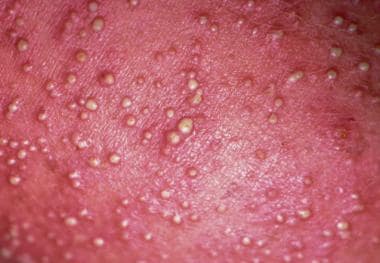 Miliaria pustulosa. Courtesy of K.E. Greer, MD.
Miliaria rubra can cause great discomfort, and miliaria profunda may lead to heat exhaustion. Treatment of these conditions is warranted. See Heat Illness: How To Cool Off Hyperthermic Patients, a Critical Images slideshow, for tips on treatment options for these patients.
Pathophysiology
The primary stimuli for the development of miliaria are conditions of high heat and humidity that lead to excessive sweating. Occlusion of the skin due to clothing, bandages, transdermal medication patches, [3] or plastic sheets (in an experimental setting) can further contribute to pooling of sweat on the skin surface and overhydration of the stratum corneum. In susceptible persons, including infants, who have relatively immature eccrine glands, overhydration of the stratum corneum is thought to be sufficient to cause transient blockage of the acrosyringium.
If hot humid conditions persist, the individual continues to produce excessive sweat, but he or she is unable to secrete the sweat onto the skin surface because of ductal blockage. This blockage results in the leakage of sweat en route to the skin surface, either in the dermis or epidermis, with relative anhidrosis.
When the point of leakage is in the stratum corneum or just below it, as in miliaria crystallina, little accompanying inflammation is present, and the lesions are asymptomatic. In contrast, in miliaria rubra, the leakage of sweat into the subcorneal layers produces spongiotic vesicles and a chronic periductal inflammatory cell infiltrate in the papillary dermis and lower epidermis. In miliaria profunda, the escape of sweat into the papillary dermis generates a substantial, periductal lymphocytic infiltrate and spongiosis of the intra-epidermal duct.
Resident skin bacteria, such as Staphylococcus epidermidis and Staphylococcus aureus, are thought to play a role in the pathogenesis of miliaria. [4] Patients with miliaria have 3 times as many bacteria per unit area of skin as healthy control subjects. Antimicrobial agents are effective in suppressing experimentally induced miliaria. Periodic acid-Schiff-positive diastase-resistant material has been found in the intraductal plug that is consistent with staphylococcal extracellular polysaccharide substance (EPS). In an experimental setting, only the strains of S epidermidis that produce EPS can induce miliaria. [5]
In late-stage miliaria, hyperkeratosis and parakeratosis of the acrosyringium are observed. A hyperkeratotic plug may appear to obstruct the eccrine duct, but this is now believed to be a late change and not the precipitating cause of the sweat blockage.
Epidemiology
Frequency
United States
Miliaria crystallina is a common condition that occurs in neonates, with a peak in those aged 1 week, and in individuals who are febrile or those who recently moved to a hot, humid climate. Miliaria rubra also is common in infants and adults who move to a tropical environment; this form occurs in as many as 30% of persons exposed to such conditions. Miliaria profunda is a rarer condition that occurs in only a minority of those who have repeated bouts of miliaria rubra.
International
The best data about the incidence of miliaria in newborns are from a Japanese survey of more than 5000 infants. [6] This survey revealed that miliaria crystallina was present in 4.5% of the neonates, with a mean age of 1 week. Miliaria rubra was present in 4% of the neonates, with a mean age of 11-14 days. A 2006 survey study from Iran found an incidence of miliaria of 1.3% in newborns. [7] A survey of pediatric patients in Northeastern India showed an incidence of miliaria of 1.6%. [8]
Worldwide, miliaria is most common in tropical environments, especially among people who recently moved to such environments from more temperate zones. Miliaria has been a significant problem for American and European military personnel who serve in Southeast Asia and the Pacific.
Race
Miliaria occurs in individuals of all races, although some studies show that Asians, who produce less sweat than whites, are less likely to have miliaria rubra.
Sex
No sex predilection is recognized.
Age
Miliaria crystallina and miliaria rubra can occur in persons of any age, but the diseases are most common in infants. In a Japanese survey of more than 5,000 infants, miliaria crystallina was present in 4.5% of the neonates, with a mean age of 1 week. Miliaria rubra was present in 4% of the neonates, with a mean age of 11-14 days.
Three cases of congenital miliaria crystallina are reported. [9, 10, 11]
Miliaria profunda is more common in adults than in infants and children.
What would you like to print?