Neutrophilic Eccrine Hidradenitis Clinical Presentation
Author: Joseph C Pierson, MD; Chief Editor: Dirk M Elston, MD  more...
Updated: Oct 13, 2015
What would you like to print?
History
Most reported cases of neutrophilic eccrine hidradenitis (NEH) have been in patients with AML who are undergoing chemotherapy, frequently with cytarabine. Granulocytopenia may be found in such cases. Other malignancy and chemotherapy associations exist. As noted previously, cases have been documented in AML and chronic myelogenous leukemia patients who were not on chemotherapy. Some otherwise healthy individuals have inexplicably developed biopsy-proven lesions of neutrophilic eccrine hidradenitis. Some healthy patients, children,[11] and adults,[12] have developed generalized urticarial-like papules and plaques of idiopathic neutrophilic eccrine hidradenitis in the summertime.
Regardless of the clinical setting, patients with neutrophilic eccrine hidradenitis develop skin lesions and frequently report fever. Half the patients are asymptomatic, but pain and tenderness are not uncommon. The palmoplantar variant of neutrophilic eccrine hidradenitis occurs in healthy children; however, one child in remission after acute lymphoblastic leukemia developed generalized extension.[13]
Physical
The cutaneous lesions of neutrophilic eccrine hidradenitis are protean. Neutrophilic eccrine hidradenitis lesions may be solitary or multiple. Erythematous or purpuric macules, papules, nodules, or plaques are described most frequently. Hyperpigmented plaques, annular lesions,[14] and sclerodermoid changes[15] have also been noted. Tenderness may be elicited. The trunk or limbs are most often involved. Neutrophilic eccrine hidradenitis simulating orbital cellulitis,[16] facial cellulitis,[17] and symmetrical ear swelling[18] have been documented.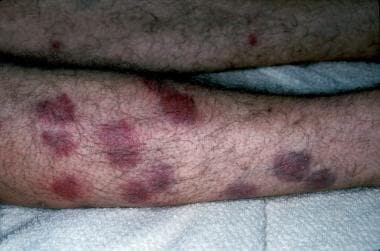 Courtesy of Jeffrey P. Callen, MD.
Causes
The cause of neutrophilic eccrine hidradenitis is unknown. A direct toxic effect of chemotherapy and a paraneoplastic mechanism have both been proposed to explain neutrophilic eccrine hidradenitis in the context of malignancy. Cases of neutrophilic eccrine hidradenitis resolving after withdrawal of chemotherapy and recurring upon reinstitution of the same regimen favor the former. Also supporting a direct toxic drug response is a study showing that the intradermal injection of bleomycin can yield local neutrophilic eccrine hidradenitis changes.[19] However, skin lesions arising after chemotherapy have developed anywhere from 2 days to 2 years later. A diagnosis of toxic erythema of chemotherapy has been proposed for this group of disorders, to emphasize the overlapping clinical and histologic features with similar eruptions.[2]
Favoring a paraneoplastic process are case reports of neutrophilic eccrine hidradenitis heralding the onset of both AML[4] and chronic myelogenous leukemia[5] and the relapse of AML.[6] Neutrophilic eccrine hidradenitis has also been observed in otherwise healthy individuals[8] ; in Behçet disease[9] ; with acetaminophen[20] ; with granulocyte colony-stimulating factor[7] ; with cyclophosphamide therapy for lupus[21] ; with methotrexate therapy for actinic reticuloid[22] ; with carbamazepine usage[23] ; with cetuximab treatment[24] ; in azathioprine hypersensitivity syndrome[25] ; and with HIV, Serratia, Enterobacter,Nocardia, Staphylococcus, Streptococcus, and Mycobacterium chelonae[26] infections.
Medscape Reference © 2011 WebMD, LLC