Trichostasis Spinulosa Workup
Author: Nicholas V Nguyen, MD; Chief Editor: Dirk M Elston, MD  more...
Updated: Feb 02, 2015
What would you like to print?
Other Tests
The diagnosis of trichostasis spinulosa (TS) can be made clinically without obtaining a biopsy specimen. If the diagnosis is in doubt, a specimen may easily be obtained by removing a hair plug with a forceps or comedone extractor. The specimen may be placed on a glass slide for microscopic examination. Treatment with potassium hydroxide dissolves the keratinous plug, leaving numerous vellus hairs in a characteristic tuft. Dermatoscopy may also be used to help confirm the diagnosis.[4]
Histologic Findings
If a biopsy specimen is obtained, histology reveals a dilated hair follicle housing multiple vellus hairs in a keratotic sheath and acanthosis of the follicular epithelium (see the images below). Inflammatory changes are not a characteristic of trichostasis spinulosa.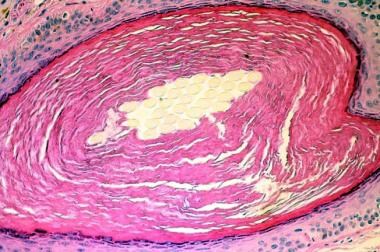 Biopsy specimen demonstrates a dilated follicle that contains numerous vellus hairs and keratin debris.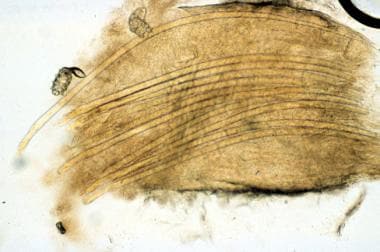 Potassium hydroxide mount of an extracted plug reveals multiple vellus hairs embedded in keratinous material.
References
Sidwell RU, Francis N, Bunker CB. Diffuse trichostasis spinulosa in chronic renal failure. Clin Exp Dermatol. 2006 Jan. 31(1):86-8. [Medline].

Janjua SA, McKoy KC, Iftikhar N. Trichostasis spinulosa: possible association with prolonged topical application of clobetasol propionate 0.05% cream. Int J Dermatol. 2007 Sep. 46(9):982-5. [Medline].

Harford RR, Cobb MW, Miller ML. Trichostasis spinulosa: a clinical simulant of acne open comedones. Pediatr Dermatol. 1996 Nov-Dec. 13(6):490-2. [Medline].

Pozo L, Bowling J, Perrett CM, Bull R, Diaz-Cano SJ. Dermoscopy of trichostasis spinulosa. Arch Dermatol. 2008 Aug. 144(8):1088. [Medline].

Elston DM, White LC. Treatment of trichostasis spinulosa with a hydroactive adhesive pad. Cutis. 2000 Jul. 66(1):77-8. [Medline].

Manuskiatti W, Tantikun N. Treatment of trichostasis spinulosa in skin phototypes III, IV, and V with an 800-nm pulsed diode laser. Dermatol Surg. 2003 Jan. 29(1):85-8. [Medline].

Toosi S, Ehsani AH, Noormohammadpoor P, Esmaili N, Mirshams-Shahshahani M, Moineddin F. Treatment of trichostasis spinulosa with a 755-nm long-pulsed alexandrite laser. J Eur Acad Dermatol Venereol. 2009 Sep 23. [Medline].

Badawi A, Kashmar M. Treatment of trichostasis spinulosa with 0.5-millisecond pulsed 755-nm alexandrite laser. Lasers Med Sci. 2011 Nov. 26(6):825-9. [Medline].
Medscape Reference © 2011 WebMD, LLC