Trichotillomania Workup
Author: Dirk M Elston, MD; Chief Editor: William D James, MD more...
Updated: Feb 09, 2016
What would you like to print?
Approach Considerations
The Trichotillomania Scale for Children (TSC) is a child and parent report that may be used to assess symptom severity and impairment.[24]
Trichography (ie, microscopic examination of plucked hairs) can help verify the diagnosis of trichotillomania. Findings vary according to the area examined. Where the hairs are all short with tapered tips (regrowing hairs), the trichogram may show all anagen roots (telogen count, 0). In other areas, especially those showing broken shafts of various lengths, an increased number of club hairs (>20%), and even exclamation-mark hairs typical of alopecia areata,[25] can be seen.
Ultrasonography and computed tomography (CT) may be useful in detecting trichobezoar formation that can result from swallowing or ingesting plucked hairs in children with trichotillomania.
[#WorkupHistologicFindings]Histologic procedures may aid in the diagnosis of suspected trichotillomania in children. Punch biopsy may be used to verify a suspected diagnosis of trichotillomania. Melanin pigment casts and granules in the upper hair follicles and infundibulum of hair shaft
Histologic Findings
In most cases, a clinical diagnosis, based on an inspection of the lesion and an appropriate patient history, is sufficient. Hairs collected by the patient can be examined. Trichotillomania demonstrates anagen hairs, telogen effluvium demonstrates catagen hairs, and alopecia areata demonstrates tapered fractures.
Occasionally, however, biopsy is needed to differentiate trichotillomania from alopecia areata. Biopsy findings of trichotillomania overlap significantly with those of alopecia areata and syphilis. Scalp biopsy specimens are best interpreted by someone with considerable expertise.
Multiple sections, either vertically or transversely oriented, are recommended to observe characteristic findings, especially because both may show numerous catagen hairs and pigment casts. In general, the biopsy specimen should be taken from a new lesion. The most frequent findings are empty anagen follicles (especially in transverse sections), increased numbers of noninflamed catagen follicles, and pigment casts in hair canals, with the latter 2 findings also present in alopecia areata. The presence of twisted linear pigment in the cortex (zip sign) or circular, central aggregation of pigment surrounded by the inner root sheath (button sing) demonstrate a traumatic cause and can help differentiate the 2 conditions.[26]
Trichomalacia (incompletely keratinized, soft, distorted, and pigmented hair shafts) and bizarre fractured hair shafts are fairly specific for trichotillomania (see the image below).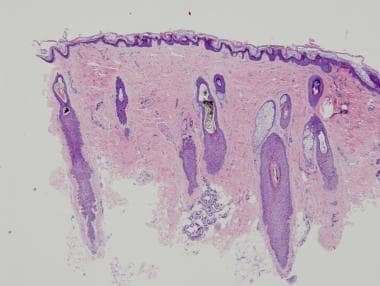 Histopathologically, trichomalacia (twisted pigmented soft cortex) with catagen follicles is characteristic of trichotillomania with empty follicles.
It should be kept in mind that increased numbers of catagen hairs and pigment casts within hair canals may also be seen in persons with alopecia areata or syphilis, as well as in those with trichotillomania. Care should be taken to search for clues to the diagnosis of alopecia areata or syphilis, such as peribulbar lymphoid infiltrate or peribulbar eosinophils.
Lymphocytes, pigment, and eosinophils within fibrous tract remnants are also associated with alopecia areata and syphilis and may be helpful clues to the correct diagnosis. Plasma cells are a common sign of syphilis. In biopsy specimens from the occipital scalp, plasma cells are common, regardless of the etiology of the hair loss.
Because both trichotillomania and chronic traction alopecia are the result of applied external force, the resulting histopathologic pictures are similar and sometimes identical.
References
Chamberlain SR, Odlaug BL, Boulougouris V, Fineberg NA, Grant JE. Trichotillomania: neurobiology and treatment. Neurosci Biobehav Rev. 2009 Jun. 33(6):831-42. [Medline].

Hallopeau M. Alopecie par grottage (trichomanie ou trichotillomani). Ann de Dermatolofie et Venerologie. 1889. 10:440-41.

Harrison JP, Franklin ME. Pediatric trichotillomania. Curr Psychiatry Rep. 2012 Jun. 14(3):188-96. [Medline]. [Full Text].

Franklin ME, Zagrabbe K, Benavides KL. Trichotillomania and its treatment: a review and recommendations. Expert Rev Neurother. 2011 Aug. 11(8):1165-74. [Medline]. [Full Text].

Franklin ME, Flessner CA, Woods DW, Keuthen NJ, Piacentini JC, Moore P, et al. The child and adolescent trichotillomania impact project: descriptive psychopathology, comorbidity, functional impairment, and treatment utilization. J Dev Behav Pediatr. 2008 Dec. 29(6):493-500. [Medline].

Keren M, Ron-Miara A, Feldman R, Tyano S. Some reflections on infancy-onset trichotillomania. Psychoanal Study Child. 2006. 61:254-72. [Medline].

Salaam K, Carr J, Grewal H, Sholevar E, Baron D. Untreated trichotillomania and trichophagia: surgical emergency in a teenage girl. Psychosomatics. 2005 Jul-Aug. 46(4):362-6. [Medline].

American Psychiatric Association. Diagnostic and Statistical Manual of Mental Disorders, Fifth Edition. 5th ed. Washington, DC: American Psychiatric Association; 2013. 251-4.

Watson TS, Allen KD. Elimination of thumb-sucking as a treatment for severe trichotillomania. J Am Acad Child Adolesc Psychiatry. 1993 Jul. 32(4):830-4. [Medline].

Diefenbach GJ, Tolin DF, Meunier S, Worhunsky P. Emotion regulation and trichotillomania: a comparison of clinical and nonclinical hair pulling. J Behav Ther Exp Psychiatry. 2008 Mar. 39(1):32-41. [Medline].

Meunier SA, Tolin DF, Franklin M. Affective and sensory correlates of hair pulling in pediatric trichotillomania. Behav Modif. 2009 May. 33(3):396-407. [Medline].

White MP, Shirer WR, Molfino MJ, Tenison C, Damoiseaux JS, Greicius MD. Disordered reward processing and functional connectivity in trichotillomania: a pilot study. J Psychiatr Res. 2013 Sep. 47(9):1264-72. [Medline].

De Sousa A, Mehta J. Trichotillomania in a case of vascular dementia. Int J Trichology. 2013 Jan. 5(1):38-9. [Medline]. [Full Text].

Christenson GA, Pyle RL, Mitchell JE. Estimated lifetime prevalence of trichotillomania in college students. J Clin Psychiatry. 1991 Oct. 52(10):415-7. [Medline].

Mansueto CS, Thomas AM, Brice AL. Hair pulling and its afftective correlates in an African-American university sample. J Anxiety Disord. 4/2007. 21:590-9.

Flessner CA, Lochner C, Stein DJ, Woods DW, Franklin ME, Keuthen NJ. Age of onset of trichotillomania symptoms: investigating clinical correlates. J Nerv Ment Dis. 2010 Dec. 198(12):896-900. [Medline].

Walther MR, Snorrason I, Flessner CA, Franklin ME, Burkel R, Woods DW. The Trichotillomania Impact Project in Young Children (TIP-YC): Clinical Characteristics, Comorbidity, Functional Impairment and Treatment Utilization. Child Psychiatry Hum Dev. 2013 Apr 7. [Medline].

Diefenbach GJ, Tolin DF, Hannan S, Crocetto J, Worhunsky P. Trichotillomania: impact on psychosocial functioning and quality of life. Behav Res Ther. 2005 Jul. 43(7):869-84. [Medline].

Falkenstein MJ, Haaga DA. Symptom accommodation, trichotillomania-by-proxy, and interpersonal functioning in trichotillomania (hair-pulling disorder). Compr Psychiatry. 2016 Feb. 65:88-97. [Medline].

Murphy C, Redenius R, O''Neill E, Zallek S. Sleep-isolated trichotillomania: a survey of dermatologists. J Clin Sleep Med. 2007 Dec 15. 3(7):719-21. [Medline]. [Full Text].

Chen KL, Chiu HY, Chan CC, Chan JY, Lin SJ. Extensive cicatricial alopecia in a patient with long-term trichotillomania. J Dermatol. 2016 Feb. 43 (2):226-8. [Medline].

Radmanesh M, Shafiei S, Naderi AH. Isolated eyebrow and eyelash trichotillomania mimicking alopecia areata. Int J Dermatol. 2006 May. 45(5):557-60. [Medline].

Lencastre A, Tosti A. Role of Trichoscopy in Children's Scalp and Hair Disorders. Pediatr Dermatol. 2013 Aug 13. [Medline].

Tolin DF, Diefenbach GJ, Flessner CA, Franklin ME, Keuthen NJ, Moore P, et al. The trichotillomania scale for children: development and validation. Child Psychiatry Hum Dev. 2008 Sep. 39(3):331-49. [Medline].

Ihm CW, Han JH. Diagnostic value of exclamation mark hairs. Dermatology. 1993. 186(2):99-102. [Medline].

Miteva M, Romanelli P, Tosti A. Pigmented Casts. Am J Dermatopathol. 2013 Jul 2. [Medline].

Franklin ME, Edson AL, Ledley DA, Cahill SP. Behavior therapy for pediatric trichotillomania: a randomized controlled trial. J Am Acad Child Adolesc Psychiatry. 2011 Aug. 50(8):763-71. [Medline]. [Full Text].

Weidt S, Zai G, Drabe N, Delsignore A, Bruehl AB, Klaghofer R, et al. Affective regulation in trichotillomania before and after self-help interventions. J Psychiatr Res. 2015 Dec 29. 75:7-13. [Medline].

Grant JE, Odlaug BL, Kim SW. N-acetylcysteine, a glutamate modulator, in the treatment of trichotillomania: a double-blind, placebo-controlled study. Arch Gen Psychiatry. 2009 Jul. 66(7):756-63. [Medline].

Grant JE, Odlaug BL, Chamberlain SR, Kim SW. Dronabinol, a cannabinoid agonist, reduces hair pulling in trichotillomania: a pilot study. Psychopharmacology (Berl). 2011 May 19. [Medline].

Van Ameringen M, Mancini C, Patterson B, Bennett M, Oakman J. A randomized, double-blind, placebo-controlled trial of olanzapine in the treatment of trichotillomania. J Clin Psychiatry. 2010 Oct. 71(10):1336-43. [Medline].

Bloch MH, Landeros-Weisenberger A, Dombrowski P, Kelmendi B, Wegner R, Nudel J. Systematic review: pharmacological and behavioral treatment for trichotillomania. Biol Psychiatry. 2007 Oct 15. 62(8):839-46. [Medline].

Sarah H M, Hana F Z, Hilary E D, Martin E F. Habit reversal training in trichotillomania: guide for the clinician. Expert Rev Neurother. 2013 Sep. 13(9):1069-77. [Medline].

Papadopoulos AJ, Janniger CK, Chodynicki MP, Schwartz RA. Trichotillomania. Int J Dermatol. 2003 May. 42(5):330-4. [Medline].

Swedo SE, Leonard HL, Rapoport JL, Lenane MC, Goldberger EL, Cheslow DL. A double-blind comparison of clomipramine and desipramine in the treatment of trichotillomania (hair pulling). N Engl J Med. 1989 Aug 24. 321(8):497-501. [Medline].

Bloch MH, Panza KE, Grant JE, Pittenger C, Leckman JF. N-acetylcysteine in the treatment of pediatric trichotillomania: a randomized, double-blind, placebo-controlled add-on trial. J Am Acad Child Adolesc Psychiatry. 2013 Mar. 52(3):231-40. [Medline]. [Full Text].

Golubchik P, Sever J, Weizman A, Zalsman G. Methylphenidate treatment in pediatric patients with attention-deficit/hyperactivity disorder and comorbid trichotillomania: a preliminary report. Clin Neuropharmacol. 2011 May-Jun. 34(3):108-10. [Medline].

Leombruni P, Gastaldi F. Oxcarbazepine for the treatment of trichotillomania. Clin Neuropharmacol. 2010 Mar-Apr. 33(2):107-8. [Medline].

Virit O, Selek S, Savas HA, Kokaçya H. Improvement of restless legs syndrome and trichotillomania with aripiprazole. J Clin Pharm Ther. 2009 Dec. 34(6):723-5. [Medline].

Peabody T, Reitz S, Smith J, Teti B. Clinical management of trichotillomania with bimatoprost. Optom Vis Sci. 2013 Jun. 90(6):e167-71. [Medline].
Medscape Reference © 2011 WebMD, LLC