Lichen Myxedematosus Clinical Presentation
Author: Elizabeth A Liotta, MD; Chief Editor: Dirk M Elston, MD more...
Updated: Jul 15, 2016
What would you like to print?
History
Lichen myxedematosus or papular mucinosis
Patients report a slow onset of asymptomatic or mildly pruritic papules, which may be localized or generalized. Patients are otherwise healthy and do not have systemic symptoms.
Scleromyxedema
Patients with this form present with more widespread progressive induration and decreased mobility of the face, fingers, and extremities. Patients are also noted to have cysts and urticarial lesions. Patients may report systemic symptoms, such as dysphagia or weakness, and symptoms that resemble those of organic brain disease.[1, 2]
Montgomery and Underwood described four clinical presentations and grouped the different manifestations in a classification system as follows[3] :
Generalized lichenoid papular form

Discrete papular form

Localized or generalized lichenoid papules

Urticarial plaques and nodular eruptions that usually lead to the lichenoid form
Physical
Lichen myxedematosus, or papular mucinosis
The primary lesion is a 2- to 4-mm, dome-shaped, and flesh-colored or erythematous papule. Regarding the distribution, these lesions may coalesce into grouped lichenoid papules and are found on the dorsal hands, face, or extensor surfaces of the arms and legs. Papules often have a striking pattern of parallel ridges. In patients with the generalized lichenoid form, facial ridges and facial folds may be distorted; this condition is called leonine faces. Patients with leonine faces may have difficulty opening their mouths.
Note the image below.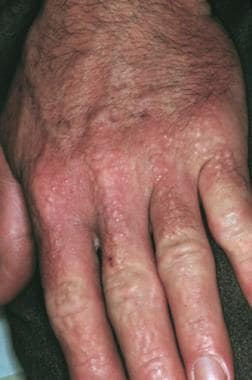 Grouped, erythematous, flesh-colored, dome-shaped papules are present on the hand and fingers.
Scleromyxedema
The primary lesions may involve widespread erythematous, indurated skin that resembling scleroderma, with diffuse tightness of the skin. The range of motion of the face, fingers, and extremities is decreased. The systemic manifestations include restrictive and obstructive pulmonary dysfunction, cardiovascular abnormalities, and polyarthritis. Obstructive and restrictive lung disease is often manifested by dyspnea on exertion.
Gastrointestinal symptoms (most commonly dysphagia) are related to esophageal aperistalsis. Severe proximal muscle weakness, polyarthritis, and symptoms resembling those of organic brain disease are present. Inflammatory myopathy is also reported. Ophthalmologic symptoms include ectropion and corneal opacities. Cardiovascular abnormalities occur in 10% of cases. One study revealed that digital vasoreactivity is the most common vascular abnormality.
Causes
The etiology is unknown. See Pathophysiology.
References
Marshall K, Klepeiss SA, Ioffreda MD, Helm KF. Scleromyxedema presenting with neurologic symptoms: a case report and review of the literature. Cutis. 2010 Mar. 85(3):137-40. [Medline].

Serdar ZA, Altunay IK, Yasar SP, Erfan GT, Gunes P. Generalized papular and sclerodermoid eruption: scleromyxedema. Indian J Dermatol Venereol Leprol. 2010 Sep-Oct. 76(5):592. [Medline].

Montgomery H, Underwood LJ. Lichen myxedematosus; differentiation from cutaneous myxedemas or mucoid states. J Invest Dermatol. 1953 Mar. 20(3):213-36. [Medline].

Yaron M, Yaron I, Yust I, Brenner S. Lichen myxedematosus (scleromyxedema) serum stimulates hyaluronic acid and prostaglandin E production by human fibroblasts. J Rheumatol. 1985 Feb. 12(1):171-5. [Medline].

Brunet-Possenti F, Hermine O, Marinho E, Crickx B, Descamps V. Combination of intravenous immunoglobulins and lenalidomide in the treatment of scleromyxedema. J Am Acad Dermatol. 2013 Aug. 69(2):319-20. [Medline].

Hill TG, Crawford JN, Rogers CC. Successful management of lichen myxedematosus. Report of a case. Arch Dermatol. 1976 Jan. 112(1):67-9. [Medline].

Kaymen AH, Nasr A, Grekin RC. The use of carbon dioxide laser in lichen myxedematosus. J Dermatol Surg Oncol. 1989 Aug. 15(8):862-5. [Medline].

Jacob SE, Fien S, Kerdel FA. Scleromyxedema, a positive effect with thalidomide. Dermatology. 2006. 213(2):150-2. [Medline].

Caudill L, Howell E. Scleromyxedema: a case clinically and histologically responsive to intravenous immunoglobulin. J Clin Aesthet Dermatol. 2014 May. 7(5):45-7. [Medline].

Cao XX, Wang T, Liu YH, Zhou DB, Li J. Successful treatment of scleromyxedema with melphalan and dexamethasone followed by thalidomide maintenance therapy. Leuk Lymphoma. 2016 Apr 27. 1-3. [Medline].

Chockalingam R, Duvic M. Scleromyxedema: long-term follow-up after high-dose melphalan with autologous stem cell transplantation. Int J Dermatol. 2016 May 21. [Medline].

Rongioletti F, Zaccaria E, Cozzani E, Parodi A. Treatment of localized lichen myxedematosus of discrete type with tacrolimus ointment. J Am Acad Dermatol. 2008 Mar. 58(3):530-2. [Medline].

Sansbury JC, Cocuroccia B, Jorizzo JL, Gubinelli E, Gisondi P, Girolomoni G. Treatment of recalcitrant scleromyxedema with thalidomide in 3 patients. J Am Acad Dermatol. 2004 Jul. 51(1):126-31. [Medline].

Horn KB, Horn MA, Swan J, Singhal S, Guitart J. A complete and durable clinical response to high-dose dexamethasone in a patient with scleromyxedema. J Am Acad Dermatol. 2004 Aug. 51(2 Suppl):S120-3. [Medline].

Howsden SM, Herndon JH Jr, Freeman RG. Lichen myxedematosus. A dermal infiltrative disorder responsive to cyclophosphamide therapy. Arch Dermatol. 1975 Oct. 111(10):1325-30. [Medline].
Medscape Reference © 2011 WebMD, LLC