Pseudocyst of the Auricle Clinical Presentation
Author: William P Baugh, MD; Chief Editor: Dirk M Elston, MD more...
Updated: Nov 12, 2014
What would you like to print?
History
A pseudocyst manifests as a painless swelling on the lateral or anterior surface of the pinna, developing over a period of 4-12 weeks. A history of trauma may accompany the clinical history, including rubbing, ear pulling, sleeping on hard pillows, or wearing of a motorcycle helmet or earphones. It has also been associated with cases of pruritic skin or systemic diseases including atopic dermatitis and lymphomas.[7, 8]
Physical
A pseudocyst is a noninflammatory, asymptomatic swelling on the lateral or anterior surface of the pinna, usually in the scaphoid or triangular fossa. They range from 1-5 cm in diameter and contain clear or yellowish viscous fluid, with a consistency similar to that of olive oil. Note the image below.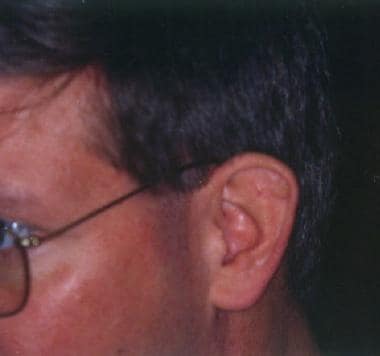 Asymptomatic nodule on the left ear.
Causes
The etiology for pseudocysts of the auricle is unknown, but several pathogenic mechanisms have been proposed, including chronic low-grade trauma and spontaneous development.[9] Some have suggested that a minor defect in auricular embryogenesis can also contribute to pseudocyst formation. This defect may cause the formation of residual tissue planes within the auricular cartilage. When subjected to repeated minor trauma or mechanical stress, these tissue planes may open, forming a pseudocyst. The auricular cartilage in particular may be more susceptible to traumatic insult because of its lack of connective tissue overlying the cartilage with firm adherence to the skin.[10]
Consistent with the proposed mechanism, atopic dermatitis with accompanying facial and ear involvement may be a predisposing condition for pseudocyst formation.[7, 11] Although the incidence of pseudocysts in patients with atopic dermatitis appears to be low, these patients have an earlier occurrence of the condition and a greater incidence of bilateral lesions compared with the general population.
Pseudocyst has also been reported in a patient with intense pruritus who was later diagnosed with lymphoma.[8] After chemotherapy for the lymphoma, the pruritus improved with spontaneous reduction in the volume of the pseudocyst. The authors proposed that the trauma from scratching and rubbing of the ears was the major exacerbating cause of the pseudocyst.
Table. Comparison of Characteristics of 4 Auricular Conditions.
Pseudocyst of the auricle
Chondrodermatitis chronica helices
Relapsing polychondritis
Subperichondrial hematoma
Swelling
Localized
Localized
Diffuse
Localized
Skin involvement
Rare
Yes, crusting/ulceration
Yes, erythematous
Rare
Pain
Rare
Common (from ulceration)
Common (extremely tender)
Common
Systemic Symptoms
No
No
Yes (involvement of other cartilage)
No
Histology
racartilaginous, cystic defect, granulation tissue
Subperichondrial granulation tissue, cystic dilatation rare
Acute inflammable cells seen; antibody deposition on basement membrane during immunofluorescence
Inflammatory cells with degraded blood products
Adapted from Lim CM, et al. "Pseudocyst of the Auricle." 2002.
Medscape Reference © 2011 WebMD, LLC