Pseudocyst of the Auricle Workup
Author: William P Baugh, MD; Chief Editor: Dirk M Elston, MD  more...
Updated: Nov 12, 2014
What would you like to print?
Imaging Studies
In several reports, magnetic resonance images revealed a serous fluid collection within the auricular cartilage, further enhancing the diagnosis.[8, 12]
Histologic Findings
Histologically, pseudocysts of the auricle lack pathognomonic features, but they can typically be characterized by an intracartilaginous cavity lacking an epithelial lining. They contain thinned cartilage and hyalinizing degeneration along the internal border of the cystic space. The epidermis and dermis overlying the pseudocyst are usually normal. However, a dermal perivascular lymphocytic infiltrate is commonly found, along with inflammatory cells within the cystic space.
In one of study, calcification of the auricular cartilage was identified at least 7 days after initial clinical presentation.[13] Although contrary to literature reports,[10, 14, 15] one study postulated that an inflammatory response is crucial to the development of pseudocysts. This theory is based on a consistent perivascular inflammatory response seen in all 16 specimens studied.[13] Eosinophilic degeneration and necrosis of the cartilage is also present in some areas.[12] Intracartilaginous fibrosis and granulation tissues are manifestations of later stages of pseudocysts.[13] A slide of an auricular pseudocyst is shown below.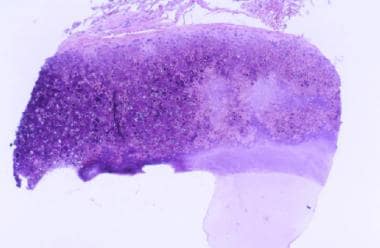 Low magnification of this pseudocyst reveals a mucin-containing cystic cavity.
Table. Comparison of Characteristics of 4 Auricular Conditions.
 
Pseudocyst of the auricle
Chondrodermatitis chronica helices
Relapsing polychondritis
Subperichondrial hematoma
Swelling
Localized
Localized
Diffuse
Localized
Skin involvement
Rare
Yes, crusting/ulceration
Yes, erythematous
Rare
Pain
Rare
Common (from ulceration)
Common (extremely tender)
Common
Systemic Symptoms
No
No
Yes (involvement of other cartilage)
No
Histology
racartilaginous, cystic defect, granulation tissue
Subperichondrial granulation tissue, cystic dilatation rare
Acute inflammable cells seen; antibody deposition on basement membrane during immunofluorescence
Inflammatory cells with degraded blood products
Adapted from Lim CM, et al. "Pseudocyst of the Auricle." 2002.
Medscape Reference © 2011 WebMD, LLC