Ainhum
Author: Samuel T Selden, MD; Chief Editor: Dirk M Elston, MD more...
Updated: Sep 16, 2015
What would you like to print?
Background
Ainhum (dactylolysis spontanea) is a condition of idiopathic etiology involving a bandlike constriction of soft tissue and a digit. Generally, the constriction presents bilaterally, with involvement of the fifth digit, most commonly. Pseudoainhum is a similar condition that occurs as a secondary event resulting from certain hereditary and nonhereditary diseases that lead to annular constriction of digits.
Ainhum predominantly affects black patients in tropical regions. Although it has been reported in temperate areas, ainhum appears to be increasingly less common in the United States.[1, 2]
The origin of the term ainhum is unclear. In 1867, the term was used by da Silva Lima[3] from Bahia, Brazil to report the first published case. The word ainhum means fissure in the language of the Nagos tribe of Brazil and may be related to ayun, the word for saw in the Lagos tribe of Nigeria. The synonym for ainhum is dactylolysis spontanea.
Pathophysiology
In true ainhum, dactylolysis of a toe (most commonly, but not always,[4] the fifth toe) most likely is triggered by trauma; however, the true cause remains unknown. The trauma may be related to walking barefoot in the tropics. A fibrotic band develops from a flexural groove and progressively constricts the full radius of the toe until spontaneous autoamputation occurs. A similar progression occurs in pseudoainhum because of a collagen band, rather than from fibrosis. Pseudoainhum may be acquired or congenital as discussed in a father and son case that described differing types of constricting bands.[5]
Ainhum most commonly affects the feet, but in rare instances it can affect the fingers.[6]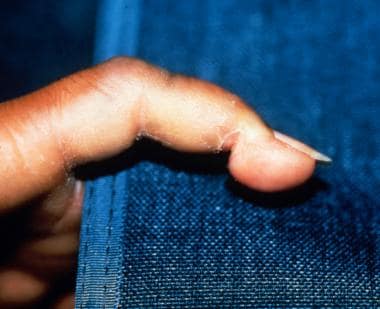 Ainhum of the finger. Courtesy of Hon Pak, MD, and reviewed by Ross Levy, MD.
Epidemiology
Frequency
United States
Approximately 130 cases have been reported in the United States, but only 30 cases have been reported since 1960. Pseudoainhum is a rare disorder.
International
Ainhum is a relatively common disease among black Africans. In Africa, the incidence range is 0.2-2%. The incidence of true ainhum outside of Africa appears to be low.
Race
Ainhum has been reported to affect all races but occurs most commonly in individuals of African, Asian, West Indian, North American, and Central American descent. No racial predilection exists for pseudoainhum.
Sex
In Nigeria, one study revealed an incidence of 2.48 cases per 1000 males and 1.08 cases per 1000 females; however, recent investigations suggest no sex preference.
Age
Full-blown ainhum is uncommon in persons younger than 30 years and older than 50 years. The reason ainhum appears to be age specific is unclear. Early lesions may be observed in childhood.
References
Greene JT, Fincher RM. Case report: ainhum (spontaneous dactylolysis) in a 65-year-old American black man. Am J Med Sci. 1992 Feb. 303(2):118-20. [Medline].

Mendelson DS, Chan KF, Song IS. Spontaneous dactylolysis with pain in a 58-year-old American Black man. JAMA. 1981 Oct 2. 246(14):1591-2. [Medline].

da Silva Lima JF. On ainhum. Arch Dermatol. 1880. 6:367.

Olivieri I, Piccirillo A, Scarano E, Ricciuti F, Padula A, Molfese V. Dactylolysis spontanea or ainhum involving the big toe. J Rheumatol. 2005 Dec. 32(12):2437-9. [Medline].

Priya B, Suganthy RR, Manimegalai M, Krishnaveni A. Familial ainhum: a case report of multiple toe involvement in a father and son, staging of ainhum with insight into different types of constricting bands. Indian J Dermatol. 2015 Jan-Feb. 60 (1):106. [Medline].

de Araujo DB, Lima SM, Giorgi RD, Chahade WH. Ainhum (dactylolysis spontanea): a case with hands and feet involvement. J Clin Rheumatol. 2013 Aug. 19 (5):277-9. [Medline].

Wells TL, Robinson RC. Annular constrictions of the digits. AMA Arch Derm Syphilol. 1952 Nov. 66(5):569-72. [Medline].

Sharma RC, Sharma AK, Sharma NL. Pseudo-ainhum in discoid lupus erythematosus. J Dermatol. 1998 Apr. 25(4):275-6. [Medline].

Ramesh V, Misra RS, Mahaur BS. Pseudoainhum in porokeratosis of Mibelli. Cutis. 1992 Feb. 49(2):129-30. [Medline].

Cunliffe WJ. Ainhum and pseudo-ainhum. Rook A, Wilkinson DS, Ebling FJ. Textbook of Dermatology. Oxford: Blackwell Scientific; 1979. Vol 2: 1638.

Demis DJ. Ainhum, pseudoainhum, and tourniquet syndrome. Demis DJ, Dobson RL, McGuire J. Clinical Dermatology. 7th ed. Hagerstown, Md: Harper & Row; 1979. 4-47.

Dasari BV, McBrearty A, Lau L, Lee B. Pseudoainhum of the toe with underlying chronic lower-limb ischemia. Int J Low Extrem Wounds. 2011 Jun. 10(2):96-7. [Medline].

Anwar MI, Iftikhar N, Hasnain SH, Ishaq BM. Pseudoainhum in acute psoriasis. J Coll Physicians Surg Pak. 2012 Dec. 22(12):786-8. [Medline].

Mallory SB. An Illustrated Dictionary of Dermatologic Syndromes. New York, NY: The Parthenon Publishing Group; 1994. Appendix.

Castori M, Valiante M, Ritelli M, et al. Palmoplantar keratoderma, pseudo-ainhum, and universal atrichia: A new patient and review of the palmoplantar keratoderma-congenital alopecia syndrome. Am J Med Genet A. 2010 Aug. 152A(8):2043-7. [Medline].

Bassetto F, Tiengo C, Sferrazza R, Belloni-Fortina A, Alaibac M. Vohwinkel syndrome: treatment of pseudo-ainhum. Int J Dermatol. 2010 Jan. 49(1):79-82. [Medline].

Fetterman LE, Hardy R, Lehrer H. The clinico-roentgenologic features of ainhum. Am J Roentgenol Radium Ther Nucl Med. 1967 Jul. 100(3):512-22. [Medline].

Jemmott T, Foster AV, Edmonds ME. An unusual cause of ulceration: ainhum (dactylolysis spontanea). Int Wound J. 2007 Sep. 4(3):251-4. [Medline].

Kura MM, Parsewar S. Reversal of pseudo-ainhum with acitretin in Camisa's syndrome. Indian J Dermatol Venereol Leprol. 2014 Nov-Dec. 80 (6):572-4. [Medline].

Turan E, Yesilova Y, Kokgil T, Guvenc U. Pseudoainhum in a patient with tuberous sclerosis complex: a case report and review of the literature. Int J Dermatol. 2014 Mar. 53 (3):357-61. [Medline].

Allyn B, Leider M. Dactylolysis spontanea (ainhum). Report of a case treated by the surgical procedure known as Z-plasty. JAMA. 1963 May 25. 184:655-7. [Medline].
Medscape Reference © 2011 WebMD, LLC