Overview
Background
Cheilitis granulomatosa (or granulomatous cheilitis) is typically a chronic swelling of the lip due to granulomatous inflammation. Miescher cheilitis is the term used when the granulomatous changes are confined to the lip. Miescher cheilitis is generally regarded as a monosymptomatic form of the Melkersson-Rosenthal syndrome, although the possibility remains that these may be 2 separate diseases. (See the image below.)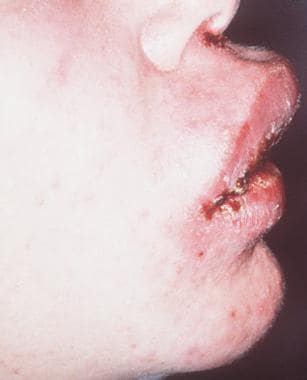 Labial swelling and angular cheilitis.
Melkersson-Rosenthal syndrome is the term used when the cheilitis occurs with facial palsy and plicated (fissured) tongue; this syndrome is occasionally a manifestation of Crohn disease [1, 2, 3, 4, 5, 6] or orofacial granulomatosis (OFG). The latter term is used when there is no detectable evidence of Crohn disease, but some patients progress to manifest overt Crohn disease. Other etiologies include sarcoidosis, tuberculosis, leprosy, histoplasmosis, foreign body reactions, and granulomatosis with polyangiitis. [7] Thus, the terminology can be confusing.
Granulomatous cheilitis is a rare condition, although its actual frequency is unknown. Onset of granulomatous cheilitis usually is in young adult life. Swelling is typically chronic. Morbidity related to the disease depends also on whether an underlying organic disease, such as Crohn disease or sarcoidosis, [8] is present. Patients, especially children and adolescents, presenting with what appears to be granulomatous cheilitis or OFG should be very carefully evaluated for gastrointestinal symptoms, signs, and disease. [9]
A 2011 study of one of the largest cohorts (N=219) reports on the characteristics of patients with OFG. [10]
Etiology
In granulomatous cheilitis, normal lip architecture is altered by lymphoedema and noncaseating granulomas in the lamina propria. TH 1 immunocytes produce interleukin 12 and RANTES/MIP-1alpha and granulomas. Expression of protease-activated receptor 1 and 2 occurs in orofacial granulomatosis (OFG). HLA typing may show HLA-A2 or HLA-A11. [11]
The cause of granulomatous cheilitis is unknown. [12] A genetic predisposition may exist in Melkersson-Rosenthal syndrome; siblings have been affected, and a plicated tongue may be present in otherwise unaffected relatives. Crohn disease, sarcoidosis, and OFG may present in a similar clinical fashion and with identical histologic findings. Similar findings have also been reported after liver transplantation in children. [13]
Dietary or other antigens are the most common identified cause of OFG. [14, 15] Contact antigens such as cobalt, gold, or mercury are sometimes implicated. [16] OFG may also result from reactions to some foods or medicaments, particularly cinnamon aldehyde and benzoates, but also butylated hydroxyanisole, dodecyl gallate, menthol, and monosodium glutamate. [17]
A summary of possibilities follows:
Genetics - Debate about link with HLA antigen

Food allergy - Various food additives thought to cause or precipitant event; 60% of individuals with condition are atopic (eczema, IgE levels); prime causative agents or exacerbation of disease

Allergy to dental material - No conclusive evidence

Infection - Studies have focused on Mycobacterium tuberculosis, Mycobacterium paratuberculosis, Saccharomyces cerevisiae, and Borrelia burgdorferi but provide insufficient evidence

Immunological - Hypothesis that no single antigen causes disease, rather a random influx of inflammatory cells; delayed sensitivity reaction rather than super antigen; results reflect an immunological nature
What would you like to print?