Hairy Tongue
Author: Gary L Stafford, DMD; Chief Editor: William D James, MD more...
Updated: Oct 22, 2015
What would you like to print?
Background
Hairy tongue (lingua villosa) is a commonly observed condition of defective desquamation of the filiform papillae that results from a variety of precipitating factors.[1] The condition is most frequently referred to as black hairy tongue (lingua villosa nigra); however, hairy tongue may also appear brown, white, green, pink, or any of a variety of hues depending on the specific etiology and secondary factors (eg, use of colored mouthwashes, breath mints, candies).[2, 3] See the images below: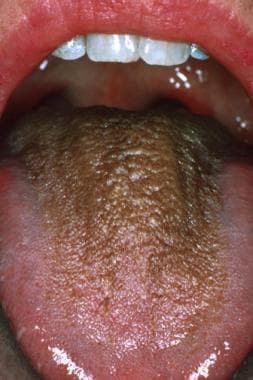 Brown hairy tongue in a middle-aged woman who drinks coffee. Note how the condition is limited to the mid-dorsal part of the tongue, becoming more prominent toward the posterior part.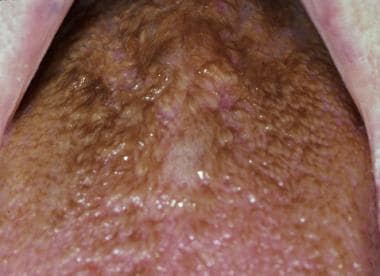 This patient is a middle-aged woman who drank coffee and smoked cigarettes for many years. Her chief complaint was a tickling sensation in the oral pharynx during swallowing. The slight greenish cast to her tongue was due to the use of a mouthwash immediately prior to her appointment.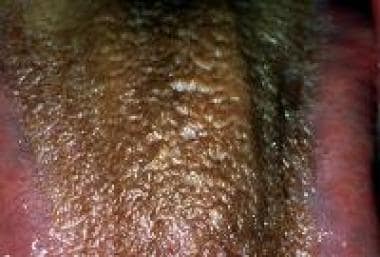 Middle-aged woman with a hairy tongue that is brown.
Pathophysiology
Precipitating factors for hairy tongue include poor oral hygiene, the use of medications (especially broad-spectrum antibiotics), and therapeutic radiation of the head and the neck. All cases of hairy tongue are characterized by a hypertrophy and elongation of filiform papillae, with a lack of normal desquamation. Normal filiform papillae are approximately 1 mm in length, whereas filiform papillae in hairy tongue have been measured at more than 15 mm in length.
Epidemiology
Frequency
The prevalence of hairy tongue varies widely, from 8.3% in children and young adults to 57% in persons who are addicted to drugs and incarcerated. Hairy tongue has been reported with greater frequency in males, those who use tobacco, those who heavily drink coffee and tea, patients infected with HIV, and those who are HIV negative and use intravenous drugs.[4, 5, 6, 7, 8]
Race
No racial predilection is associated with hairy tongue.
Sex
Although hairy tongue is reported more often in males, it is not uncommon in females, especially those who drink coffee or tea and/or those who use tobacco.
Age
The incidence and the prevalence of hairy tongue increases with age,[9] possibly because a higher percentage of the population engage in activities (eg, using tobacco, drinking coffee or tea) that predispose to the condition.
References
Gurvits GE, Tan A. Black hairy tongue syndrome. World J Gastroenterol. 2014 Aug 21. 20(31):10845-50. [Medline]. [Full Text].

Garg A, Wadhera R, Gulati SP, Goyal R. Hairy tongue. J Assoc Physicians India. 2008 Oct. 56:817-8. [Medline].

Vañó-Galván S, Jaén P. Black hairy tongue. Cleve Clin J Med. 2008 Dec. 75(12):847-8. [Medline].

Darwazeh AM, Pillai K. Prevalence of tongue lesions in 1013 Jordanian dental outpatients. Community Dent Oral Epidemiol. 1993 Oct. 21(5):323-4. [Medline].

Donta AN, Lampadakis J, Pilalitos P, Spyropoulos ND. [Findings from the clinical examination of the oral cavity of one hundreddrug addicts]. Hell Stomatol Chron. 1989 Apr-Jun. 33(2):101-5. [Medline].

Jarvinen J, Kullaa-Mikkonen A, Kotilainen R. Some local and systemic factors related to tongue inflammation. Proc Finn Dent Soc. 1989. 85(3):199-209. [Medline].

Redman RS. Prevalence of geographic tongue, fissured tongue, median rhomboid glossitis, and hairy tongue among 3,611 Minnesota schoolchildren. Oral Surg Oral Med Oral Pathol. 1970 Sep. 30(3):390-5. [Medline].

Salonen L, Axell T, Hellden L. Occurrence of oral mucosal lesions, the influence of tobacco habits and an estimate of treatment time in an adult Swedish population. J Oral Pathol Med. 1990 Apr. 19(4):170-6. [Medline].

Kaplan I, Moskona D. A clinical survey of oral soft tissue lesions in institutionalized geriatric patients in Israel. Gerodontology. 1990 Summer. 9(2):59-62. [Medline].

Lawoyin D, Brown RS. Drug-induced black hairy tongue: diagnosis and management challenges. Dent Today. 2008 Jan. 27(1):60, 62-3; quiz 93, 58. [Medline].

Pigatto PD, Spadari F, Meroni L, Guzzi G. Black hairy tongue associated with long-term oral erythromycin use. J Eur Acad Dermatol Venereol. 2008 Nov. 22(10):1269-70. [Medline].

Thompson DF, Kessler TL. Drug-induced black hairy tongue. Pharmacotherapy. 2010 Jun. 30(6):585-93. [Medline].

Heymann WR. Psychotropic agent-induced black hairy tongue. Cutis. 2000 Jul. 66(1):25-6. [Medline].

Winzer M, Gilliar U. [Hairy tongue and hairy oral leukoplakia--a differential histopathologic diagnosis]. Z Hautkr. 1988 Jun 15. 63(6):517-20. [Medline].

Winzer M, Gilliar U, Ackerman AB. Hairy lesions of the oral cavity. Clinical and histopathologic differentiation of hairy leukoplakia from hairy tongue. Am J Dermatopathol. 1988 Apr. 10(2):155-9. [Medline].

Rushing EC, Hoschar AP, McDonnell JK, Billings SD. Iatrogenic oral hairy leukoplakia: report of two cases. J Cutan Pathol. 2011 Mar. 38(3):275-9. [Medline].

Kostka E, Wittekindt C, Guntinas-Lichius O. [Tongue coating, mouth odor, gustatory sense disorder - earlier and new treatment options by means of tongue scraper]. Laryngorhinootologie. 2008 Aug. 87(8):546-50. [Medline].

Langtry JA, Carr MM, Steele MC, Ive FA. Topical tretinoin: a new treatment for black hairy tongue (lingua villosa nigra). Clin Exp Dermatol. 1992 May. 17(3):163-4. [Medline].

McGregor JM, Hay RJ. Oral retinoids to treat black hairy tongue. Clin Exp Dermatol. 1993 May. 18(3):291. [Medline].

Regezi JA, Sciubba JJ, Jordan RCK. Oral Pathology - Clinical Pathologic Correlations. 5th ed. Philadelphia, Pa: WB Saunders; 2003.

Sapp JP, Eversole LR, Wysocki GP. Contemporary Oral and Maxillofacial Pathology. 2nd ed. St. Louis, Mo: Mosby-Year Book; 2004.
Medscape Reference © 2011 WebMD, LLC