Contact Stomatitis Workup
Author: Antonella Tosti, MD; Chief Editor: Dirk M Elston, MD  more...
Updated: Oct 07, 2015
What would you like to print?
Laboratory Studies
Serologic testing may be helpful. In vitro tests, such as a radioallergosorbent test (RAST), for specific immunoglobulin E are available for food and latex allergy. These tests can confirm sensitivity and establish the degree of allergy.
Procedures
Patch testing (see the image below) is useful to distinguish irritant reactions from allergic reactions.[34, 35, 36] Patch testing before placement of a prosthesis is not indicated. Reading at 10 days is recommended because reactions to gold, palladium, and mercury salts may be delayed. A patch test series for contact stomatitis should include the following[37, 38] :
Nickel sulfate 5% pet

Beryllium chloride 1% pet

Gold sodium thiosulfate 2% pet

Metallic mercury 1% pet (see image below)

Ammoniated mercury 1% pet (mercury ammonium chloride)

Palladium chloride 1% pet

Copper sulfate 2% pet

Amalgam without mercury 20% pet (contains silver 13.9%, copper 2.36%, tin 3.54%, and zinc 0.2%)

Amalgam with mercury 5% pet (contains mercury 2.5%, silver 1.73%, copper 0.3%, tin 0.44%, and zinc 0.03%)

Methacrylates: 2-Hydroxyethylmethacrylate 2% pet

2,2-bis (2-Hydroxy-3-methacryloxy-propoxyl)-phenylpropane (BIS-GMA) 2% pet

Balsam of Peru 25% pet

Menthol 1% pet

Eugenol 1% pet

Cinnamic aldehyde 1% pet

Propolis 10% pet

Fragrance mix 8% pet

Colophony 20% pet

Benzalkonium chloride 0.1% pet

Benzocaine 5% pet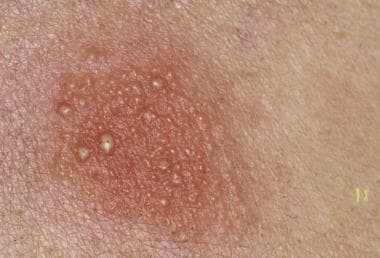 Positive patch test result to mercury.
For direct testing of the oral mucosa, the suspected allergen is placed on the lip mucosa as is, or it is incorporated in Orabase. Reading is performed at 24 hours.
Skin prick tests are routinely used for diagnosing a latex allergy. They are also useful in cases of suspected food allergy (see the image below).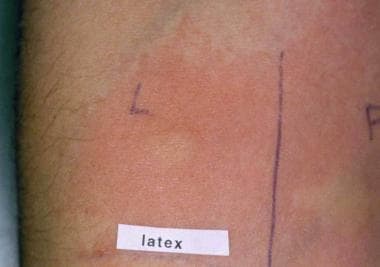 Positive prick test result to latex.
Use test with rubber latex gloves is often positive in patients with a latex allergy.
Biopsy may be performed.
Histologic Findings
Histologic study excludes neoplasia in long-standing lesions. A 3- to 4-mm punch biopsy is usually sufficient. Histopathologic examination in contact stomatitis can show changes similar to those in allergic contact dermatitis, with epithelial spongiosis and perivascular lymphohistiocytic infiltration. In addition, lichenoid changes of lymphocytic effacement of the dermoepithelial junction with, at times, vacuolar changes and necrotic epithelial cells, may be seen.
Histopathology findings cannot help distinguish between oral lichenoid reactions associated with amalgam and oral lichen planus.
References
Scott A, Egner W, Gawkrodger DJ, et al. The national survey of adverse reactions to dental materials in the UK: a preliminary study by the UK Adverse Reactions Reporting Project. Br Dent J. 2004 Apr 24. 196(8):471-7; discussion 465. [Medline].

Vivas AP, Migliari DA. Cinnamon-induced Oral Mucosal Contact Reaction. Open Dent J. 2015. 9:257-9. [Medline]. [Full Text].

Triantos D. Intra-oral findings and general health conditions among institutionalized and non-institutionalized elderly in Greece. J Oral Pathol Med. 2005 Nov. 34(10):577-82. [Medline].

Torgerson RR, Davis MD, Bruce AJ, Farmer SA, Rogers RS 3rd. Contact allergy in oral disease. J Am Acad Dermatol. 2007 Aug. 57(2):315-21. [Medline].

Laeijendecker R, Dekker SK, Burger PM, Mulder PG, Van Joost T, Neumann MH. Oral lichen planus and allergy to dental amalgam restorations. Arch Dermatol. 2004 Dec. 140(12):1434-8. [Medline].

Wong L, Freeman S. Oral lichenoid lesions (OLL) and mercury in amalgam fillings. Contact Dermatitis. 2003 Feb. 48(2):74-9. [Medline].

Bircher AJ, von Schulthess A, Henning G. Oral lichenoid lesions and mercury sensitivity. Contact Dermatitis. 1993 Nov. 29(5):275-6. [Medline].

Koch P, Bahmer FA. Oral lichenoid lesions, mercury hypersensitivity and combined hypersensitivity to mercury and other metals: histologically-proven reproduction of the reaction by patch testing with metal salts. Contact Dermatitis. 1995 Nov. 33(5):323-8. [Medline].

Muris J, Goossens A, Gonçalo M, Bircher AJ, Giménez-Arnau A, Foti C, et al. Sensitization to palladium and nickel in Europe and the relationship with oral disease and dental alloys. Contact Dermatitis. 2015 May. 72(5):286-296. [Medline]. [Full Text].

Guerra L, Vincenzi C, Peluso AM. Role of contact sensitizers in the burning mouth syndrome. Am J Contact Dermatitis. 1993. 3:154-7.

Huang W, Rothe MJ, Grant-Kels JM. The burning mouth syndrome. J Am Acad Dermatol. 1996 Jan. 34(1):91-8. [Medline].

Lamey PJ, Lewis MA, Rees TD, Fowler C, Binnie WH, Forsyth A. Sensitivity reaction to the cinnamonaldehyde component of toothpaste. Br Dent J. 1990 Feb 10. 168(3):115-8. [Medline].

Calapai G, Miroddi M, Mannucci C, Minciullo P, Gangemi S. Oral adversereactions due to cinnamon-flavoured chewing gums consumption. Oral Dis. 2013 Aug. [Medline].

Garcia-Bravo B, Pons A, Rodriguez-Pichardo A. Oral lichen planus from colophony. Contact Dermatitis. 1992 Apr. 26(4):279. [Medline].

Lopez-Lerma I, Vilaplana J, Romaguera C. Intraoral contact allergy to camphoroquinone. Contact Dermatitis. 2008 Dec. 59(6):377-8. [Medline].

Zoli V, Silvani S, Vincenzi C, Tosti A. Allergic contact cheilitis. Contact Dermatitis. 2006 May. 54(5):296-7. [Medline].

Garhammer P, Schmalz G, Hiller KA, Reitinger T, Stolz W. Patients with local adverse effects from dental alloys: frequency, complaints, symptoms, allergy. Clin Oral Investig. 2001 Dec. 5(4):240-9. [Medline].

von Mayenburg J, Frosch PJ, Fuchs T. Mercury and amalgam sensitivity. Dermatosen. 1996. 44:213-21.

Bruze M, Andersen KE. Gold--a controversial sensitizer. European Environmental and Contact Dermatitis Research Group. Contact Dermatitis. 1999 Jun. 40(6):295-9. [Medline].

Garau V, Masala MG, Cortis MC, Pittau R. Contact stomatitis due to palladium in dental alloys: a clinical report. J Prosthet Dent. 2005 Apr. 93(4):318-20. [Medline].

James J, Ferguson MM, Forsyth A, Tulloch N, Lamey PJ. Oral lichenoid reactions related to mercury sensitivity. Br J Oral Maxillofac Surg. 1987 Dec. 25(6):474-80. [Medline].

Koch P, Baum HP. Contact stomatitis due to palladium and platinum in dental alloys. Contact Dermatitis. 1996 Apr. 34(4):253-7. [Medline].

Laeijendecker R, van Joost T. Oral manifestations of gold allergy. J Am Acad Dermatol. 1994 Feb. 30(2 Pt 1):205-9. [Medline].

Räsänen L, Kalimo K, Laine J, Vainio O, Kotiranta J, Pesola I. Contact allergy to gold in dental patients. Br J Dermatol. 1996 Apr. 134(4):673-7. [Medline].

Vincenzi C, Tosti A, Guerra L. Contact dermatitis to palladium: a study of 2300 patients. Am J Contact Dermatitis. 1995. 6:110-2.

Özkaya E, Babuna G. Two cases with nickel-induced oral mucosal hyperplasia: a rare clinical form of allergic contact stomatitis?. Dermatol Online J. 2011 Mar 15. 17(3):12. [Medline].

Pfohler C, Korner R, Vogt T, Muller CS. Contact allergic gastritis: an underdiagnosed entity?. BMJ Case Rep. 2012. 2012:[Medline].

Kobayashi T, Sakuraoka K, Hasegawa Y, Konohana A, Kurihara S. Contact dermatitis due to an acrylic dental prosthesis. Contact Dermatitis. 1996 Dec. 35(6):370-1. [Medline].

Hamann CP. Natural rubber latex protein sensitivity in review. Am J Contact Dermatitis. 1993. 4:4-21.

Oranje AP, Aarsen RS, Mulder PG, Liefaard G. Immediate contact reactions to cow's milk and egg in atopic children. Acta Derm Venereol. 1991. 71(3):263-6. [Medline].

Gamboni SE, Palmer AM, Nixon RL. Allergic contact stomatitis to dodecyl gallate? A review of the relevance of positive patch test results to gallates. Australas J Dermatol. 2013 Aug. 54(3):213-7. [Medline].

Just-Sarobe M. [Smoking and the skin]. Actas Dermosifiliogr. 2008 Apr. 99(3):173-84. [Medline]. [Full Text].

Waroquier D, Evrard L, Nelis M, Parent D. Allergic contact stomatitis presenting as geographical tongue with pruritus. Contact Dermatitis. 2009 Feb. 60(2):106. [Medline]. [Full Text].

Alanko K, Kanerva L, Jolanki R, Kannas L, Estlander T. Oral mucosal diseases investigated by patch testing with a dental screening series. Contact Dermatitis. 1996 Apr. 34(4):263-7. [Medline].

Gebhart M, Geier J. Evaluation of patch test results with denture material series. Contact Dermatitis. 1996 Mar. 34(3):191-5. [Medline].

Khamaysi Z, Bergman R, Weltfriend S. Positive patch test reactions to allergens of the dental series and the relation to the clinical presentations. Contact Dermatitis. 2006 Oct. 55(4):216-8. [Medline].

Goon AT, Isaksson M, Zimerson E, Goh CL, Bruze M. Contact allergy to (meth)acrylates in the dental series in southern Sweden: simultaneous positive patch test reaction patterns and possible screening allergens. Contact Dermatitis. 2006 Oct. 55(4):219-26. [Medline].

Toledo F, Silvestre JF, Cuesta L, Latorre N, Monteagudo A. Contact allergy to beryllium chloride: report of 12 cases. Contact Dermatitis. 2011 Feb. 64(2):104-9. [Medline].

Ibbotson SH, Speight EL, Macleod RI, Smart ER, Lawrence CM. The relevance and effect of amalgam replacement in subjects with oral lichenoid reactions. Br J Dermatol. 1996 Mar. 134(3):420-3. [Medline].

Davis CC, Squier CA, Lilly GE. Irritant contact stomatitis: a review of the condition. J Periodontol. 1998 Jun. 69(6):620-31. [Medline].

Tosti A, Piraccini BM, Peluso AM. Contact and irritant stomatitis. Semin Cutan Med Surg. 1997 Dec. 16(4):314-9. [Medline].
Medscape Reference © 2011 WebMD, LLC