Smoker's Melanosis Workup
Author: Leticia Ferreira, DDS, MS; Chief Editor: William D James, MD  more...
Updated: Jan 26, 2015
What would you like to print?
Laboratory Studies
Generally, no laboratory studies are necessary to confirm the diagnosis of smoker's melanosis; clinical impression is usually sufficient, in combination with a history of smoking.
Procedures
If the pigmentation is in an unusual location, an ulceration is present, or the lesion is elevated, a biopsy is necessary to exclude other pigmented conditions (eg, nevi, melanoma). Although smoker's melanosis is an abnormal deposition of melanin, the lesion itself is not associated with an increased risk of melanoma or carcinoma.
Histologic Findings
Basilar melanosis, with or without melanin incontinence, is observed. See the image below.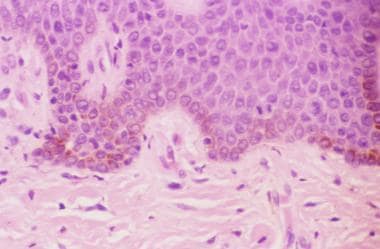 Gingival biopsy of a basilar melanosis (a brownish granular pigment present along the basal cells).
References
Hedin CA. Smokers' melanosis. Occurrence and localization in the attached gingiva. Arch Dermatol. 1977 Nov. 113(11):1533-8. [Medline].

Axéll T, Hedin CA. Epidemiologic study of excessive oral melanin pigmentation with special reference to the influence of tobacco habits. Scand J Dent Res. 1982 Dec. 90(6):434-42. [Medline].

Hedin CA, Axéll T. Oral melanin pigmentation in 467 Thai and Malaysian people with special emphasis on smoker's melanosis. J Oral Pathol Med. 1991 Jan. 20(1):8-12. [Medline].

Nwhator SO, Winfunke-Savage K, Ayanbadejo P, Jeboda SO. Smokers' melanosis in a Nigerian population: a preliminary study. J Contemp Dent. Pract. Jul 2007. 8(5):68-75. [Medline].

Mehrotra R, Thomas S, Nair P, Pandya S, Singh M, Nigam NS, et al. Prevalence of oral soft tissue lesions in Vidisha. BMC Res Notes. 2010 Jan 25. 3:23. [Medline]. [Full Text].

Sridharan G. Epidemiology, control and prevention of tobacco induced oral mucosal lesions in India. Indian J Cancer. 2014 Jan-Mar. 51(1):80-5. [Medline].

Patil PB, Bathi R, Chaudhari S. Prevalence of oral mucosal lesions in dental patients with tobacco smoking, chewing, and mixed habits: A cross-sectional study in South India. J Family Community Med. 2013 May. 20(2):130-5. [Medline]. [Full Text].

Ahmadi-Motamayel F, Falsafi P, Hayati Z, Rezaei F, Poorolajal J. Prevalence of oral mucosal lesions in male smokers and nonsmokers. Chonnam Med J. 2013 Aug. 49(2):65-8. [Medline]. [Full Text].

Al-Attas SA, Ibrahim SS, Amer HA, Darwish Zel-S, Hassan MH. Prevalence of potentially malignant oral mucosal lesions among tobacco users in Jeddah, Saudi Arabia. Asian Pac J Cancer Prev. 2014. 15(2):757-62. [Medline].

Marakoglu K, Gursoy, UK, Toker, HC, Demirer S, et al. Smoking status and smoke-related gingival melanin pigmentation in army recruitments. Mil Med. Jan 2007. 172:110-3. [Medline].

Brown FH, Houston GD. Smoker's melanosis. A case report. J Periodontol. 1991 Aug. 62(8):524-7. [Medline].

Hedin C, Pindborg JJ, Daftary DK, Mehta FS. Melanin depigmentation of the palatal mucosa in reverse smokers: a preliminary study. J Oral Pathol Med. 1992 Nov. 21(10):440-4. [Medline].

Hedin CA, Pindborg JJ, Axéll T. Disappearance of smoker's melanosis after reducing smoking. J Oral Pathol Med. 1993 May. 22(5):228-30. [Medline].

Zarate AM, Brezzo MM, Secchi DG, Barra JL, Brunotto M. Malignancy risk models for oral lesions. Med Oral Patol Oral Cir Bucal. 2013 Sep 1. 18(5):e759-65. [Medline]. [Full Text].

[Guideline] US Preventive Services Task Force. Final Recommendation Statement: Tobacco Use in Adults and Pregnant Women: Counseling and Interventions. Available at http://www.uspreventiveservicestaskforce.org/Page/Document/RecommendationStatementFinal/tobacco-use-in-adults-and-pregnant-women-counseling-and-interventions. Accessed: January 26, 2015.

Neville BW. Smoker's Melanosis. Neville BW, Damm DD, Allen CM, and Bouquot JE, eds. Oral & Maxillofacial Pathology. 3rd ed. Philadelphia, Pa: WB Saunders; 2002. 316-17.
Medscape Reference © 2011 WebMD, LLC