Eosinophilic Ulcer Workup
Author: Faizan Alawi, DDS; Chief Editor: William D James, MD more...
Updated: Sep 22, 2014
What would you like to print?
Procedures
The clinical presentation and history often suggest the cause and nature of eosinophilic ulcers; however, many cases can resemble ulcerative squamous cell carcinoma. However, if the origin of the lesion is not obvious or if eosinophilic ulcer does not respond to conservative therapy, biopsy under local anesthesia is indicated.
For small lesions, excisional biopsy may be performed; however, incisional biopsy is recommended for larger ulcers.
In general, a biopsy specimen of an eroded or ulcerated area should include a portion of the adjacent intact epithelium.
Histologic Findings
Microscopic sections typically show ulcerated stratified squamous epithelium with underlying granulation tissue characterized by an invasive, dense, mixed cellular infiltrate composed mainly of sheets of large mononuclear cells with pale nuclei and numerous eosinophils. The eosinophils, including many cells that show evidence of degranulation, usually infiltrate deep into the subjacent skeletal muscle, dissecting through and separating the muscle fibers. Degenerating muscle, interfascicular fibrosis, and regenerative myocytes may be identified.
The adjacent surface epithelium may be normal or hyperplastic and occasionally hyperkeratotic. Numerous capillaries, often lined by plump endothelial cells, are usually seen deep to the ulcer. This vascular hyperplasia may lead to surface elevation, which gives the lesion a clinically raised appearance.
Immunohistochemical studies have demonstrated that the large mononuclear cells include 2 phenotypically distinct cell types: CD68-positive histiocytes and factor-XIIIa–positive submucosal dendrocytes in varying ratios. Longer-standing lesions may have more dendrocytes than histiocytes; however, this finding is controversial.
Typically, small T lymphocytes are scattered throughout the connective tissue, and a minority of these cells are of the CD4 phenotype. Usually, B cells are scarce. Neutrophils are often clustered within and near the base of the ulcer; mast cells, occasional plasma cells, and focally scattered S-100–positive histiocytes also are seen. An increased number of dendritic Langerhans cells may be identified in the epithelium immediately adjacent to the ulcer.
Smooth muscle actin and muscle-specific actin tests usually fail to highlight any of the cells in the connective tissue (except endothelial cells). This finding suggests that myofibroblasts are not an integral component of the cellular proliferation.
Although cellular atypia or mitoses are not typical findings, in rare cases, large atypical cells and mitotic figures may be scattered throughout the cellular infiltrate, creating a pseudolymphomatous pattern. These lesions are termed atypical histiocytic granulomas.[8]
Immunohistochemical studies are often necessary to rule out lymphoma. In some cases, these atypical lesions recur and are subsequently determined to be CD30-positive T-cell non-Hodgkin lymphoma.[7, 9, 10]
The histologic differential diagnosis may include lymphoma, Langerhans cell disease, angiolymphoid hyperplasia with eosinophilia, and Kimura disease. Immunohistochemical studies may be necessary to confirm the diagnosis.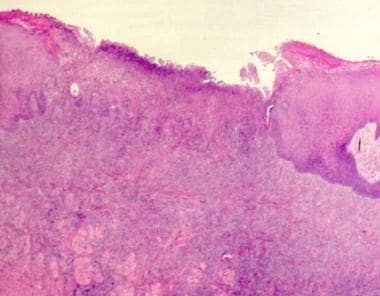 Low-power view showing an ulcerated surface epithelium with a dense cellular inflammatory infiltrate underlying the mucosal surface (original magnification X40). Courtesy of Dr Paul D. Freedman.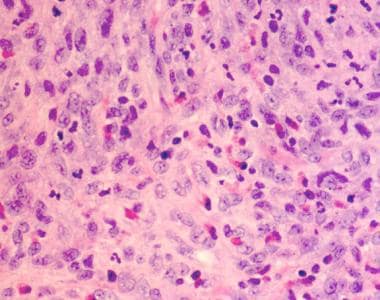 Cellular infiltrate composed mainly of large mononuclear cells, including histiocytes and submucosal dendrocytes, eosinophils, and scattered T lymphocytes (original magnification X400). Courtesy of Dr Paul D. Freedman.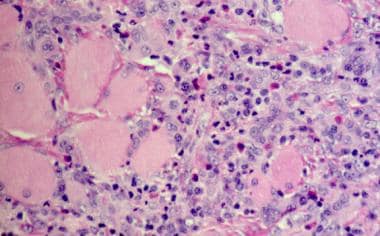 Inflammatory infiltrate extending through and between muscle bundles (original magnification X400). Courtesy of Dr Paul D. Freedman.
References
Segura S, Pujol RM. Eosinophilic ulcer of the oral mucosa: a distinct entity or a non-specific reactive pattern?. Oral Dis. 2008 May. 14(4):287-95. [Medline].

Elzay RP. Traumatic ulcerative granuloma with stromal eosinophilia (Riga-Fede's disease and traumatic eosinophilic granuloma). Oral Surg Oral Med Oral Pathol. 1983 May. 55(5):497-506. [Medline].

Bhaskar SN, Lilly GE. Traumatic granuloma of the tongue (human and experimental). Oral Surg Oral Med Oral Pathol. 1964 Aug. 18:206-18. [Medline].

Elovic AE, Gallagher GT, Kabani S, Galli SJ, Weller PF, Wong DT. Lack of TGF-alpha and TGF-beta 1 synthesis by human eosinophils in chronic oral ulcers. Oral Surg Oral Med Oral Pathol Oral Radiol Endod. 1996 Jun. 81(6):672-81. [Medline].

Gerbig AW, Zala L, Hunziker T. Tumorlike eosinophilic granuloma of the skin. Am J Dermatopathol. 2000 Feb. 22(1):75-8. [Medline].

Chawla O, Burke GA, MacBean AD. The eosinophilic ulcer revisited. Dent Update. 2007 Jan-Feb. 34(1):56-7. [Medline].

Rosenberg A, Biesma DH, Sie-Go DM, Slootweg PJ. Primary extranodal CD3O-positive T-cell non-Hodgkins lymphoma of the oral mucosa. Report of two cases. Int J Oral Maxillofac Surg. 1996 Feb. 25(1):57-9. [Medline].

Eleni G, Panagiotis S, Andreas K, Georgia A. Traumatic ulcerative granuloma with stromal eosinophilia: a lesion with alarming histopathologic presentation and benign clinical course. Am J Dermatopathol. 2011 Apr. 33(2):192-4. [Medline].

Abdel-Naser MB, Tsatsou F, Hippe S, Knolle J, Anagnostopoulos I, Stein H, et al. Oral eosinophilic ulcer, an Epstein-Barr virus-associated CD30+ lymphoproliferation?. Dermatology. 2011. 222(2):113-8. [Medline].

Misterska M, Dmochowski M, Szulczynska-Gabor J, Walkowiak H, Bowszyc-Dmochowska M, Kaczmarek J, et al. Eosinophilic ulcer of the oral mucosa: report of a child with CD30-negative cells in an infiltration on the lower lip. Med Sci Monit. 2010 Aug. 16(8):CS95-9. [Medline].

Pilolli GP, Lucchese A, Scivetti M, Maiorano E, Favia G. Traumatic ulcerative granuloma with stromal eosinophilia of the oral mucosa: histological and immunohistochemical analysis of three cases. Minerva Stomatol. 2007 Jan-Feb. 56(1-2):73-9. [Medline].

Neville BW, Damm DD, Allen CM. Oral and Maxillofacial Pathology. 1st ed. Philadelphia, Pa: WB Saunders; 1995. 213-22.
Medscape Reference © 2011 WebMD, LLC