Oral Granular Cell Tumors Clinical Presentation
Author: Steven Brett Sloan, MD; Chief Editor: Dirk M Elston, MD  more...
Updated: Feb 19, 2016
What would you like to print?
History
Granular cell tumors are slow-growing lesions (0.5-1 mm per year) that are neither painful nor tender. Congenital epulis apparently is neither painful nor tender. The rate of growth is difficult to determine because of its presence at birth and the need for its removal to allow feeding. No etiologic factors appear to be associated with either lesion. Note the image below.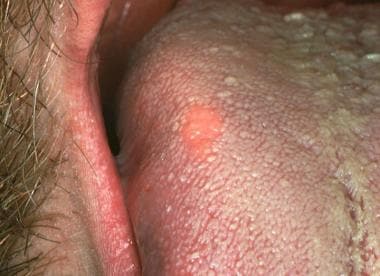 Clinical photograph of a granular cell tumor on the tongue of a 38-year-old man.
Physical
Granular cell tumors usually are painless and appear as slightly yellowish swelling just beneath the surface epithelium. These lesions are firm and nontender on palpation and generally less than 2 cm in diameter. Ulceration of the surface epithelium is uncommon. Salivary gland obstruction by lesions on the floor of the mouth can cause pain. Displacement of the glossopharyngeal nerve and subsequent irritation from impingement against the styloid process can lead to pain with swallowing, turning the head, or extending the tongue (Eagle syndrome).[5]
The head and neck region accounts for approximately 45-65% of all sites for granular cell tumors. Approximately 70% of oral granular cell tumors occur in the tongue.[6, 7] Buccal mucosa accounts for about 10-15% of oral lesions. Approximately 10% of lesions have been reported bilaterally. Multiple tumors are occasionally present.[8, 9, 10]
Congenital epulis occurs more frequently in the maxilla. These lesions generally are less than 2 cm in diameter. Large lesions can interfere with breathing and feeding.[11, 12]
Causes
The etiology of the granular cell tumor and congenital epulis is unknown.
Medscape Reference © 2011 WebMD, LLC