Erythema Nodosum Clinical Presentation
Author: Jeanette L Hebel, MD; Chief Editor: William D James, MD more...
Updated: Mar 03, 2016
What would you like to print?
History
The eruptive phase of erythema nodosum begins with flulike symptoms of fever and generalized aching. Arthralgia may occur and precedes the eruption or appears during the eruptive phase. Most lesions in infection-induced erythema nodosum heal within 7 weeks, but active disease may last up to 18 weeks. In contrast, 30% of idiopathic erythema nodosum cases may last more than 6 months. Febrile illness with dermatologic findings includes abrupt onset of illness with initial fever, followed by a painful rash within 1-2 days.
Physical
Pertinent physical findings are limited to the skin and joints.
Primary skin lesions
Lesions begin as red tender nodules (see the image below). Lesion borders are poorly defined, and lesions vary from 2-6 cm. During the first week, lesions become tense, hard, and painful; during the second week, they may become fluctuant, as in an abscess, but do not suppurate or ulcerate. Individual lesions last approximately 2 weeks, but occasionally, new lesions continue to appear for 3-6 weeks. Aching legs and swelling ankles may persist for weeks.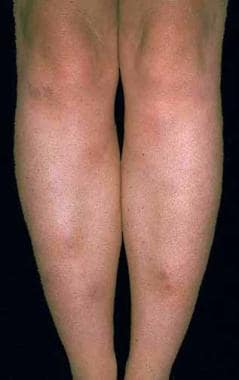 Classic presentation of erythema nodosum with nodular red swellings over the shins.
Distribution of skin lesions
Characteristically, lesions appear on the anterior leg; however, they may appear on any surface.
Color of skin lesions
Lesions change color in the second week from bright red to bluish or livid. As absorption progresses, the color gradually fades to a yellowish hue, resembling a bruise. This disappears in 1 or 2 weeks as the overlying skin desquamates.
Hilar lymph nodes
Hilar adenopathy may develop as part of the hypersensitivity reaction of erythema nodosum. Bilateral hilar lymphadenopathy is associated with sarcoidosis, while unilateral changes may occur with infections and malignancy.
Joints
Arthralgia occurs in more than 50% of patients and begins during the eruptive phase or precedes the eruption by 2-4 weeks. Erythema, swelling, and tenderness occur over the joint, sometimes with effusions. Joint tenderness and morning stiffness may occur. Any joint may be involved, but the ankles, knees, and wrist are affected most commonly. Synovitis resolves within a few weeks, but joint pain and stiffness may last up to 6 months. No destructive joint changes occur. Synovial fluid is acellular, and the rheumatoid factor is negative.
Causes
Currently, the most common cause of erythema nodosum is streptococcal infection in children and streptococcal infection and sarcoidosis in adults.[3] Numerous other causes have been reported.[4] The causes reported most often in the literature are described below.
Bacterial infections
Streptococcal infections are one of the most common causes of erythema nodosum. Tuberculosis was an important cause in the past, but it has decreased dramatically as a cause for erythema nodosum; however, it still must be excluded, especially in developing countries.[5, 6] Yersinia enterocolitica is a gram-negative bacillus that causes acute diarrhea and abdominal pain; it is a common cause of erythema nodosum in France and Finland.[7, 8, 9] Mycoplasma pneumoniae infection may cause erythema nodosum. Erythema nodosum leprosum clinically resembles erythema nodosum, but the histologic picture is that of leukocytoclastic vasculitis. Lymphogranuloma venereum may cause erythema nodosum. Salmonella infection may cause erythema nodosum. Campylobacter infection may cause erythema nodosum.
Fungal infections
Coccidioidomycosis (San Joaquin Valley fever) is the most common cause of erythema nodosum in the American Southwest. In approximately 4% of males and 10% of females, the primary fungal infection (which may be asymptomatic or involve symptoms of upper respiratory infection) is followed by the development of erythema nodosum. Lesions appear 3 days to 3 weeks after the end of the fever caused by the fungal infection. Histoplasmosis may cause erythema nodosum. Blastomycosis may cause erythema nodosum.
Drugs
Sulfonamides and halide agents are an important cause of erythema nodosum. Drugs more recently described to cause erythema nodosum include gold and sulfonylureas. Oral contraceptive pills are implicated in an increasing number of reports.
Enteropathies
Ulcerative colitis and Crohn disease may trigger erythema nodosum. Erythema nodosum associated with enteropathies correlates with flares of the disease. The mean duration of chronic ulcerative colitis before the onset of erythema nodosum is 5 years, and erythema nodosum is controlled with adequate therapy of the colitis. Erythema nodosum is the most frequent dermatologic symptom in inflammatory bowel diseases, and it is strongly associated with Crohn disease.[10]
Hodgkin disease and lymphoma
Erythema nodosum associated with non-Hodgkin lymphoma may precede the diagnosis of lymphoma by months. Reports of erythema nodosum preceding the onset of acute myelogenous leukemia have been published.[11]
Sarcoidosis
Approximately 10-22% of all erythema nodosum cases are caused by sarcoidosis.[12] The most common cutaneous manifestation of sarcoidosis is erythema nodosum. A characteristic form of acute sarcoidosis involves the association of erythema nodosum, hilar lymphadenopathy, fever, arthritis, and uveitis, which has been termed Löfgren syndrome. This presentation has a good prognosis, with complete resolution within several months in most patients. HLA-DRB1*03 is associated with Löfgren syndrome. Most DRB1*03-positive patients have resolution of their symptoms within 2 years; however, nearly half of DRB1*03-negative patients have an unremitting course.[13]
Behçet disease
This condition is associated with erythema nodosum.
Pregnancy
Some patients develop erythema nodosum during pregnancy, most frequently during the second trimester. Repeated episodes occur with subsequent pregnancies or with the use of oral contraceptives.
Medscape Reference © 2011 WebMD, LLC