Cold Panniculitis Clinical Presentation
Author: Robert A Schwartz, MD, MPH; Chief Editor: Dirk M Elston, MD more...
Updated: Jun 21, 2016
What would you like to print?
History
The eruptive phase usually begins 48 hours (range, 6-72 h) after a cold injury to exposed or poorly protected areas. The patient may have a history of a febrile illness or other illness without dermatologic findings. It may occur after ice therapy, a first-line treatment for supraventricular tachycardia in neonates.[7]
Physical
Pertinent physical findings are limited to the skin. Lesions present as localized indurated nodules with ill-defined margins similar to erythema nodosum. Nodules are raised slightly above the skin line. Nodules are firm or hard and cold and painful.[3]
Cutaneous distribution in children characteristically is on the face (cheeks and forehead),[8] as shown in the image below. Skin color changes are red or violet. One report describes toe involvement.[9]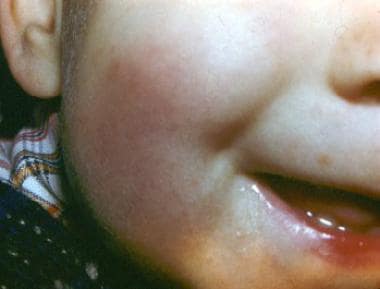 Classic presentation of cold panniculitis with nodular red swellings over the cheeks.
In women who are obese, cutaneous distribution characteristically is on the buttocks, thighs, arms, and under the chin (areas poorly protected from the cold). Thigh lesions, in particular, overlap with perniosis.
Causes
Cold panniculitis is caused by cold injury in children and in women who are obese. The abnormality probably lies in the chemical composition of the fat tissue. Anoxia, cold, and humidity may play a role.
Medscape Reference © 2011 WebMD, LLC