Erythema Induratum (Nodular Vasculitis) Clinical Presentation
Author: Noah S Scheinfeld, JD, MD, FAAD; Chief Editor: William D James, MD more...
Updated: Feb 11, 2016
What would you like to print?
History
A past or present history of tuberculosis at an extracutaneous site occurs in about 50% of patients. Pulmonary tuberculosis is most common. Tuberculous cervical lymphadenitis is the next most common finding. It is important to consider if HIV infection is present when tuberculosis and nodular vasculitis are present.[4]
Tender, erythematous nodules are present on the lower legs. The nodules have a chronic, recurrent course. The lesions heal with ulcerations or depressed scars.
Leg edema may be present.
An infant erythema induratum was reported to occur after BCG vaccination.[5]
The simultaneous expression of erythema induratum and episcleritis was reported in a 6-year-old girl.[6]
A variation of erythema induratum, termed nodular tuberculid, with the distinguishing feature of a granulomatous vasculitis occurring at the dermohypodermal junction, has been noted in 5 patients with HIV disease.[7]
Erythema induratum of Bazin and renal tuberculosis can be associated.[8] In a patient suffering from pulmonary tuberculosis, co-incident papulonecrotic tuberculid and erythema induratum has been noted.[9] Nodular vasculitis has been noted to occur with Crohn disease.[10]
Silva et al[11] noted distal painful peripheral neuropathy associated with erythema induratum. Others have noted that erythema induratum can present as peripheral neuropathy.[12]
Erythema induratum in the setting of renal cell carcinoma has been confirmed with a QuantiFERON test and response to antituberculosis therapy.[13]
Addison disease that occurred during treatment for erythema induratum has been noted, and the authors of this report suggest that tuberculosis might have been the cause of the Addison disease.[14]
Patients can have a history of use of a tumor necrosis-alpha blocker such as etanercept.[15]
Physical
Crops of small, tender, erythematous nodules may be observed, as demonstrated in the image below.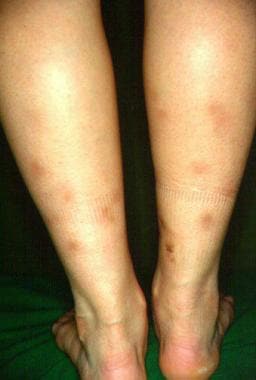 This patient exhibited tender, erythematous nodules confined to the lower third of the legs.
Commons sites are the calves, although the shins are also sometimes involved. Uncommonly, the trunk, buttocks, thighs, and arms can be involved. Disseminated erythema induratum has been reported.[16]
The nodules are concentrated on the lower third of the legs, especially around the ankles.
Lesions may ulcerate with bluish borders, which may be precipitated by cold weather. These irregular and shallow ulceration can result in permanent scarring and hyperpigmentation of the lesions.
In 2007, Ramdial et al[17] reported on 5 patients with tuberculous epididymo-orchitis. A histopathological evaluation confirmed papulonecrotic tuberculids in 4 patients and erythema induratum in 2 patients. Most patients responded to appropriate antibiotics. The researchers concluded that tuberculids incite a sentinel cutaneous manifestation of visceral tuberculosis and help identify occult or asymptomatic tuberculous epididymo-orchitis, as the underlying cause of tuberculids.
Sughimoto et al[18] described a patient with aortic valvular lesions of tuberculosis that manifest at the same time as erythema induratum, with granulomatous changes being demonstrated by the aortic valve pathology.
Causes
Erythema induratum/nodular vasculitis complex is a multifactorial disorder. M tuberculosis and delayed-type hypersensitivity are considered etiologic factors for erythema induratum of Bazin type. Recently, hepatitis C virus has been suggested, but a direct relationship remains unclear.
M tuberculosis is the cause of erythema induratum.
The cause is unknown in cases of nodular vasculitis with a negative tuberculin skin test reaction.
Atypical erythema induratum Bazin with tuberculous osteomyelitis has been reported, suggesting that boney changes can be detected clinically.[19]
Medscape Reference © 2011 WebMD, LLC